Home Air Conditioning and Ductwork Warranty Coverage
Home Warranties Explained
Your air conditioner is an important system in your home, especially when temperatures rise. When the air conditioner unit fails, you're left in an overheated house and you need help quickly. Even though your HVAC system will last for about 10 to 15 years, it will probably malfunction several times over the course of its life. Many issues can occur in an HVAC unit. You might receive an unusually high electric bill that could clue you into an air conditioning problem. You might notice an indoor leak, your unit might not cool, or your outdoor unit might not turn on. For these issues and more, you need a reliable solution for a prompt repair.
With an American Home Shield® home warranty, you will enjoy reliable service, effective repairs and efficient A/C replacement of your malfunctioning system in accordance with the terms of your home service plan. Home warranty plans including coverage for air conditioners vary, allowing you to choose the home service plan for your unique needs. When your air conditioning unit fails, let American Home Shield A/C coverage help ease your stress.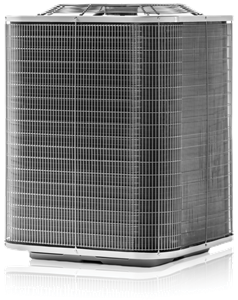 An AHS® warranty is an investment in your home, providing coverage to promptly repair or replace failing appliances and systems, such as your air conditioner. As a result, you want to select a home service plan that best suits your home and family's needs. You can select from three home service plans that include coverage for your air conditioner.
What are Your Options for Home Warranties with Air Conditioner Coverage?
The ShieldSilver™ plan helps protect components of 14 major systems that keep your home running, including heating and cooling systems, electrical systems, and plumbing systems.
The ShieldGold™ plan provides the benefits of the ShieldSilver™ plan but also covers parts of up to 23 essential appliances and systems that you use every day. This means that your home appliances, in addition to the major components of home systems, are covered in this all-inclusive plan.
The ShieldPlatinum™ plan is our best plan yet to help you protect your home and keep it running smoothly. It covers everything in ShieldGold™, plus roof leak repair and includes coverage boosts like unlimited air conditioner refrigerant and a free annual HVAC tune-up.
What's Covered in a Home Warranty with Air Conditioner Coverage?
AHS home warranty plans with AC coverage include repair or replacement of many air conditioner components as well as the ductwork, although certain limitations and exclusions apply. Your coverage level depends on the type of unit you have. For example, all components of the following systems are fully covered:
Ducted central electric split and package units
Geothermal
Wall air conditioners
Mini-splits
Ductwork coverage includes a number of components, including the plenums, dampers, damper-only controls and leaks or breaks in the ductwork from the heating and/or air conditioning unit. Your home service plan contract will also outline any limits or exclusions of home AC coverage.
Understand the specific terms of your home service plan by talking to an AHS specialist. We'll help guide you to the right home service plan with AC coverage for your needs. Then, next time the air goes out, you won't be stressed about the hassle and expense of the repair. Our qualified, professional service contractors will diagnose, repair or replace your HVAC unit as your contract stipulates.
Suggested Plan For You
With a ShieldSilver™ home service plan, you will be covered for the replacement or repair of the components of many key home systems, including the Air Conditioner.