Today, we can do virtually anything with our phones, including locking the door, preheating the oven and even turning on the sprinkler system. Smart home technology offers homeowners a variety of benefits: increased security, improved efficiency and cost savings on utility bills, just to name a few.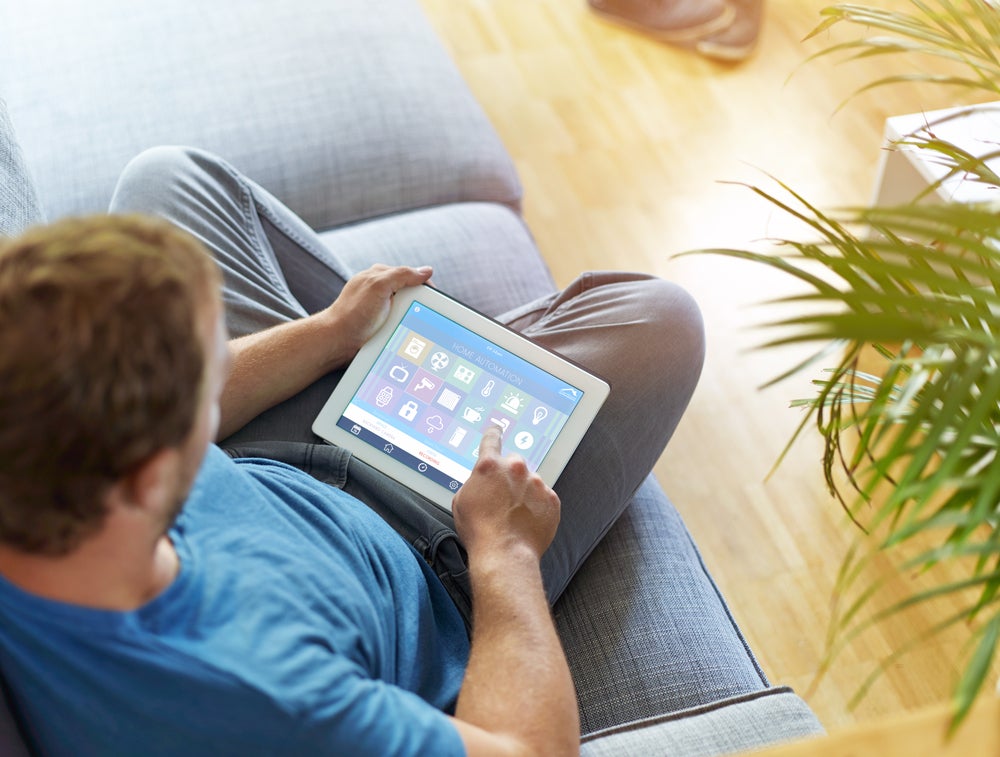 However, some smart devices can be a hassle to install on your own without the right skills, tools and know-how. By the time you've researched proper installation, and then tried a few times to get your device in working condition, you might realize that help would've been better off from the start. Well, if you're a member of American Home Shield, then you're in luck.
To help our members save on creating the smart home of their dreams, American Home Shield partners with HelloTech to offer a 15% discount on the installation of common smart home features.
Video Doorbells
Popular video doorbells, such as Ring or Google Nest, make it easy to keep an eye on your front door. With video connectivity, you can check your smartphone to see who's there before you answer the door. These handy little devices can even help catch porch pirates in the act before they walk off with your stuff.
With our HelloTech partnership, American Home Shield® members can get their smart doorbell installed and set up for just $84 per device, compared to the retail price of $99. This service includes:
Removing and inspecting your current doorbell
Confirming device capability
Installing the video doorbell
Connecting to WiFi and performing first-time setup
Customizing device preferences
Security Cameras
Smart cameras can increase the security of your home by connecting to WiFi and allowing you to monitor activity inside and outside through an app on your phone. This means you can keep an eye on things, even when you're not there. These cameras may integrate with or be available as part of a full security system, and they may be wired or wireless.
Security camera installation typically costs $129 per device, but HelloTech is offering American Home Shield members this service for just $109.65 per device. The service includes:
Identifying installation area(s)
Installing smart home camera(s)
Connecting cameras to existing WiFi network and performing first-time setup
Installing and setting up mobile app
Demonstrating commonly used features
Smart Locks
Have you ever left the house wondering if you locked the door? That nagging worry can derail your whole day, and it's even worse if you're leaving for a vacation. With smart locks, this worry is a thing of the past. Simply open the app on your smartphone, check the status of your doors and lock them if necessary. It's that easy — and the added peace of mind is priceless.
If you're an American Home Shield member, HelloTech will install your smart locks for just $84 per device, compared to the retail price of $99. This service includes:
Assessment of the installation area
Installation of the smart lock
Connection to existing WiFi network and first-time setup
App download, syncing to device and creation of initial keyset
Demonstration of commonly used features
Smart Hubs and Speakers
Nowadays, almost everyone has some kind of smart speaker – the Amazon Echo and Google Nest are two of the most popular brands. And it's not uncommon for homeowners to purchase and add new devices in different rooms of their houses. Smart speakers make it easy to control other smart home applications, and they allow you to quickly perform basic tasks, like turning on music, switching on the lights or even setting a timer. Better yet, these devices are voice-activated, so you don't even have to be near your phone to use them.
HelloTech smart speaker installation typically costs $99 per device, but American Home Shield members can take advantage of this service for just $84 per device. It includes:
Setting up and configuring one smart hub/speaker
Connecting smart home devices to the smart hub
Installing and connecting any associated apps
Demonstrating smart hub functionality
Smart Thermostats
Who wants to get up from the couch just to adjust the thermostat? Smart thermostats allow you to control the temperature of your home through a mobile app. You can even program these devices to set your home to a different temperature when you're not there. They'll also learn your daily routine and adjust settings accordingly when the house is occupied. By adjusting the temperature in your home automatically, smart thermostats curb unnecessary energy use and help homeowners save on electric bills.
HelloTech service includes:
Assessment of the installation area
Installation of the smart thermostat
Connection to existing WiFi and first-time setup
Installation and setup of apps
Demonstration of commonly used features
These are only some of the discounted technology set-up and installation services available to American Home Shield members. Don't miss out on these special savings – book your smart home installation with American Home Shield and HelloTech now.

AHS assumes no responsibility, and specifically disclaims all liability, for your use of any and all information contained herein.