Are you gearing up for a vacation but wish there were a way to keep tabs on your house while you're gone? You're in luck!
We've hand-picked the 10 best home security apps (in no particular order). Use this list to find the best way to secure your home while you're on holiday, and learn more about home security systems.
If you've dreamed of simply commanding Alexa to turn on your home security, there's good news: the future is here. The ADT Control app lets you do that and more, offering a wide range of mobile home security features. You can take a peek inside your home and out, turn off appliances, and arm or disarm your system—all from afar. The home security control app even offers Apple Watch integration and geo-fencing.
With Nest's comprehensive features, you can control any connected Google Home device: thermostats, speakers, lightbulbs, and more. The Nest total security package includes a Nest doorbell, camera, and check-in hub so you can see what's always going on inside and outside your home. With Nest Aware, you can even keep a log of familiar faces to reduce the number of alerts.
SimpliSafe is user-friendly, intuitive, budget-friendly, and provides some of the best home security, with full-color HD cameras and real-time alerts. It also has safeguards in place if the power goes out and smart motion sensor technology that can differentiate your guard dog from the intruder it's trying to guard you against.
Ring offers top-of-the-line security cameras; comprehensive smart home integration, including Alexa, smart locks, light switches, and sensors; cloud video storage; backup internet; and a home security alarm with professional monitoring—all for an affordable price. It even has a Ring for Pets feature so that you can watch and listen to your dogs and cats from afar. You can even talk to them through the Ring speaker! With the additional Neighbors by Ring app, you know that your community is helping you and your home stay safe, too. Ring is perfect for creating a smart home on a budget.
Vivant is a full-service home security app that allows you to arm and disarm your system wherever you are, view camera feeds, receive alerts, answer your doorbell, and lock or unlock your doors. The app also uses AI technology to learn your family's habits to customize your smart home. The Sky assistant automatically changes the temperature in your home to conserve energy (and money) depending on how long you're away. Full customization options, professional installation, and the option to try month-to-month plans make this a fantastic home security app, even though it's pricier than others on this list.
Founded by a former ADT executive, Abode combines the power of technology with user-friendly simplicity. It offers flexible plans and compatibility with most smart home systems and is great for people with larger homes due to its far-reaching sensor detection.
The Alarm.com security app integrates your current system with all your connected devices. When we say "all," we mean it: You can view and control the app from your smartphone, tablet, smart TV, and smartwatch. You can even tell Alexa to arm your system, change the temperature, turn your lights off, and lock the doors. Learn more about alternatives to lock and key front doors.
Frontpoint security systems are easy to install—which is good because, with no professional installation options, you need to do it yourself. This alarm system with a mobile app offers a live video feed, identity theft protection, and smart home integration.
Comcast has stepped out of the realm of only offering cable, internet, and phone services. Now the company offers top-of-the-line home security services. The best part? With the Xfinity app, you can not only control your alarm system, door locks, lights, and thermostat, but you can also receive notifications about smoke and water detections.
The Presence app takes a unique approach to home security. Instead of having you buy and install cameras around your home, the home security camera app transforms old iOS devices into home security cameras. Simply place the old iPad or iPhone in the direction you want to surveil, secure it, and use your Wi-Fi connection to stream live videos to your main device. If you don't have a lot of money to spend, don't have extensive security concerns, and happen to have an old iOS device lying around, this app may be for you.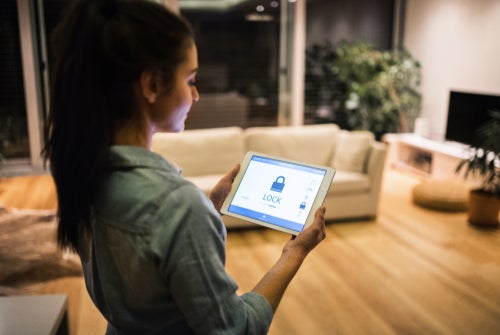 How Else Can I Protect My Home?
Once you choose the best home security app for your household, consider protecting your home with a home warranty. American Home Shield® provides coverage for parts of up to 23 home systems and appliances that you use every day. Enjoy peace of mind—even when you're away—that your hardworking household items are covered by a home warranty. We even protect your electronic devices. Compare our plans today.
AHS assumes no responsibility, and specifically disclaims all liability, for your use of any and all information contained herein.