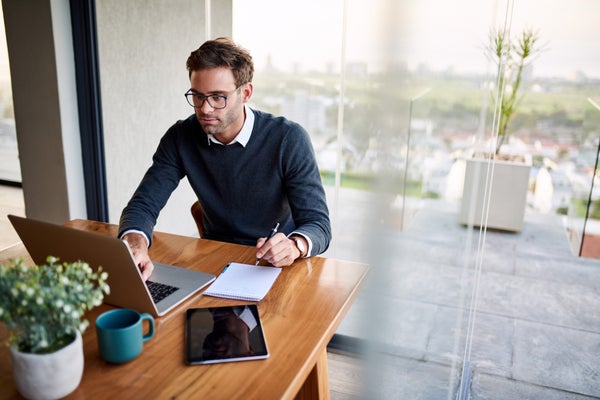 The holiday season is full of visits from loved ones, cooking and baking old family recipes, and thoughtful gifts. Perhaps members of your household were gifted a television, laptop, gaming system, or tablet. If so, it's important to keep your new electronics gifts covered in case of a malfunction.
Why Do I Need Electronics Protection?
Your American Home Shield® home warranty covers the parts of your home's major systems and appliances, but what about the TVs, tablets, smart home products, and computer equipment you've spent a fortune on? These cool electronic gifts may be working fine now, but are they protected from breakdowns due to normal wear and tear, power surges, and defects in workmanship and materials?
This is where the American Home Shield® Electronics Protection Plan* comes in. The Electronics additional option is available with our warranty plans to protect your budget when eligible electronic devices in your home—from your computer accessories and speaker bars to your TVs and digital cameras—malfunction due to normal, everyday use. Repairing or replacing these items can be expensive, but electronics protection will helpcover the cost ($2,000 in coverage per claim with an overall claim limit of $5,000 per contract term).
What if I Have a Manufacturer's Warranty?
Your brand-new electronics gifts may indeed be covered by manufacturers' warranties. However, you may be surprised to learn that some are valid for as little as 90 days. Manufacturers' warranties are also limited in what they'll cover. They typically only apply to manufacturer defects and may not cover damage due to power surges, or normal wear and tear. Even if you or your loved one purchased devices with a credit card that extends the manufacturer's warranty, it may only be valid for up to one year. After that, you'll be responsible for the cost of repair or replacement if your device breaks down.
While you can get an extended warranty for your electronic device, it will only cover that device—not every eligible electronic item in your household. This lack of coverage may eventually impact your budget because you'll need to purchase extended warranties for all new items.
What Does the AHS® Electronics Protection Plan Cover?
The American Home Shield® electronics plan covers numerous electronic devices in your home, like the following:
Desktop computers and computer accessories
Laptop computers and tablets
Televisions and home theater systems
External hard drives
Select smart home products
Printers and home routers
Digital cameras and gaming systems
Some circumstances are not covered:
Theft or loss
Manufacturer recalls or cosmetic defects
Damage due to animals or insects
Items that are kept in storage
Products that are leased or rented
Software repair, damage, loss or viruses
Electronics with pre-existing conditions
Electronics that no longer have a serial number
Cell phones
How Does Electronics Coverage Work?
American Home Shield® electronics coverage can be added to your home warranty plan within the first 60 days of your membership. If one of your covered electronic devices malfunctions, you'll simply file a claim and pay your Trade Service Call Fee to have the issue diagnosed*. If the item is covered under the Electronics Protection Plan, the cost to repair or replace it will be covered up to $2,000 per claim with an overall claim limit of $5,000.
Electronics are expensive to repair or replace, so it's important to ensure that your new holiday electronics gifts are covered. Protect your budget—and your tech-savvy lifestyle—with The American Home Shield Electronics Protection Plan*.
Read more about electrical safety tips and how to spot electrical problems.
*Please note that the Electronics Protection Plan is provided by Allstate Protection Plans and can only be purchased in conjunction with an American Home Shield® home service plan. View the full terms, conditions, and coverage details here.
AHS assumes no responsibility, and specifically disclaims all liability, for your use of any and all information contained herein.