These women have taken D.I.Y. and home repair by storm and are rated by our Home Matters professionals as the top 5 favorite female home improvement bloggers.
Who says women aren't handy around the house? Our favorite female home improvement bloggers can roll up their sleeves, paint walls, drill cabinets and wield hammers with the best of 'em. In honor of Women's History Month, grab your toolbox and get inspired with these five DIY dames we love.

It's Great To Be Home
A self-proclaimed serial home improver and house-lover, Liz of
It's Great to Be Home
uses her platform to document the transformation of her own home and her many house-flipping skills. Using detailed photos and a conversational yet informative tone, Liz shows us just how to tackle different aspects of home building and remodeling. Interested in flipping a home but leery of the cost? Liz puts your mind at ease by breaking down a home-flipping budget. Beyond everything renovation-related, you'll also find design inspiration landscaping and even parenting advice on her blog.
Pretty Handy Girl
With over 60,000 likes on Facebook and a number of awesome contributors, the
Pretty Handy Girl
(a.k.a. Brittany Bailey) has quite the following. According to her blog, she's a licensed general contractor, artist, photographer and designer who aims to empower women to finish their own projects. As a proponent of the do-it-yourself approach, Bailey offers detailed step-by-step guides to a variety of home improvement projects. Through her posts, which reach back to 2010, you'll learn how to build a table, finish your wood floor without sanding, paint like a pro and even fix a leaky faucet. For those just entering the realm of DIY home repair, Bailey also offers a number of tool tutorials that break down how and when to use certain tools.
Besides boasting an impressive tool collection and a willingness to tackle pretty much any home improvement task you can think of, Brittany maintains an empowering mantra: "If someone can do it, there is a 95 percent chance that I can do it too!"
The DIY Show-Off
Roeshel Summerville started her blog back in 2007, when she and her husband were in the midst of searching for a new home. Though they recognized the space needed some serious work, they both fell in love with the character and charm of a fixer-upper farmhouse. Over the years, they've transformed it into a welcoming, functional space for their family on a budget.
Updated daily,
DIY Show-Off
doesn't just document Summerville's home transformation—it also offers endless ideas and tutorials on a variety of home improvement topics, from renovation and organization to decoration, gifts and crafts. You'll also find advice on holiday cooking and decor, party planning ideas and even healthy recipes and natural living tips.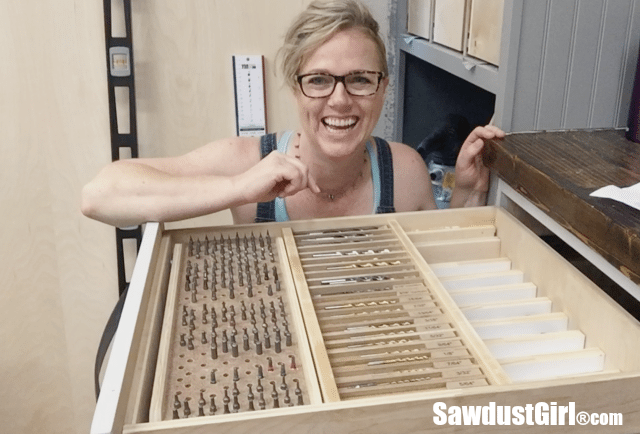 via Sawdust Girl
Sawdust Girl
One thing is for sure: this blogger is definitely not afraid of getting her hands dirty. Sandra Powell of the blog Sawdust Girl is an expert carpenter who encourages her readers to "build like a girl." The blog offers a number of free and for-purchase tutorials on building cabinets, closets, furniture, storage organizers and even a built-in wine and beverage refrigerator cabinet. Plus, Powell can show you some fun, crafty ways to use up that scrap wood you've got leftover from a big project, like this rustic decorative
scrap wood arrow
.
Besides offering readers a peek at the ongoing work in her own home and offering tips on home renovation, Powell also occasionally shows off her handiwork by featuring the homes of her clients. P.S.: Don't miss out on her tasty recipes. Clearly, she's a lady of many talents.
Centsational Girl
Kate Riley loves a good bargain, hence the name of her blog:
Centsational Girl
. Riley shows her readers how to create amazing spaces by sticking to a budget—or what she calls creating "diamond style on a dime." She also uses her platform to cover home improvement trends, detail her travels, link to her own favorite design blogs and even share recipes. Riley's been writing about home improvement techniques since 2009, and has contributed to several home improvement websites and companies. In 2015, she was named one of Better Homes and Gardens' top favorite bloggers.
Some of Riley's best projects include a fireplace makeover, a DIY modern pet bed and her popular $10 cabinet makeover. Riley also blogged the renovation of her friend's outdoor poolside sitting area. Not only did she transform the space on a budget—she completed the project in just one day. Kind of makes you wonder if she's Superwoman.
From their attention to detail to their commitment to completing projects, you won't catch these ladies running from a challenge. They show that wielding a power drill has nothing to do with your gender—it's all about taking the time to learn a skill.