American Home Shield is here to help with this moving-into-a-new-house checklist, so you can be ready for whatever moving day brings your way. Here are some ideas for what to do when you move into a new home.

One Month Before Moving Day
Hire your moving company. At the top of your new home checklist should be hiring a professional moving company. Professional movers can help streamline the process, especially if you're planning a long-distance move. It's best to book as soon as you get a moving date.
Finding quality moving companies can make all the difference between a smooth moving process and a total headache. Be sure to compare prices, check availability, and set up estimate visits. If you only need transport vehicles, contact several rental truck companies and ask similar questions about availability, costs, rental return policies, mileage, equipment, or moving help.
Start gathering packing supplies. Be on the lookout for packing boxes, tape, markers, bubble wrap, and newspapers for filler material. A cheap trick is to call and visit your local grocery or home goods stores to see if you can nab their boxes before they're broken down.
Ditch the clutter. When preparing to move into a new home, a good idea is to get in touch with your inner minimalist and donate or sell anything you don't use. Here's a good rule of thumb: if you haven't used it in a year, you can probably live without it.
Secure your important documents. Investing in a fireproof safe is an essential item to add to your homeowner to-do list. You can stash your valuables and important documents there and transport them yourself, so you know exactly where they are before and after the move.
If relocating to another city, don't forget to request copies of all medical, dental, vision, and school records to take with you. If you typically go to a chain pharmacy, they should be able to transfer your prescriptions easily to the new location; but if you have to change companies, you'll want to get the process going sooner than later. Now is a good time to obtain any needed refills.
Tackle your basement, attic, and garage. It's good to start organizing and packing up the storage areas now. Consider storing all of the boxes in these storage areas to free up your house space. The earlier you can accomplish items off your checklist before moving to a new house, the better.
Two Weeks Before Moving Day
Submit a postal change of address form online. It's also a good idea to change the address on your driver's license, vehicle registration, and credit cards at this time. You will also want to update your address with your family's doctors, employers, and any other key contacts.
Set up your utilities. This is a key item on your checklist for moving into a new home. Let the utility company know in advance to ensure a smooth transition. Don't forget to change your address on all of your accounts; go through your list of bills so you don't forget anything.
Gather and clean outdoor furniture. While cleaning, inspect your outdoor furniture for damage. If it's broken, discard it—there's no use hauling it to your new home if it's going to fall apart on you later. You'll also want to get the items from your shed, deck, or porch scrubbed down, packed up, and ready to go. Just keep your lawnmower or snowblower within easy reach in case you need to use them before moving day.
One Week Until Moving Day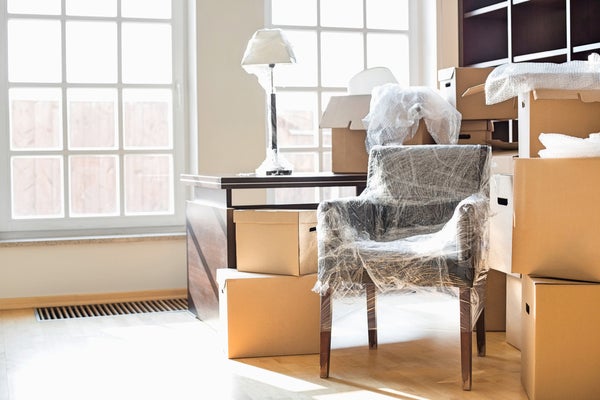 With only one week until moving day, it's time for the real work to begin. Pre-pack as many nonessential items as you can. Here are some packing tips for preparing to move into a new home:
Avoid packing more than 50 pounds into a single box so you can lift and load/unload the boxes easily.

Label each box with what's inside as well as its corresponding room for your new home.

Cushion fragile items with bubble wrap or with your towels, sheets, and blankets. Wrap breakable items individually.

Don't pack all your books in one box. Spread out these heavy items among several boxes.

When packing the moving vehicle (if you're not using a moving company), put all the boxes in first and load the large furniture last.
After everything is boxed up, move it to an easy-to-reach area like your garage or living room so it will be easy to load up. Make sure you separate the items you'll move yourself from the things you'll want the movers to handle.
One Day Before Moving Day
Confirm travel arrangements. When it's only one day until you move, the first item on your checklist for moving into a new home should be touching base with your moving company and confirming any travel plans. This can help you avoid any surprises come moving day. Have payment ready for your movers, plus a tip.
Clean, clean, clean. Thoroughly clean the kitchen, bedrooms, and bathrooms. Unplug the refrigerator, defrost the freezer, and empty the ice maker and ice cube trays.
Prepare essentials. Pack suitcases for each family member with clothes and toiletries that you'll need during the first few days. Be sure to take a box with you containing the family's bedding, pillows, towels, and medicine to be used on the first night in your new house. Take a box with paper goods, soap, light bulbs, and household cleaning items as well as your children's favorite toys, games, and books.
When thinking of things to do when you move into a new house, don't forget about your furry family members. Make sure you pack a box that includes pet beds, food, water, and litter boxes.
Moving Day is Here
Load your vehicles. Try to get anything you're personally transporting packed and out of the way before the movers arrive. Stow your essential suitcases and other personal items safely in your vehicle, so you'll know exactly where they are.
Do a final sweep. Ensure that all cupboards, closets, and appliances are empty.
Get a home warranty. When you get to your new home, don't forget to protect your appliances and home systems. An American Home Shield® home warranty covers up to 23 home systems and appliances (no matter their age!). In addition to your base plan, you can also choose add-on coverage, such as seasonal HVAC tune-ups, roof leak repair coverage, and services to rekey your home.
In addition to our new home checklist, get more moving tips, so you're fully prepared for the big day.