Being a first-time home buyer can feel good, but it can also be stressful. Use these tips to help manage your bills and spending.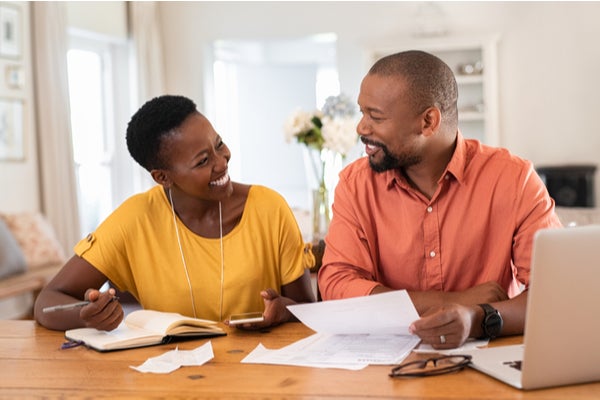 Buying your first home is one of the most exciting, confusing and stressful times in your life. Even if you live in a fairly calm market, it's exhausting and overwhelming to look at houses, make offers, negotiate contracts and go through the mortgage underwriting process. Add in bidding wars and homes that sell within hours, and buying your first home can quickly become an emotional rollercoaster.
A big source of stress is managing the costs that come with buying a home and, eventually, with owning it. You have to start saving early and aggressively when you plan to buy a home because you'll need to come up with money for a large down payment, closing costs, fees, moving expenses, renovations and repairs needed before move-in. The bills can feel endless and, well, they kind of are. Here's how to manage the bills that come with buying your first home, ensuring you have enough to cover maintenance and repairs in the future and still live your life.
Don't Drain Your Savings to Buy a Home
If you follow conventional wisdom, you need a 20 percent down payment to get into a home. These days, that's no longer true. And while it's ideal to put down 20 percent on your house, you also need to hold some money back to cover the closing costs, inspection and other fees, moving expenses, the cost of any renovations or repairs you need to make before moving in, deposits paid to utility companies, and maintenance and repairs in the first year.
When considering how much home you can afford, it might be best to make a smaller down payment, or buy a less expensive house, so you can hold more money back for additional costs. There's always something new to pay for when you're buying your first house.
Strengthen Your Credit
The better your credit, the better your mortgage rates, and the more money you'll save in the long run on your home purchase. As you prepare to start home shopping, take steps to rectify any issues with your credit. If your credit is fine, keep it that way by paying all your bills on time, not opening any new lines of credit and not assuming any new debts. The less debt you have, the more favorably lenders will look upon you — provided you've borrowed (and paid back) enough money to have a decent credit score.
Get Pre-Approved by Multiple Lenders
Pre-approval is a process by which a lender checks your credit, examines your income, assets, and debts, and determines how much they're comfortable lending you for a mortgage. You can and should get pre-approved by multiple lenders so you can compare rates and find the best deal. It could save you thousands in the long run.
Explore Your Mortgage Options
Conventional loans with 20 percent down aren't the only game in town anymore. You can qualify for a government-backed FHA loan with 3.5 percent down, or a USDA loan (in a rural area) with zero down. If you're a veteran or active-duty service member, you can get a VA loan with zero down. Your state may also have special programs for certain homebuyers, like low-income residents and single parents. You could get down payment assistance or help with repair costs, for example.
Don't Forget Closing Costs and Other Fees
Closing costs are usually three to four percent of the home's purchase price. These fees go to cover the hard credit check, attorney's fees, appraisal, first year's homeowners insurance and so forth. You'll need to either ask the seller to cover them or pay them yourself at closing.
There will be other miscellaneous fees associated with buying your home, such as the inspection, which can cost $400 or more. You're expected to shop for and line up some of these services, such as the home inspection, yourself. Ask your lender which services you can shop around for, but don't waste time — you need to keep things moving along so you can close quickly.
Negotiate with the Seller
Save yourself some money in the long run and negotiate with the seller to fix any issues before closing. If you don't trust the seller to fix issues or they don't want to, you can at least negotiate to knock some more money off the price of the house.
Protect Your Home and Your Budget
It seems like something always goes wrong with a new house as soon as you purchase it, so protect your home and your budget by asking the seller for a home warranty. A home warranty will protect your home's appliances and systems from wear-and-tear breakdowns in the first year, and if you like it, you can renew it at the end of the year to extend your protection. It's an affordable way to fit routine home repairs and appliance replacements into your budget. American Home Shield® is here to provide customers with home warranty coverage so that their home and budget are covered when appliance breakdowns happen.
Once you get into your new home, you're going to have questions -- about how to maintain it, how to repair it, and even how to decorate and improve it. Read our Home Matters blog to find the answers you need.
AHS assumes no responsibility, and specifically disclaims all liability, for your use of any and all information contained herein.