Being a new homeowner can be so exciting. There's nothing quite like the thrill of walking through your brand-new space and letting your imagination run wild with the design and layout possibilities. You can do whatever you want, and nothing is holding you back.
Except for your budget. As much as you'd love to throw what's left of your savings into decorating your new abode, you know you need to save for a rainy day. Luckily, American Home Shield is here with some money-saving tips for new homeowners that can help make your new house into a home—without breaking your budget.
Here are some ideas on how to save money as a homeowner.
1. Take inventory.
Sure, your home inspector may have taken a thorough look at the house before you purchased it, but that doesn't mean that you shouldn't make your own rounds. Before investing any money into decorating your home, it's a good idea to perform routine maintenance on all of your appliances and systems.
Closely inspect the items to determine if you should set aside some money for possible future replacements. Having a yearly homeowner guide is an easy way to stay on top of things, get into a maintenance routine, and make sure you get the most life out of your home systems and appliances.
A related homeowner tip is to look into the value of a home warranty. Home warranties are a great money-saving tip for first-time home buyers. They can help you with unexpected repairs or replacements without breaking your budget. Homes are unique, so American Home Shield made coverage plans to match.
Before you buy, it's important to understand the difference between a home warranty vs. home insurance.
2. Upgrading to "smart" may be the smart option.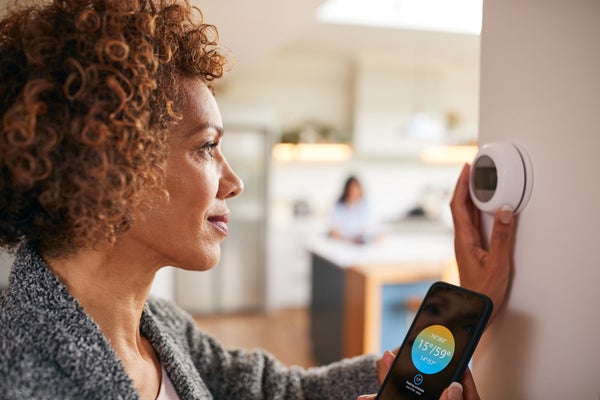 One sticker shock you may not be prepared for is your home's electric bill. Heating, cooling, and general power usage can easily double in a house versus an apartment (depending on the square footage and amenities, of course). Switching to a smart thermostat, lighting, and plugs can save energy and is one of the best ways to save money on bills. Even switching all of your bulbs to LED bulbs can help you use less energy.
Make sure you keep your receipts for any energy-saving item you buy—these could be a deduction on your taxes. (We'll dive into taxes later!)
3. Buy secondhand.
Have a friend who's redoing their living room? Make an offer on their old furniture. Taking hand-me-down couches, tables, and chairs can save you a bundle. New homeowner tip: if a piece of furniture is not quite to your taste, you can always reupholster or get a slipcover to give it a makeover.
Also, don't forget about thrift stores and estate sales. You can find some incredible items in excellent condition at a fraction of the retail cost. No one will ever know the difference.
4. Make DIY your new hobby.
Learning how to DIY can be one of the best tips for saving money at home. Many house projects are beginner-friendly and can be less expensive if you're willing to do a little bit of the hard work yourself.
DIY home improvement projects, like painting and switching out hardware, can make a huge difference in the look and feel of your new home without sending you spiraling into debt. The internet has opened up a wealth of knowledge for novice "do-it-yourselfers," making it easy to find detailed instructions or videos demonstrating simple fixes.
Just make sure you stick to fairly simple projects until you get a better grasp of your home improvement skill set.
5. Keep an eagle-eye out for hardware store deals.
Another homeowner money-saving tip is to look for clearance or discounted items at your local hardware or home goods store. They drop the cost of perfectly good merchandise when they become discontinued to clear space for newer models.
And don't forget about "oops" paint. If a paint shade doesn't come out the way the customer specified or was mixed incorrectly, the store may be left with large quantities at reduced prices.
6. Take advantage of tax deductions.
Filing taxes after purchasing a home can be daunting, especially if you have no idea what to expect. Luckily, there are quite a few tax deductions for homeowners out there that can help reduce the amount you owe. Hiring a tax professional who knows how to find the best deductions for your situation may help you save money in the long run.
7. Hold off on extreme makeovers.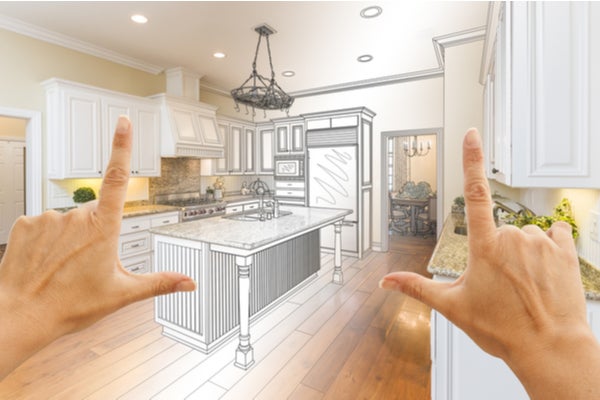 After you've bought a home, ask yourself, "What absolutely must be done now, and what can wait?" Part of the fun of buying a house is dreaming about fitting it exactly to your tastes—we get it. But if we may offer a bit of homeowner advice, it might be a good idea to get used to living in the new house for a while so that you can plan mentally and financially for any extensive renovations or expensive purchases. Allow yourself enough time to fall in love with new aspects of your home—and save money while you do it.
It really does take living in a house to know exactly what you want to change. So, start slow, and tackle one project at a time. Upgrading your master bathroom can wait until you've saved up for it. And adding on that deck doesn't have to be something you do this year. Simply ensure you're comfortable in your new home. The extra projects will happen, and the new items will come. And they'll be that much more exciting when you can easily afford them.
Now that you have a good handle on the best money-saving tips for new homeowners, read about need-to-know homeowner maintenance tips to keep your house in tip-top shape.