Seeing fuzzy stuff flowering across your shower can be a nightmare for a homeowner. Is it mildew? Is it mold? The sudden appearance of fungi can be alarming. Don't fear—American Home Shield® is here with advice when you find black mold in your bathroom.
When you're a homeowner, mold needs to be kept under control. If not, it can spread and eventually cause health problems for you and your loved ones. You may experience coughing or skin and eye irritation. People with breathing problems or other chronic illnesses can also develop serious lung infections if mold is not addressed.
Here are some tips for black mold removal. We can help you determine exactly what you're dealing with and the best way to remove it.
Where Does Mold Thrive?
There are three things mold, mildew, and fungi love: moisture, warmth, and darkness. When keeping an eye out for mold, always check:
The attic. Roof leaks can be devastating when it comes to mold. The water can seep from the attic to your ceiling and into the drywall, creating a cozy mold Petri dish. (Get ahead of roof leak damage with American Home Shield® roof leak repair coverage.)

The basement. Check around the windows and in corners. Pay special attention to the area around your water heater or sump pump.

The laundry room. The steam from the dryer can make your laundry room the perfect home for mold spores and mildew.

The kitchen. Check around and under the sink as well as in cupboards surrounding your built-in dishwasher. Here's how to avoid mold in the kitchen.

Crawl spaces. Besides dirt, spiders, and cobwebs, your crawl space can also be a host for an array of fungi.
The biggest battleground is your bathroom. Mold and bathrooms go together like peanut butter and jelly; steam from the shower seeps into every crevice. You're more likely to see black mold in the bathroom than anywhere else in your home.
How to Tell the Difference Between Spores
It can be hard to determine with the naked eye if your bathroom fungi are mildew or mold. They look very similar, and both come in a variety of colors. Mildew tends to be a bit more powdery and smells different from mold. You may want to pick up a mold testing kit to find out exactly what you're dealing with. Without one, it may be difficult to determine if you have black mold in your shower or other parts of your bathroom.
How to Clean Mold in Showers and Bathrooms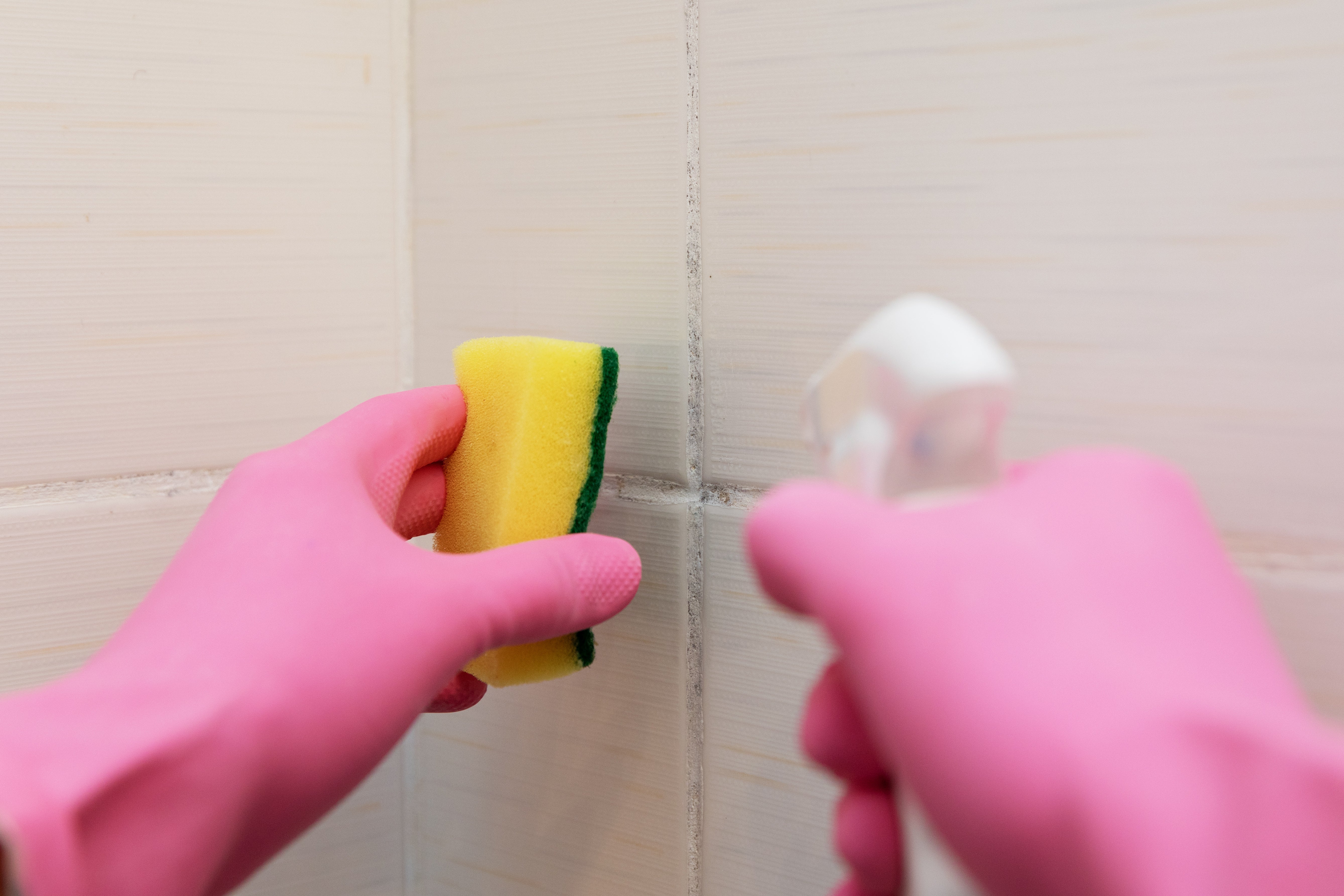 When removing mold, you should always wear personal protective gear. Gloves, goggles, and a mask that blocks mold spores are a must. If you're attempting to remove black mold yourself, you should also wear a disposable hazmat suit, as spores can stick to your clothing and spread further.
First, assess the damage. If your mold problem covers a very small area, you should be able to handle black mold removal on your own. If it's a larger area, you need to call a professional as soon as possible. You should also avoid living in the home until a professional can remove the mold.
To remove black mold, gather these supplies:
Bleach and other mold-killing cleaners

Baking soda

Nylon brush, toothbrush, or sponge with a scrub pad on one side

Large bowl or plastic bucket (if you are mixing your own solution)

Spray bottle (if you are mixing your own solution)

Dry towel or paper towels

Caulk
Now, let's cover how to remove mold in the bathroom:
Mix. If you are using a commercial cleaner, be sure to follow the instructions on the container. If you aren't using a pre-mixed commercial cleaner, mix a solution of one part bleach with two parts warm water and fill your spray bottle with it. You can also use white vinegar—either straight or diluted with water.

Spray. Spray generous amounts of your cleaning solution on the areas of visible mold, and let it sit for about 15 minutes.

Scrub. With the brush or sponge, scrub the areas well.

Rinse. Use warm water from another spray bottle, a very wet cloth, or the showerhead or faucet to rinse the areas.

Paste. For tough spots, make a paste of baking soda and warm water. Apply the paste and let it sit for 10 to 20 minutes.

Scrub. Like before, scrub the areas and rinse them with warm water.

Dry. Use a paper towel or dry bathroom towel to dry every surface you have scrubbed and rinsed.

Caulk. Now it's the time to re-caulk. Pay special attention to the instructions on the caulk tube to know how long you must wait before you can use your shower or tub again.
How to Prevent Mold in the Future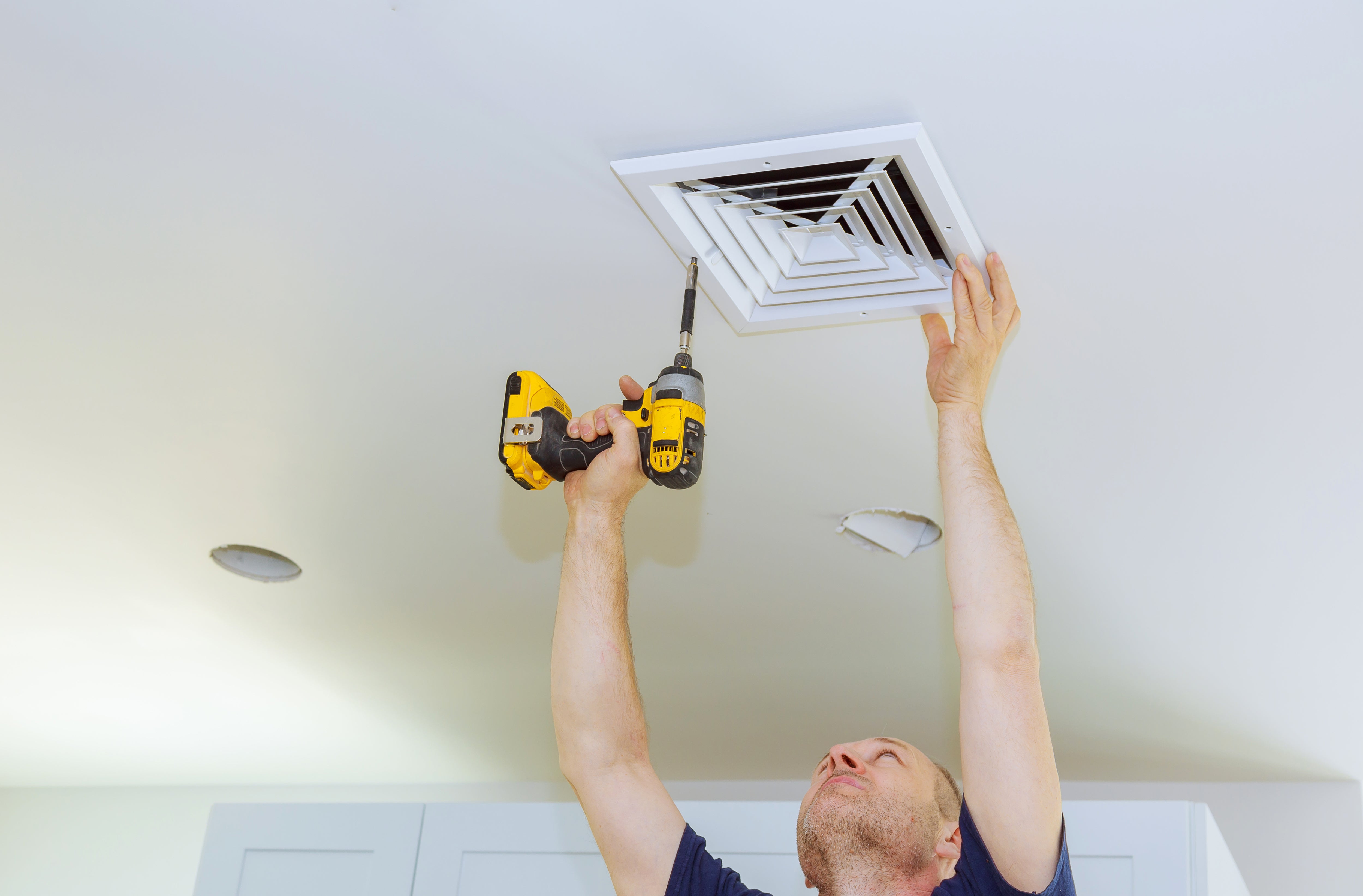 Airflow and cleanliness are the keys to fighting mold in bathrooms. Here are some tips on how to prevent mold infestations:
Ventilate. Install a bathroom vent fan, and use it during baths and showers. Keep it running for thirty minutes afterward. A home warranty from American Home Shield® can cover your built-in fan, meaning that if a breakdown occurs, we'll help pay for its repair or replacement.

Use a dehumidifier. Using your air conditioner in humid weather can also help.

Lighten up. Sunlight is like kryptonite for fungi. Open your blinds, replace heavy drapes with sheer curtains, and let the light in. Also, open the shower doors and curtains when they're not in use.

Keep everything scrubbed. Bathroom cleaning isn't always a fun task, but it's essential when it comes to keeping mold and mildew at bay. Utilize bathroom cleaning hacks, like replacing the shower liner every six months, to make the job easier and keep your bathroom décor free from mold.
When you find black mold in your bathroom, don't fret. Either call a professional or conduct black mold removal yourself with these easy tips. Then, check out bathroom makeover and remodel ideas to spruce up your space.
Does a Home Warranty Cover Mold?
Home warranties are designed to be your financial safety net if covered parts of your home systems or appliances fail due to normal wear and tear. An American Home Shield® home warranty will cover the things your homeowners insurance won't, like breakdowns of the items that keep your home running properly.
For instance, if your water heater springs a leak and causes water damage to your floor, your home warranty may cover the repair of the water heater itself, and your homeowners insurance policy could potentially cover the structural damage to the floor that the leak caused. So, if you're wondering, "Is black mold covered by a home warranty?" the short answer is no. Your home warranty is not designed to cover any issues like mold. Learn more about what is covered by a home warranty.
Keeping your home and budget protected is our priority. Even though our home warranties do not cover mold, American Home Shield does cover parts of the key appliances and systems that keep your home running smoothly. Shop plans to choose the best home warranty coverage for your household.
AHS assumes no responsibility, and specifically disclaims all liability, for your use of any and all information contained herein.