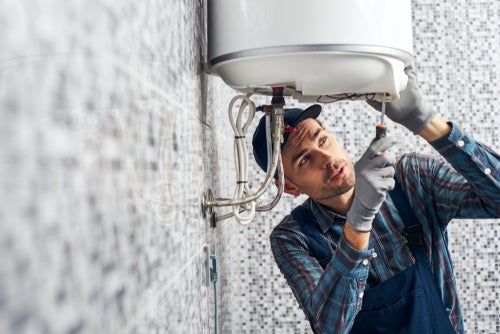 There's little as soothing as a nice hot bath after a long day. Before you can sink into the bubbles, you need to make sure you have an efficient and effective water heater to get your home's water from tepid to toasty.
If your water heater is old or in a state of disrepair, it's probably time to buy a new unit. You're probably wondering, "How much does a water heater cost?" We'll help you learn how much the different types of water heaters cost to purchase and install.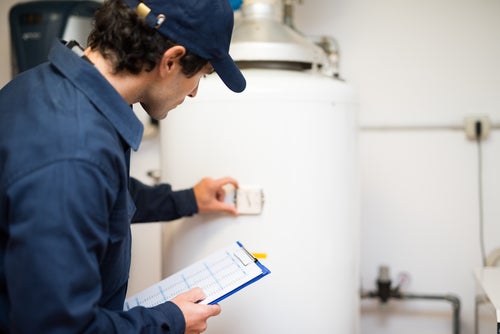 How Much Does a Tank-Style Water Heater Cost?
Conventional tank-style water heaters are better for colder climates and homes that don't have access to gas lines. This type of water heater uses a 20- to 80-gallon tank and electricity, propane, gas, or even solar to heat and store hot water.
Cost: The price of a residential tank-style water heater can range from $300 to $2,000* depending on the gallon size and brand.
Heating capacity: Tank-style water heaters can only heat and provide as much water as they can hold. Smaller households of two to three people should be fine with a 40- to 50-gallon tank, but that increases by about 10 gallons with every additional household member.
Maintenance: Tank-style water heaters usually require less maintenance and repair than tankless models.
Longevity: A tank-style water heater typically lasts 10 to 12 years.*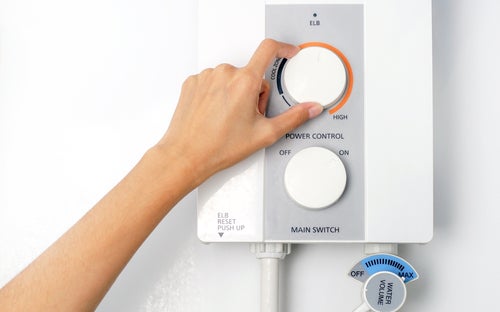 How Much Does a Tankless Water Heater Cost?
Tankless heaters are an efficient water-heating option, particularly in more temperate climates. They warm up your water only when needed by using electricity, propane, or gas. Because they don't need to expend energy perpetually storing large quantities of water, tankless heaters are more energy-efficient than tank-style models. Learn more about the pros and cons of tankless water heaters.
Cost: Depending on the flow rate and brand, a residential tankless water heater can cost between $180 and $2,200*.
Heating capacity: The heating capacity of tankless water heaters is measured by the gallons-per-minute flow rate. A two- to three-person household can usually get by with a tankless water heater with a flow rate of 3-5; however, that flow rate should increase by one to two with each additional person. If you have a larger household, consider installing multiple tankless water heaters throughout your home. (Some stores sell tankless water heaters in packs of three for this purpose.)
Maintenance: Tankless models may require more water heater maintenance than conventional models. Some older homes may need to have their electrical systems upgraded to install a tankless heater.
Longevity: A tankless water heater can last around 20 years. *
How Much Does It Cost to Install a Water Heater?
Now that you know the general costs of purchasing a water heater, you may be wondering, "How much does it cost to replace a water heater?" The cost to install a tankless water heater depends on local labor rates, the type of water heater, and if any modifications or upgrades are needed.
The cheapest option is to replace your water heater with another one that uses the same energy source type and is the same tank style and size. Converting from a conventional tank water heater to a tankless model is more expensive because it requires additional structural labor, such as installing circuits and rerouting water lines. Similarly, changing the fuel source can mean additional costs.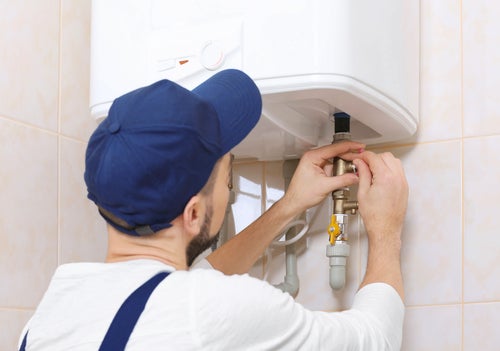 Protect Your Water Heater With a Home Warranty
You now understand the answer to "how much does a water heater cost?"—but what happens when yours breaks down? Water heaters are a necessity, so it's important to ensure that your budget is protected when they malfunction due to normal wear and tear. Protect your home systems—like plumbing and electrical—and appliances by investing in a home warranty plan***. American Home Shield gives you peace of mind that your home and your budget are protected.
Compare AHS home warranty plans to see which plan works best for your household.
Frequently Asked Questions
How many years does a water heater last?
A water heater can last between 10 and 20 years, depending on the water heater style and whether it has been maintained properly.
Is it cheaper to repair or replace a water heater?
If your water heater is only a few years old, it's likely more cost-effective to repair it. However, it depends on the type of repair needed. The average cost to repair a water heater is $201, while the average cost to replace it is $823**. If your heater is about 10 years old or older, replacing it might make financial sense.
Should I replace a water heater before it fails?
There is no need to replace a water heater before it fails if it is working properly and efficiently. However, you should repair—or potentially replace—your unit if you notice only cold or discolored water coming out of your faucets, unusual noises and colors emitting from the water heater, or water puddles around the heater. Here's how to avoid a broken water heater.
Can I install a water heater myself?
You should always leave water heater installation to the professionals. Improper water heater installation can cause serious health, legal, or financial issues, so it's not something that should be taken on as a DIY project.
*Water heater price ranges taken from The Home Depot and Lowe's websites.
**Repair/Replacement costs ranges are the twentieth and eightieth percentile of U.S. costs as reported in A Study of Homeowners' Appliance and Home Systems Service Experiences, a nationwide survey of homeowners conducted in 2019 by ClearVantage for American Home Shield. Further reproduction or use is expressly prohibited.
*** See the plan contract for coverage details, including service fees, limitations and exclusions. Charges for non-covered items may apply.