Score up with the NCAA Tournament March Madness party ideas and compete to win the title of the best March Madness party.
It's that time of year again, when we revive the old college spirit and cheer for our favorite teams like it's our job and compete over the final NCAA score. Maybe, it makes us feel like we are living our college years again. Maybe it's a passion for college basketball, or maybe it's just plain fun.

If your home is the place to go to watch the March Madness games, here are 16 fun ideas for planning and hosting a great viewing party. Our editorial team scoured the internet to bring you the best party ideas. Go team! Now bring on the march madness.

1. Choose a Date/Bracket Section
- First Four
- First Weekend
- Sweet Sixteen/Elite Eight
- Final Four
Click
here
for more details regarding the NCAA tournament March bracket and to get up to date on the current NCAA history.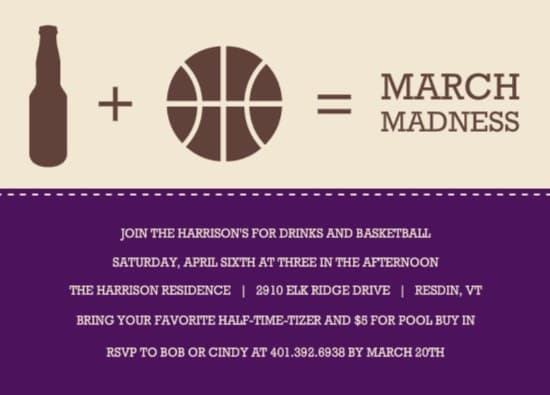 via Purple Train
2. Find The Perfect March Madness Themed Invitations
What kind of invitations will you send? Keep it casual with a Facebook event, an e-mail or create a fun flyer using your favorite team's colors. You could also opt for orange and black for a team-neutral basketball look. Even consider making the invitation round like a basketball. Be sure to set the start time for at least 30 minutes before the game starts so all the catching up can be done before tip off. More cool invitation ideas here:
•
Paper Direct
•
Evite
3. Support Your Favorite Sports Team and Get Creative
Create the ultimate VIP viewing area by pulling in plenty of extra chairs and side tables. Add pillows, cushions or bean bag chairs for extra seating. Then make sure the food and beverages are easily accessible with a buffet table and strategically placed coolers or beverage buckets. Extra points: make your own team-themed coasters!
Need advice on how to make your own coasters? We found some of the best bloggers to help you put together the perfect sport's day party. Click
here
for a DIY coaster guide.
4. Reunite and Join the NCAA Finals With Your Old Friends
Did your alma mater make the finals? Make it a reunion with your old college chums. Wear your school colors, create a party pennant to use on Facebook or email, and eat your favorite college late night food. Was it tacos or pizza? You can even play beer pong at halftime.
Related
:
Throwing the Ultimate Big Game Party
5. Plan The Perfect March Madness Games
Put a basketball hoop over the garbage can. It will add a little fun and encourage clean up. Three pointer! Take a look at this great
YouTube video
for instructions on how to set up this great march madness activity.
6. Who doesn't dream about being able to dunk with the best of them?
Plowing through the defense and soaring through the air … or sinking the three-pointer in the last five seconds of the game. Let your guests live out their hoop dreams by strategically placing foam basketballs around the room and multiple nets for some spectacular shots. People can even call their shots … "off of the bookshelf, over the dog, and into the cooler…"
7. Get To Know Your Guests With These March Madness Activities
This fun activity won't take a time out from the game and won't take much effort to assemble. Simply provide sticky notes and pens. Ask your guests to vote on the best sports cliché's that come spouting out of the commentators mouths. Write them on a post-it and stick it on the wall for all to enjoy. You can even vote on your faves, like the team that "takes them to school to show them the rules."
8. Some of us leave to fill our plates or go to the bathroom during the commercials, others consider it part of the entertainment.
Advertisers will be running many special ads geared toward college basketball fans. You can pass out "score sheets" to your guests and have them vote on their favorite commercials. When the game is over, see if any of the spots stood out. Or try some of
these
other creative "sideline" games.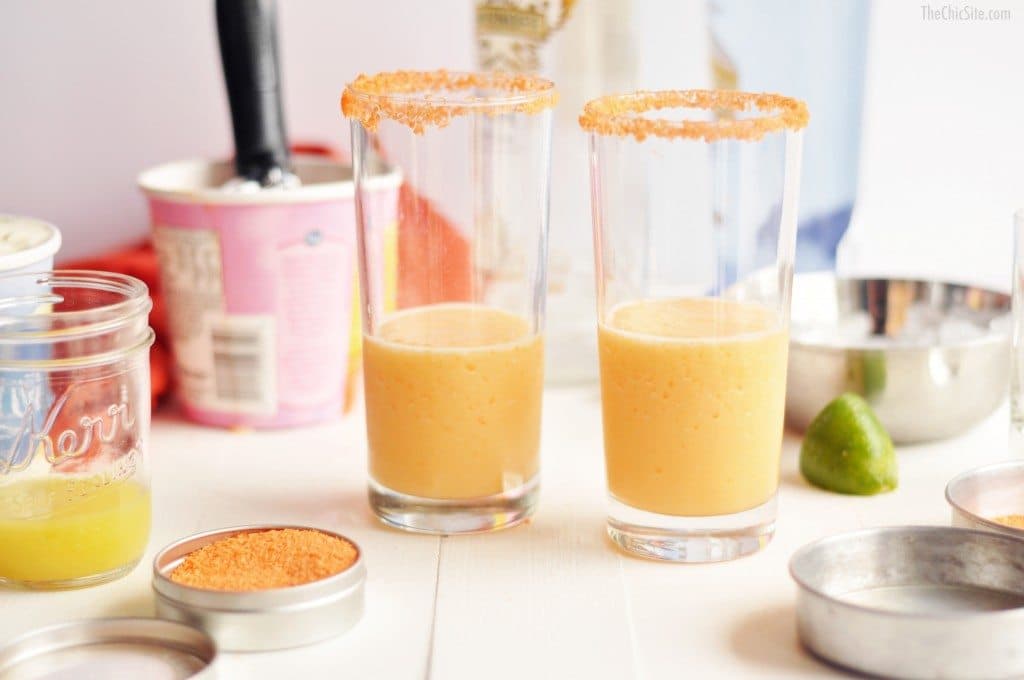 via The Chic Site
9. Drink More Cocktails, Buy More Beer
Spin it on the rim! Pour a little salt and/or sugar onto small plates and set out a squirt bottle of chocolate syrup. Salt for margaritas, sugar for lemon drops, chocolate for martinis, etc., Guests can twirl their glasses upside down in the sugar or salt or dress up a drink with ribbons of chocolate syrup. What a treat!
10. Get In The Zone and Share Your Favorite March Madness Accessories
The players are all about their fancy shoes … so why not have a "Kicks Contest" of your own at your viewing party. Tell you guests ahead of time to wear their funkiest, funniest or coolest shoes. Everyone votes by paper ballot and the winner can be announced between quarters. You can have a fun little prize for the winner, like team logo shoe laces! For a tie breaker, have them "walk the runway" to break the tie by applause.
11. Party Recipes That Only The NCAA Finals Could Handle
For another variation on a creative menu for your party, why not pick out specific foods to represent each region in the tournament? Choose delicious dishes from the West, South, Southeast and Southwest.
Here are a few possibilites:
West
= steak sliders,
South
= shrimp and grits cups,
Southeast
= crab dip,
Southwest
= chili or Tex Mex tacos.
12. Make sure your buffet table includes plenty of food that is easy to grab and eat with your hands, without double dribbling.
This recipe
for slam dunk sliders is a great example.
13. What's for Dessert?
Serve great basketball-themed food and your guests can eat their feelings if their team isn't winning … or celebr-eat if they do!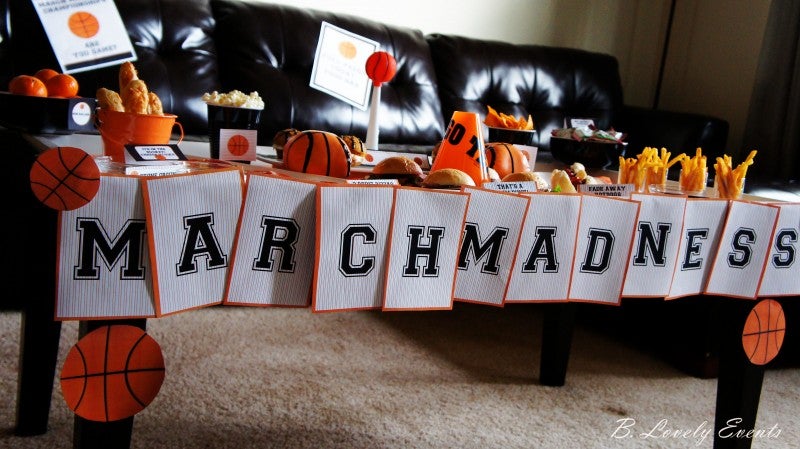 via Simone Made It
14. The Best Decorations For You And Your Guests
Decorations can be simple and add a festive feel for your party guests. Consider a color theme for a specific team or just go with silver to stay neutral.
15. Don't overlook the main attraction.
Snacks and games are nice, but hello, there's a game on. No one will want to miss a moment of the high-energy basketball action, so
make sure your TV is working correctl
y. Here are some tips to make sure your settings are just right for game viewing. Did you know some TVs have a sports mode? Or that you can make adjustments to the settings for the lighting in your room? It's true.
16. All Of The Madness Causing Your Appliances to Fail? Before You Conquer Your Party Planning Feats Make Sure Your Appliances Are Running Smoothly
Make sure your appliances and home systems are functioning in top condition. No one wants to be at a party where the beverages are warm due to a faulty fridge or where everyone's shivering due to a March cold snap and a broken furnace. Household breakdowns happen, but it helps to have a plan when they do. An
American Home Shield® Home Warranty Plan
gives your budget a great defense. Visit ahs.com for details.
Next
>
8 Easy Ways to Go Green on St. Patrick's Day