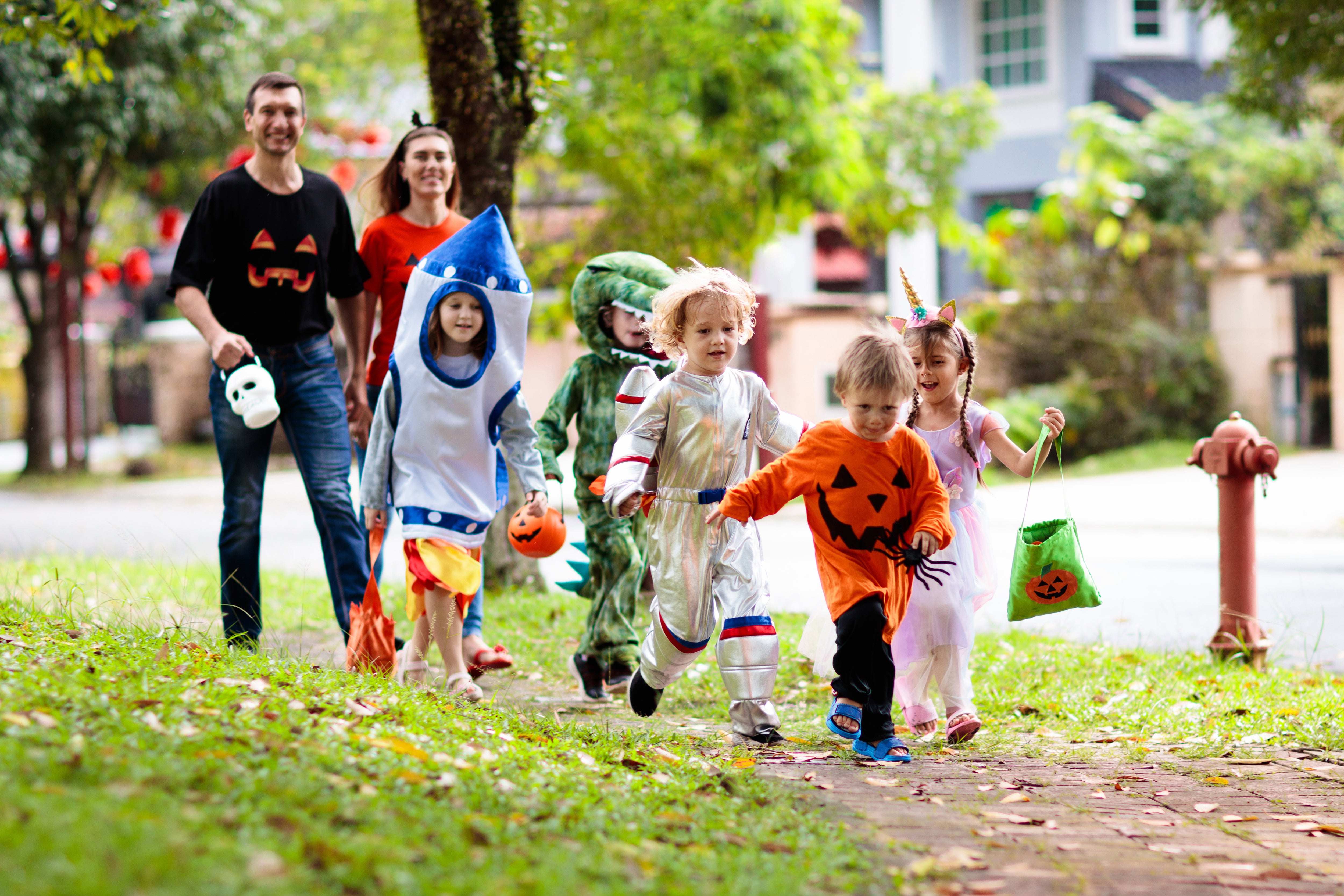 Halloween is the perfect excuse to dress up, chow down, and live out your spookiest fantasies. When it comes to costumes, candy, and cobwebs, there's no denying that America takes the crown. But, in a nation as huge and diverse as this one, it's not easy to decide where to visit for the best Halloween festivities.
Thankfully, American Home Shield® did the work, so you don't have to. We looked high and low for the best Halloween neighborhoods, so you know the right place to go for family-friendly fun, extra spooky experiences, trick or treating, and viewing unique decorations.
The Best Family-Friendly Halloween Neighborhoods
If you're looking for lighter thrills that will enchant, but not alarm, even the littlest members of your crew, these family-friendly Halloween neighborhoods are for you.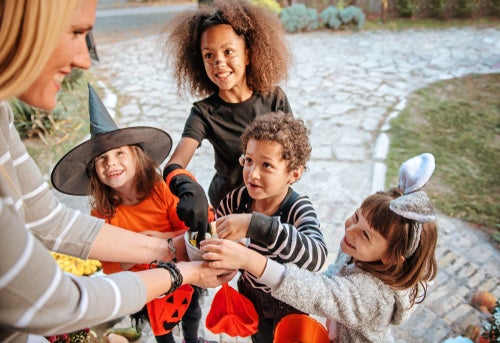 1. Downtown New Hope, Pennsylvania
New Hope is one of the best places for Halloween-loving families. The New Hope Railroad offers two Halloween events: one for younger kids and one for teenagers. Children can ride in their costumes on the Trick-or-Treat train, where they can enjoy sing-alongs and Halloween stories. The Halloween train is geared toward older kids and adults and includes a round-trip train ride with frightening experiences along the way.
You and your family can also participate in the town's ghost tour, complete with lantern-hoisting guides.
2. Downtown Independence, Kansas
The town's Neewollah festival (yes, that's Halloween spelled backward) goes above and beyond when it comes to its Halloween celebrations. If chili cook-offs, fun runs, a hunt for an infamous Medallion, a glittering Halloween-themed carnival, a kiddie parade, and an arts and crafts show appeal to you, take a trip to Independence this spooky season.
One of the more unique elements during this downtown festival is the crowning of Queen Neelah, who is chosen following a youth pageant. At night, leave the kids with the sitter and check out the peculiarities of the adult-only Doo Dah Parade, where a King and Queen Doo Dah are chosen from a creepy, costumed crowd.
3. Downtown Croton-on-Hudson, New York
Not only does Croton-on-Hudson have a majestic landscape, but it also hosts festive family-friendly Halloween celebrations every year. The highlight is The Great Jack-O'Lantern Blaze, which puts more than 7,000 hand-carved artisan jack o'lanterns on display. Your family will delight in the lighting synchronized to Halloween-themed music.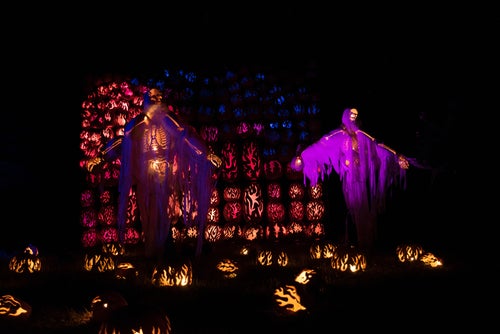 The Best Neighborhoods for Trick-Or-Treating
Take on one of the tastiest holiday traditions in one of the best neighborhoods for Halloween trick-or-treating.
1. Angelino Heights, Los Angeles, California
The setting where Michael Jackson filmed his horror movie-inspired "Thriller" music video is appropriately spine-chilling year-round—but especially so at Halloween. In Angelino Heights, nestled between the 101 and Sunset Blvd, you can walk by the stately mansion featured in the video and many other decked-out 19th-century Victorian mansions listed on the National Register of Historic Places. "The Haunted District" is the perfect place to trick-or-treat.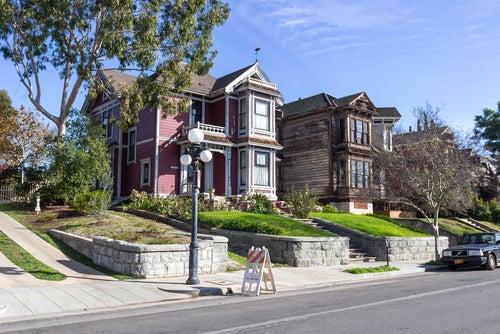 2. Hilltop, Denver, Colorado
If you like a piping hot cup of apple cider, the aroma of pumpkin spice, and a dazzling display of foliage with your trick-or-treat plans, take a trip to the beautiful Hilltop neighborhood southeast of Downtown Denver. Those of you with a sweet tooth will be delighted to discover that homeowners in this historic neighborhood are renowned for their generosity with candy.
Don't miss the Hilltop Halloween Picnic & Parade—leaving from Sundial Plaza and wandering through Robinson Park—with costumes, pizza, candy, and games galore.
3. Upper East Side, New York City, New York
The Upper East Side, adjacent to Central Park, is a neighborhood full of gorgeous mansions and townhouses. It's a great place to take the kids for an upscale and festive trick-or-treating experience. Many streets are blocked off on Halloween night to provide safe areas for children to move from house to house. There is even a Carnegie Hill Neighbors Annual Halloween Spooktacular featuring fun music, trick-or-treating, and a costume contest.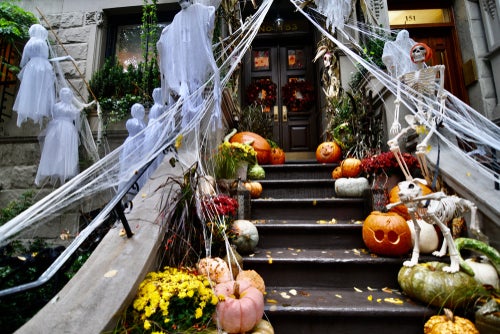 4. Naperville, Chicago, Illinois
Naperville is one of the 10 best cities to raise a family, so it's no wonder it has fantastic trick-or-treating opportunities.
During Naperville's Halloween Hop, dozens of businesses open their doors to trick-or-treaters, offering games, candy, healthy goodies, and other spooky surprises. This festive option is great for families who may not want to wander the streets and instead prefer a smaller trick-or-treating option.
The Best-Decorated Halloween Neighborhoods
These best neighborhoods for Halloween decorations will put a spell on you. Head to one of these communities to immerse yourself in witchy worlds and perfect pumpkin displays.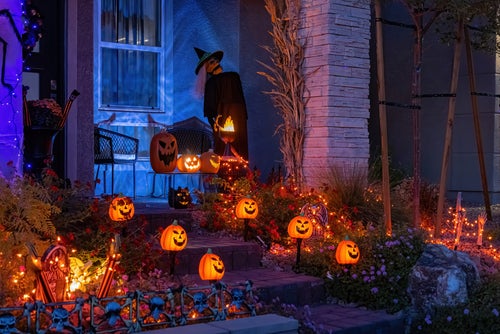 1. Kenova and Ceredo, West Virginia
Two communities unite to create an unforgettable Halloween experience for their residents and visitors. The C-K Autumn Fest is a Halloween wonderland full of fantastic décor, a scarecrow competition, a tractor show, live musical performances, and the Nightmare at Dreamland haunted trail. To view an epic display of Halloween decorations, stop by the Kenova Pumpkin House, famed for its more than 3,000 pumpkins, an array of lighted displays, and carving performances.
2. Shenandoah, Miami, Florida
When a community gets together to host a Halloween-decorating contest each year, you know the decorations will be top-notch. The Shenandoah community, located just southwest of Downtown Miami, puts on the Halloween on Coral Way contest annually to judge the best—and spookiest—home décor. Homes in past years have featured pumpkin cemeteries, light displays, haunted yards, and lots of cobwebs. Shenandoah is a great neighborhood to trick-or-treat in, but it's also worth driving here any other day in October just to take in the incredible DIY Halloween decorations.
3. Canterbury Court, Plano, Texas
If you live in the Dallas-Fort Worth area and are wondering, "What are the best Halloween-decorated neighborhoods near me?" don't miss a visit to Canterbury Court in Plano, about 30 minutes north of Downtown Dallas. A typically quiet cul-de-sac throughout the year, it lights up during the month of October. Neighbors go all-out with Halloween décor, featuring zombies, graveyards, huge blow-up monsters, and more. This street welcomes thousands of trick-or-treaters each year.
4. Philip Court, Tracy, California
With more than 70,000 dazzling lights, scary and superb special effects, and monstrous music, Tracy's Halloween-themed Magical Light Show on Phillip Court is as epic as it is eerie. The display is created by hundreds of hours of labor from locals and has become an annual holiday tradition for many neighborhood residents.
The Scariest Halloween Neighborhoods
If terror and trepidation are more your style, be sure to visit the scariest Halloween neighborhoods in the U.S.
1. Downtown Salem, Massachusetts
Due to its sordid history of witch trials, Salem is one of the scariest, most haunted towns in the United States. Residents and visitors wear creepy costumes throughout the Halloween season, which kicks off with the early October Haunted Happenings Grand Parade and Marketplace. Explore the neighborhood's wicked history with a two-hour Witch City Walking Tours Mysteries & Murders of Salem experience, a visit to the Salem Witch Museum, a stroll through Salem Witch Village, a macabre museum experience at the Salem Wax Museum, or a nighttime séance with a psychic.
If the creepiness creeps up on you too much, try taking a comical break at the annual Howl-o-Ween pet costume contest at Derby Wharf.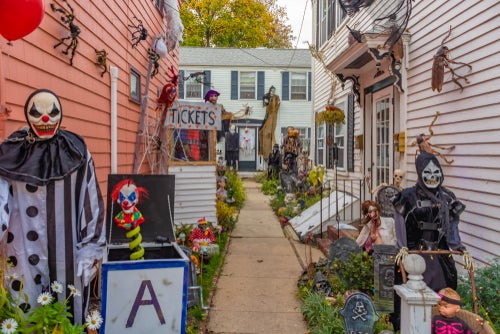 2. Downtown Savannah, Georgia
As one of America's most haunted cities, Savannah is one of the best places in the U.S. for Halloween. Activities sure to give you the creepy crawlies include taking a Hearse Ghost Tours ride through the Historic District or hopping on the Ghosts and Gravestones tour of the town's most haunted sites. A visit to Savannah during Halloween is not complete without visiting the frightening Alee Terror Plantation Haunted House.
Round out your day by drinking at the Moon River Brewing Company, home to a history of paranormal activity—it was even featured in an episode of Ghost Adventures on the Travel Channel.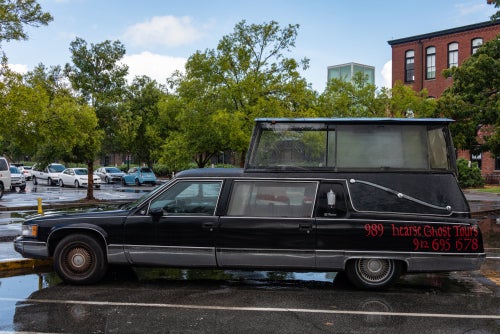 3. French Quarter, New Orleans, Louisiana
One of the best Halloween neighborhoods, the French Quarter is known for its Voodoo shops, ghostly history, and world-famous above-ground cemeteries. This district is celebrated for being haunted year-round, but there's no better time to summon the supernatural than Halloween.
Adorn yourself in appalling apparel from one of the neighborhood's many costume shops and scare yourself at the Scout Island Scream Park. Then, take the trolley east to visit the famous Mortuary Haunted Mansion, which was built in 1872 and housed a real mortuary. The Mansion has been featured on the TV shows Ghost Lab, Ghost Hunters, Ghost Hunters International, and Ghost Adventures and is one of America's scariest attractions.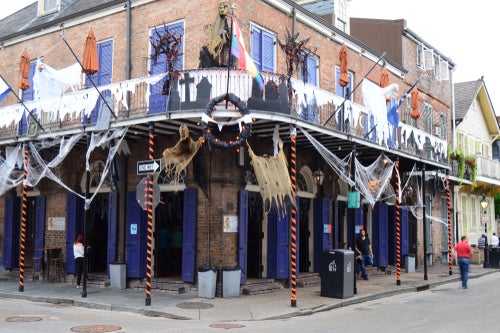 No matter if you're celebrating at home or traveling to one of the best Halloween neighborhoods in the U.S. for the most hair-raising of holidays, be sure to protect your (Halloween-decorated) home by signing up for a home warranty plan. American Home Shield offers comprehensive coverage for your parts of up to 23 home systems and appliances that you use every day. We help protect your budget from the cost to repair or replace covered items in your home that break down due to normal wear and tear. Our frightfully flexible pricing and plans provide varying levels of coverage—because every home and budget is unique.
Get inspiration about how to decorate your home for Halloween. If you're especially crafty, you can even make your own home appliance Halloween costumes, including cobwebs, cauldrons, coffins, and more.

For more spine-tingling stories, check out true-crime podcasts Crime Junkie or Morbid.