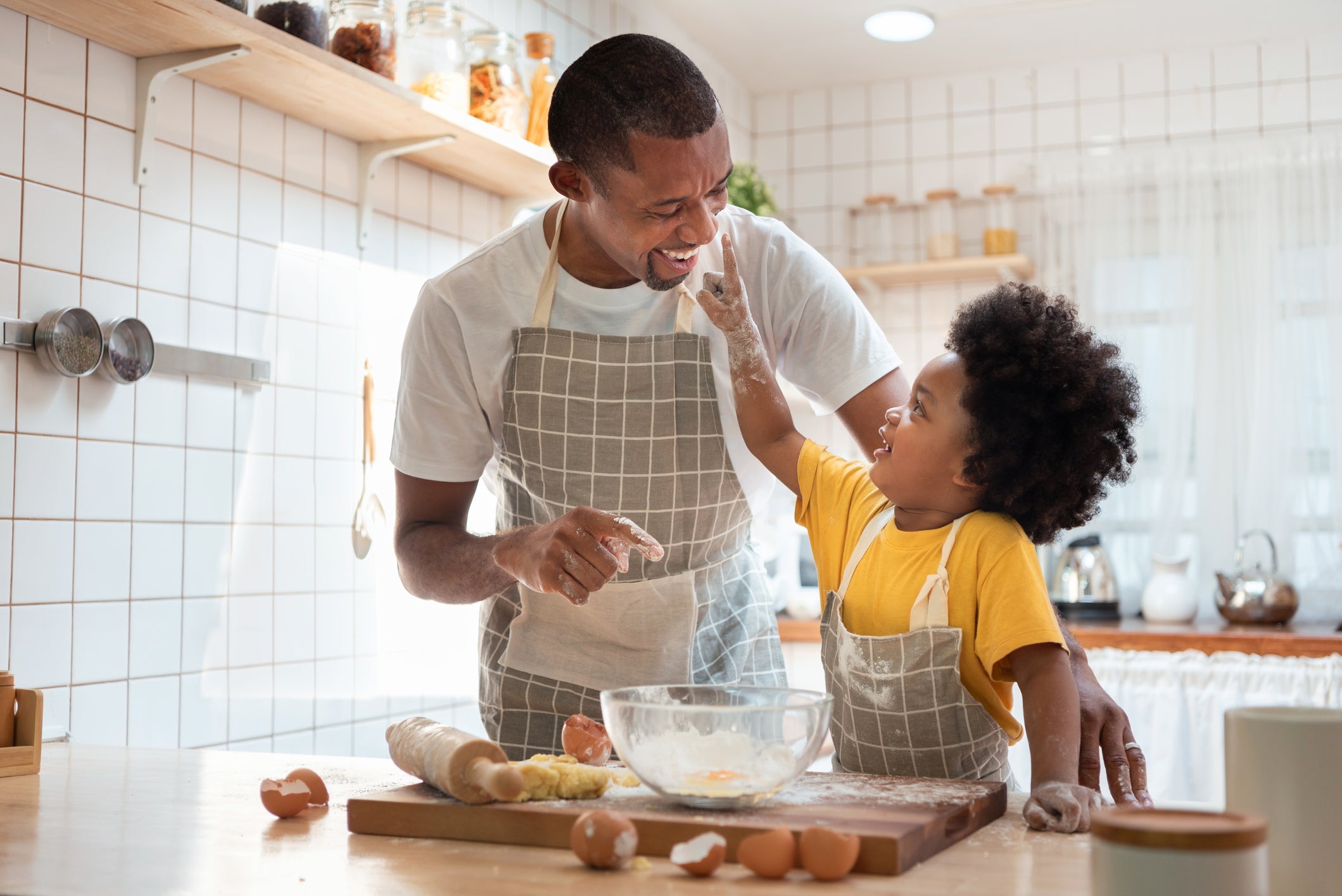 Getting your kids interested in cooking nice and early is a no-brainer for so many reasons. We've all got to eat, so setting your little ones up with the foundations of a rich culinary pathway to follow is a wise decision that will pay dividends later in life. If you foster an interest in the kitchen from day one, it's an opportunity to teach your kids lifelong skills, create lasting good habits, and even make some beautiful memories along the way.
If you've got a budding chef on your hands but are a little bit anxious about letting them loose in an area full of hazards, fear not! We've assembled some fun and safe kitchen tools to teach kids how to cook, so you can nurture their love of food minus the stress of a potential kitchen nightmare.
A step stool
Parents definitely have the height advantage when it comes to kitchen activities. If your kid can't reach the counter yet, a sturdy step stool can bring them up to a more inclusive level. Standard step stools are fine for older children, but toddlers will require something with a little more support. Look out for a learning tower – they are enclosed and have more of a platform structure so your tot won't go tumbling over the edge.
Non-slip bowls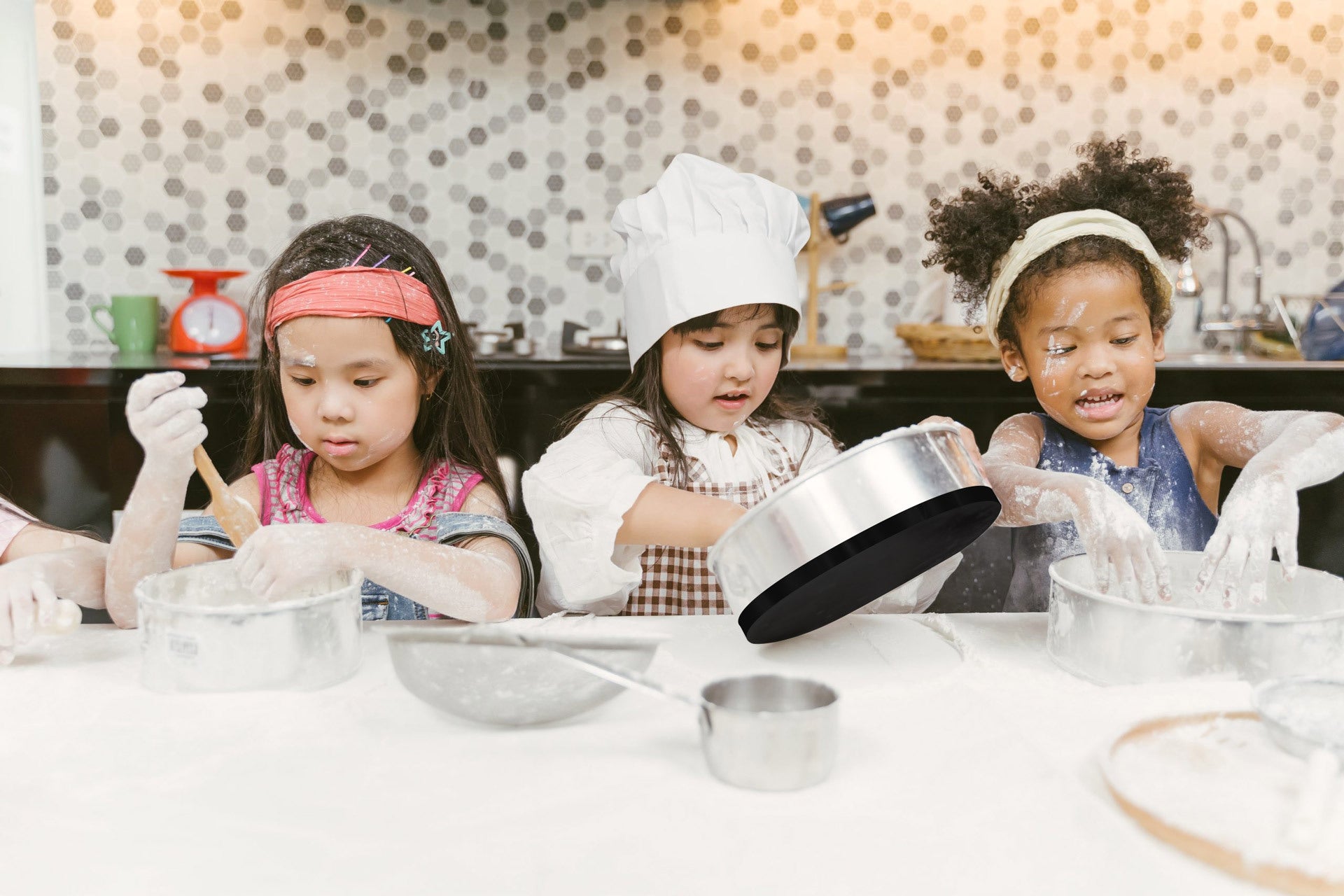 Thanks to their natural enthusiasm, kids can be quite vigorous when it comes to mixing, mashing, stirring and the like. To reduce the risk of a total tip-over incident, invest in a set of non-slip bowls. The rubber bottom helps to provide some stability, especially for activities like whisking. Opt for something in a stainless steel finish for extra durability.
An apron
Not only will an apron help to keep your kid's clothes (mostly) unsolied, but it will also make them feel like a real chef. You can opt for something cute and sweet, or even go for a miniature version of a grown-up apron to make your kid feel super legit.
Oven mitts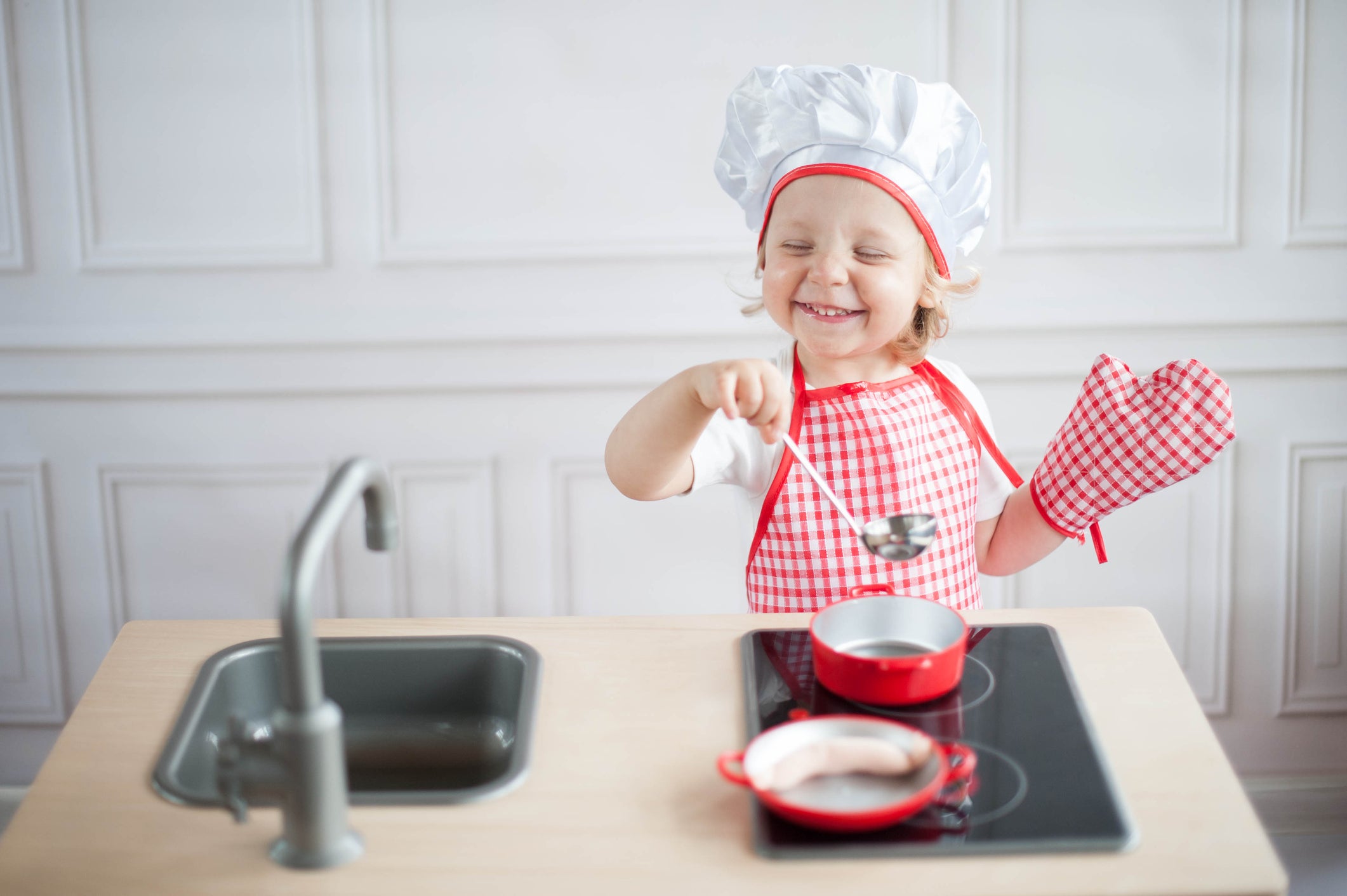 Protecting little hands from the extreme heat of your oven is super important. Regular oven mitts are made for adult-sized hands, so get your kid something that is fit for purpose. A child-sized oven mitt will help your small chef be able to safely take things out of the oven.
Kid-friendly knives
It goes without saying that giving kids access to knives is something that should only be done after very careful consideration. Even adults have enough slicing mishaps without having to worry about our mini-mes meeting the same fate! As your kids grow older and more steady, so will their knife skills. Until then, get your hands on some kid-friendly knives. Some companies sell mini-knife kits with finger guards, while something like a mezzaluna knife with an overhead handle keeps little digits away from sharp blades.
A whisk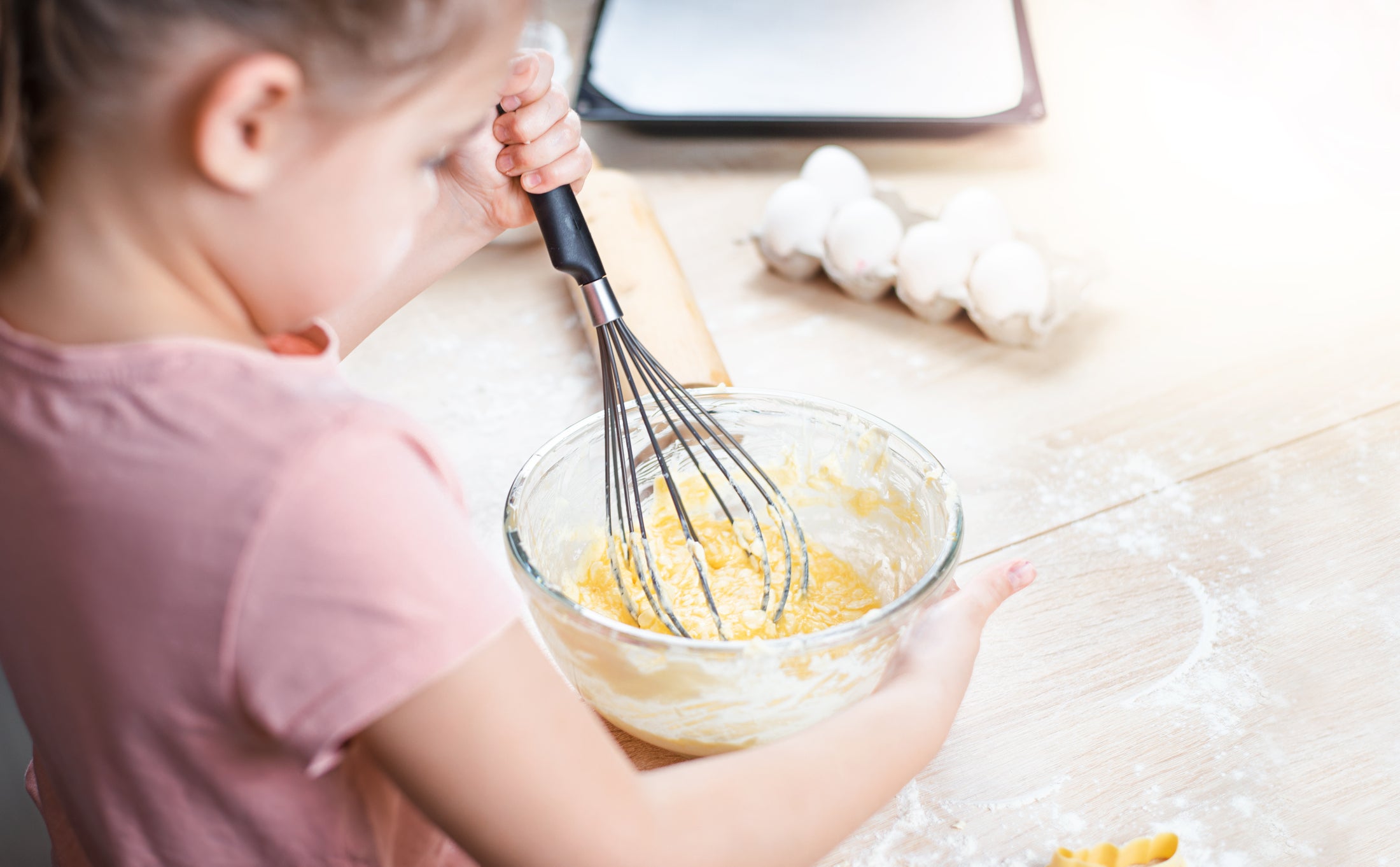 Mixing and whipping up batters is one of the most beloved kitchen tasks for little ones. Make the job a little easier by grabbing a mini whisk for smaller hands. Opt for something with a silicone handle – it will be less slippery and more comfortable.
Mortal and pestle
If there's one thing kids love to do, it's smush stuff. Put their pounding skills to good use with a mortar and pestle. Our tip is to choose one with a silicone, non-slip base – because grinding things can sometimes get very physical. As a bonus, a mortar and pestle can also help your children to develop an early appreciation for herbs and spices.
A rolling pin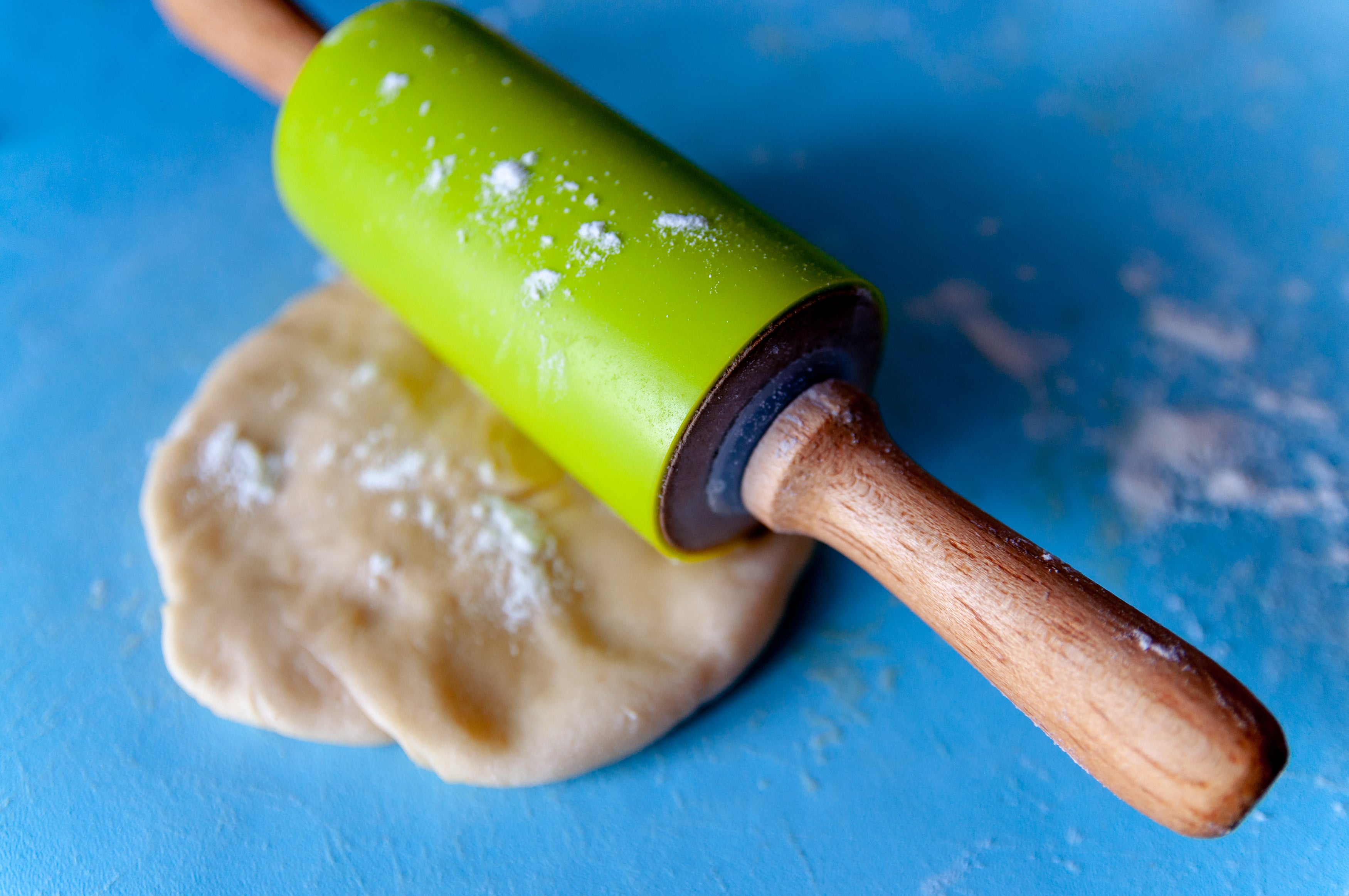 Full-sized rolling pins can be quite challenging for children to wield. Take the fuss out of flattening and invest in a mini rolling pin for your mini kitchen hand. Something lightweight but sturdy means your kids can still get good results without compromising on comfort of maneuverability.
Measuring cups and spoons
While adults are well-versed in measuring by sight and feel, children don't have the benefit of years of experience on their side. If you get them some measuring cups and spoons, they can feel important and productive when divvying up all of the ingredients for a recipe. This is also a really great way to teach kids some basic math – it's a fun and incidental way to learn about addition, fractions, and numbers in general.
Popsicle molds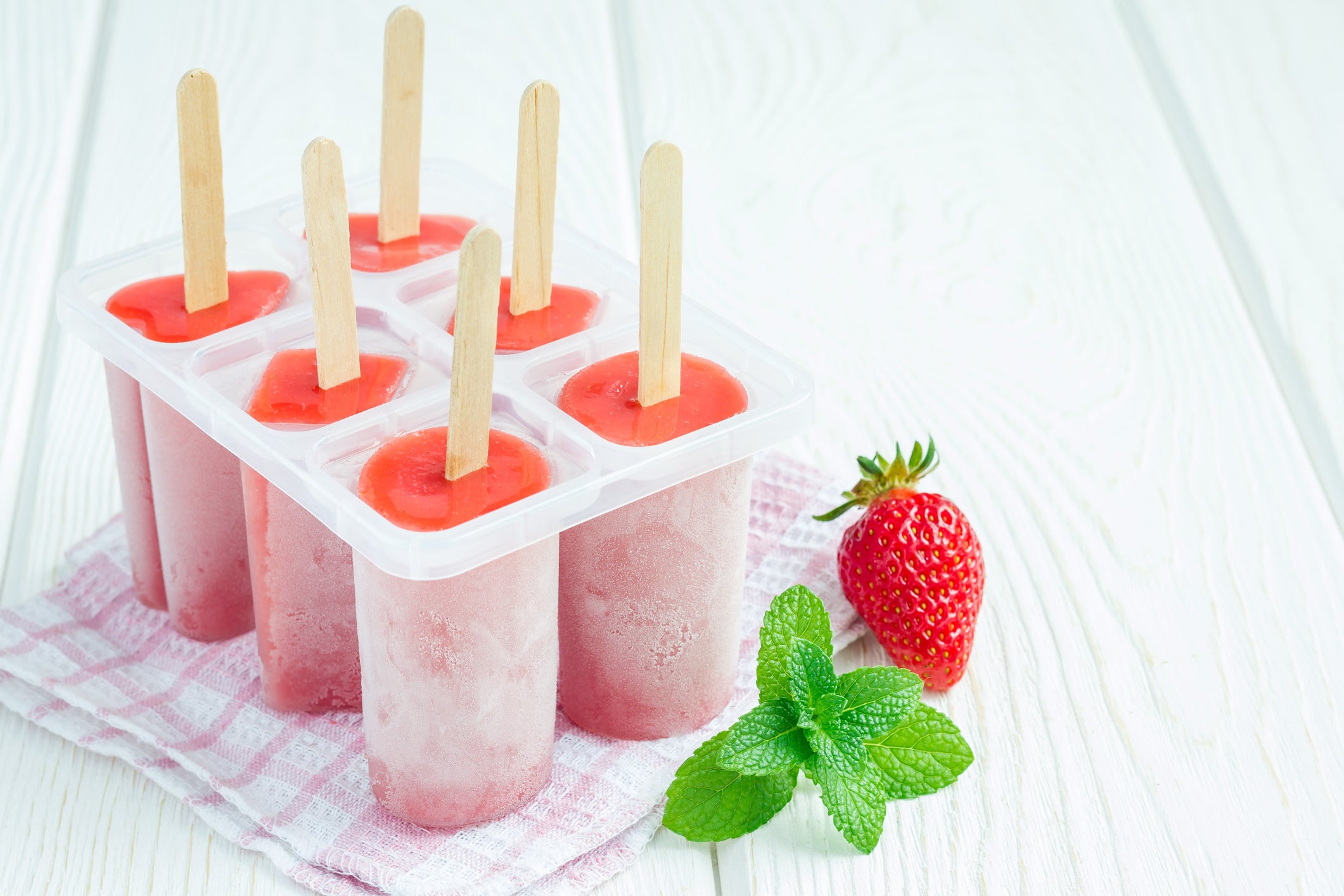 One of the best ways to keep your kids engaged in the kitchen is to incentivize their participation. Grab some popsicle molds so that you and your brood can make frosty treats to enjoy after cooking up a storm.
Tips for extra peace of mind
Even if you're careful, little ones have a tendency to be very hands-on when it comes to appliances. An AHS Home Warranty plan can provide budget protection against any unforeseen breakages, meaning you can safeguard your household budget no matter what happens to your kitchen appliances. Our plans are the easy way for you to keep your home budget on track and to avoid the stress of unexpected breakages – so you have more time to make magic in the kitchen.
AHS assumes no responsibility, and specifically disclaims all liability, for your use of any and all information contained herein.