THE BEST VALENTINE'S DAY GIFTS OF 2023
Valentine's Day is another day to remind that special person in your life they are loved. So, what are some good ways to show a little extra love for your special somebody this Valentine's Day?
We've put together a unique Valentine's Day Gift Guide to help you navigate different personalities and shop for thoughtful and sensible gift ideas.
We are taking this a giant step beyond your classic flowers and chocolate. But hey, if that's your thing, then you do you. If you want to get a little more creative with it, we've assembled a selection of Valentine's Day gift ideas that can help take the stress out of crafting a day worth telling the grandkids about.
Up The Tech Guru's Game
Tech types can be a tough sell. They often know exactly what they want and already buy for themselves the new products they just can't wait to get their hands on. So, it can be a little tricky to find that ideal Valentine's day gift for the tech lover. Here's a few tech gift ideas to surprise and impress your Valentine.
For the tech loving homeowner in your life, you can't go wrong with new devices to make their home "smarter". If you're trying to set the vibes check out these color-changing bluetooth light bulbs for a romantic night. If they're new to the smart home game,a great starter gift is an Amazon Alexa.
Looking for something sentimental but still tech focused? The Aura digital picture frame is perfect, plus you can preload it with pictures of you and your valentine.
If your Valentine is a big reader, then the Kindle Paperwhite (16gb) is a reasonably priced choice given that it can contain a vast library for your next vacation.
How much tech are we talking? A multi-device charging station allows you to charge all of your most used devices in one space. As they say, it's always best to "have a home" for where you stuff goes.
If your Valentine loves tech, art, maybe talks a little too much about crypto, and absolutely is obsessed with their NFT collection? This digital canvas might be worth a little extra research.
For the tech lovers who have extra concern for environmental factors: Consider BackMarket. Great deals on lightly used gear. A tech gift idea that you can feel extra good about giving.
The Chef's Kiss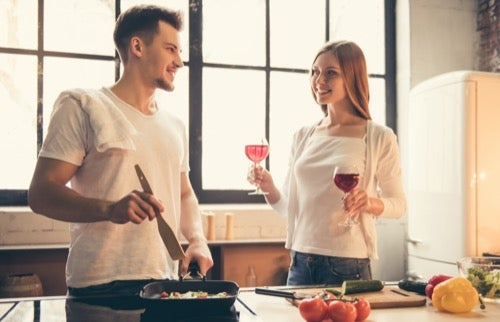 Even those who love to cook need a day off once in a while. Valentine's Day is one of those days to tell your partner that you insist they take a night off and enjoy being waited on at a restaurant. Remember, it's always a good idea to book your favorite restaurant well in advance. OpenTable makes booking restaurants extra easy.
A few of this year's Best Valentine's Day gifts for your home chef include the following kitchen gadgets and general kitchen gifts:
The Secret Influencer
The secret influencer is the new beauty queen. Not all of us can live quite so lavishly as the folks we see on IG and TikTok.
The perfect IG photo isn't complete without perfect lighting. This ring light will be great for all their photo needs but also help with lighting for at home meetings.
Speaking of lighting, every influencer needs a place to get ready. Check out this vanity mirror with extra lighting.
If you've already given your significant other obvious gifts such as favorite perfume or gifts from popular retailers like ULTA, Sephora, of e.l.f., consider getting a unique artisan piece of jewelery from Catbird.
VALENTINE'S GIFTS FOR NEW HOMEOWNERS
New homeowners are in a unique situation. Often, there remains much to be done around the house. At the same time, you want to make Valentine's Day special and not wrapped up in projects that you already agreed to complete regardless.

The Wannabe Interior Designer
A DIY extraordinaire might have their head in the clouds about BIG design makeovers. If that's not where your mind is at this Valentine's Day, there is nothing wrong with considering smaller decor projects that can add a personal touch to one or more rooms in your house.
If you set a New Year's Resolution or goal to be more eco-friendly, you might consider upcycling or thrifting. You can always save up for a larger project like installing new blinds, adding a half bath, or even a bonus room.
For classy decor gift options:
Don't forget you can find some great upscale look-alikes at Target and DIY projects at IKEA.
The Minimalist
How can you even shop for someone who seems to always be seeking less? Downsizing and getting rid of clutter might mean that a person is simply searching for what truly brings them joy (think: Marie Kondo) in the here and now. Developing Valentine's Day Gift ideas for someone who self-defines as a minimalist can seem tricky but is totally manageable!
Even minimalists have desires. While some of these might involve getting rid of stuff instead of acquiring more stuff, that doesn't mean that these individuals are disinterested in creating spaces that have an improved sense of calm and comfort. A minimalist will love a new paint job that improves the ambiance of a space. Check out this article on creating a space minimalists will love.
DIY Extraordinaire
What a DIY Extraordinaire needs is the tools and the time to get to work. Even if you've managed to convince a DIY Guy not to spend Valentine's Day on a project, you know another one is in the works. Who doesn't love a good multi-tool? Plus, it always seems like the one you have is in a different room or otherwise disappeared in the deep dark depths of the junk drawer.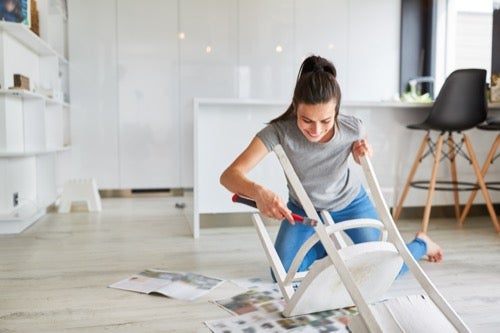 Here are some other gift ideas for your DIYer:
Don't Forget to Protect Your Investment
No no, we're not talking about your special guy or gal. Although, of course, you should protect them, too! We're talking about the importance of comprehensive coverage for your special home.
Part of making your house a home involves taking care of this vital investment to make sure your house remains an asset and not a liability.
Valentine's Day is a perfect time for new homeowners to reflect on their desires for the future. There is never a better time than the present to get started on that new project.
If you're planning a small DIY project or a big household makeover, you want to protect your investment. That's why it's important to make sure you have home warranty coverage through American Home Shield® (AHS). An AHS home warranty offers comprehensive coverage for the major parts and components of your home systems and appliances. You can learn more about AHS home warranties (a great gift, come on, right?) by checking out our pricing and plans. Here, you'll find all the key details about coverage.