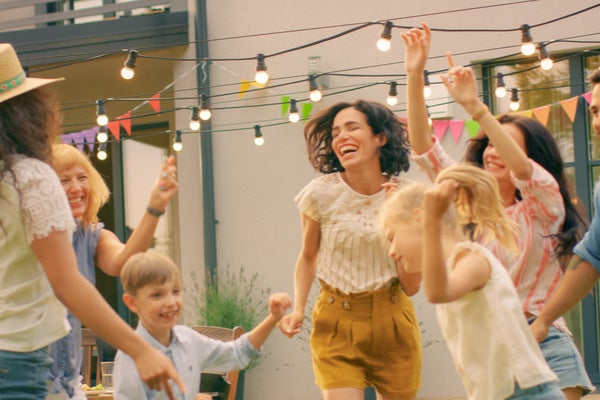 Having a party in your own backyard is a great way to get together with family and friends and enjoy the warm weather. Here are a few simple things you can do to help ensure your party will go smoothly and be remembered.

Consider a Theme Party Choosing a theme for your party is a great way to make your event stand out from other summer soirées. These party themes are easy to pull off and won't break the bank:

• Tropical Luau Give your place an island feel. Decorate the deck and tables with bright flowers, tropical fruits and tiki torches. Ask your guests to wear Hawaiian shirts or flowing skirts and sandals and hand out leis when they arrive. Play island music. To keep the party lively, you can play limbo or pass out hula-hoops to shake things up.

• South of the Border Bash It's hard to beat a south of the border fiesta. Set the mood with brightly colored tableware and decorate with red, orange and yellow peppers, maracas, sombreros and piñatas. Put out a big bowl of guacamole with chips and salsa to get started. Serve Tex-Mex food or tacos and Mexican-style roasted corn on the cob with butter, chili pepper, grated cheese and lime. Play mariachi music.

Whether you go with a theme or not, here are a few basic things that can make any summer party more enjoyable for you and your guests.

Set Up Buffet Tables For summer parties, it's a good idea to keep things casual and put the food and fixings out buffet style. You can set a nice summer table by adding colorful plants or fresh flowers from the garden and simple tea lights. Use decorative paper plates and napkins along with disposable cups and utensils to avoid breakage and make for an easy clean up.

Set the Mood with Lighting By adding the right lighting outside, you can create a more magical and party-like atmosphere for your guests. Try stringing up lanterns and sparking white lights on the deck, on fences and in the trees and shrubs to create some ambience. Also consider putting out votive candles in cupcake foils or glass jars on the tables and in the sitting areas to add a little touch of elegance and romance.

Don't Let the Bugs Bite Mosquitoes can put a damper on any summer soirée, so don't give them a reason to stick around. Before your party, empty any flowerpot trays, birdbaths or gutters that contain standing water where mosquitoes like to breed. Surround the yard with citronella candles or incense to help drive the pests away. You should also keep a bug repellant handy, but be sure to follow all directions and use it sparingly. For professional mosquito protection services, give Terminix a call.

Remember, no matter what kind of party you have, the most important thing to do is have a good time!
Next
>
Spring Your Pool Into Summer Action