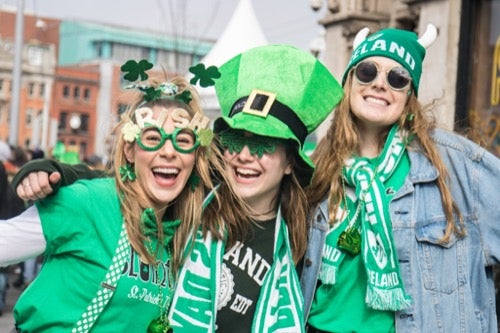 St. Patrick's Day has become an almost universally celebrated holiday in the United States. On St. Patty's Day, starting relatively early in the morning, you'll see people out in the streets sporting kelly green shirts and all sorts of four-leaf clover gear. Of course, St. Patrick's Day is, at root, an Irish celebration of Irish heritage. It's good to keep in mind what is fair game and what might be perceived as appropriating another culture.
Generally speaking, St. Patrick's Day is all about fun, good times, and serious amounts of drinking. After all, there's only one day a year when it feels remotely reasonable to dye beer green. Many individuals and families have developed their own St. Patrick's Day traditions.
Check out your local grocery store as you approach the holiday and you'll see a range of products and merch designed specifically for St. Patty's Day. If you do not already have a game plan for St. Patrick's Day, we're going to share some ideas about the best places to travel and the best places to celebrate.
Where should I travel for St. Patrick's Day?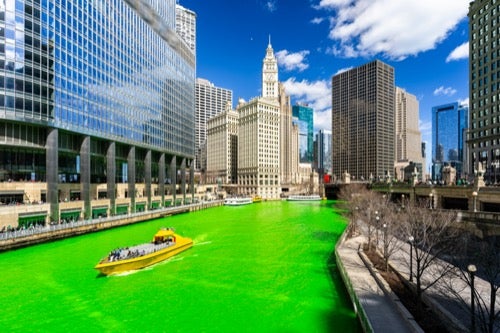 Chicago is a top destination when it comes to the best places to celebrate St. Patrick's Day. In fact, when it comes to St. Patrick's Day cities, Chicago earns the #1 spot. St. Patrick's Day in Chicago is not to be missed!
Chicago famously dyes the Chicago River green for St. Patty's Day.
The Chicago St. Patrick's Day parade is a wild event involving music (and yes, bagpipes), traditional dance, and extravagant floats. You'll see waves of people wearing kelly green and imbibing green beer as they flood the streets to celebrate.
You'll want to arrive in The Windy City early as the parade gets crowded.
There will be plenty of action around the famous Grant Park and Millennium Park (which features "The Bean").
If you're looking for something a little more low-key, you may want to head over to the South Side or Northwest where they have their own parades.
River North's bar crawl gets started early. If a ride is more your style, you may also want to consider the St. Patty's Day Trolley Crawl, which takes you on a tour of some of Chicago's best bars.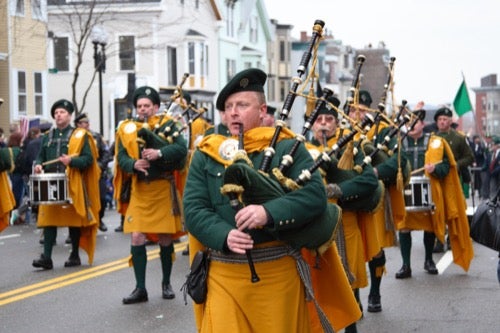 Boston is the United States' most Irish-American city. Literally. Boston has the highest percentage of people of Irish descent. Boston hosts the third-largest St. Patrick's Day parade, which each year draws about a million spectators (no joke, a million!) annually.
Boston offers a range of St. Patty's Day events, some of which are truly unique to the city. Boston holds an Irish film festival and a concert series with Dropkick Murphys.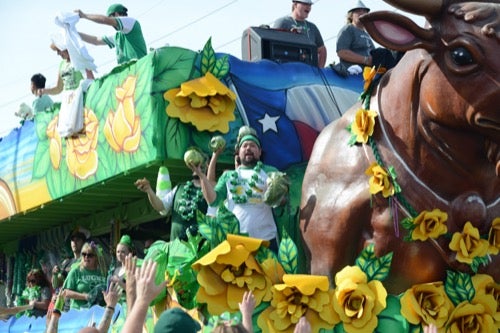 We all know what New Orleans is truly famous for. That doesn't mean they can't throw a great party any day of the year. NOLA hosts a parade. Be sure to check the dates as their annual parade is held on the Saturday before the holiday, which is Saturday, March 11, in 2023.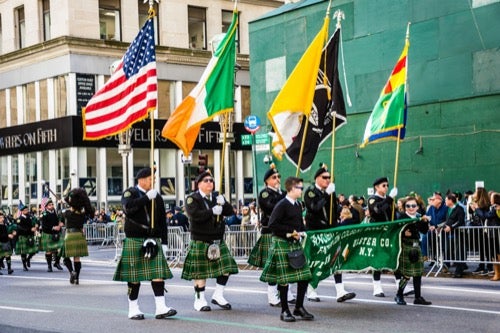 New York City has the oldest and largest St. Patrick's Day parade in the U.S. This parade goes back to 1762! There are 150,000 participants in the parade events with crowds that can be nearly two million! The NYC St. Patrick's Day parade and events are always held on the holiday itself unless it falls on a Sunday. When the holiday falls on a Sunday, then festivities are on the 16th.
If you're in town, the events will make themselves known. Events go from downtown to uptown. There are truly too many events to list. The Thrillist offers a few possibilities for your enjoyment.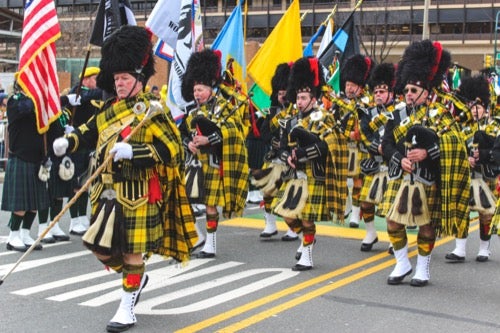 Just behind NYC, Philly has the second-oldest St. Patrick's Day parade. Philly has a ton of terrific Irish pubs including Fergie's Pub and Black Sheep Pub. Philly loves a good bar crawl, and there will be many opportunities in downtown Philadelphia as well as the surrounding Philadelphia suburbs. Philly offers more than one two-day bar crawl where participants can try their darndest to hit up more than 50 bars around the city. Philly has increasingly upped its game over the years and even recently appointed a Night Mayor in charge of ramping up Philly's nightlife.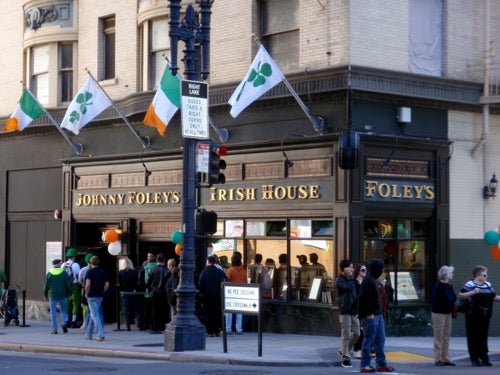 San Francisco has an annual attendance of 100,000 for their St. Patrick's Day festival and parade. The SF tradition is that their events take place the weekend before the actual holiday, which means you can double down if you wish and hit up another terrific option for St. Patty's Day itself. The two-hour parade is about what you'd expect for the holiday and is well-loved by attendees. The festival boasts live music and Irish cuisine. Bars and restaurants in the Marina area and on Union Street participate in a pub crawl that you may just want to stay awake to check out. The Irish Bank hosts a block party that many have called extremely memorable.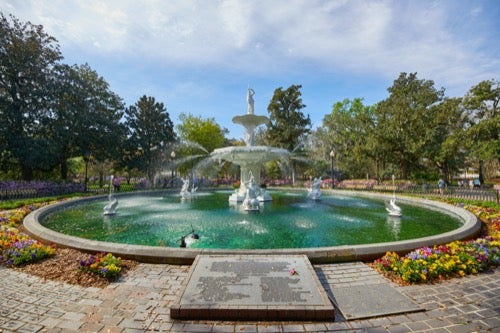 It turns out that Chicago was not the first location to decide to dye their river green for St. Patrick's Day. That honor goes to Savannah. Because they have a fast-moving river, it didn't turn out so great. As a result, the tradition has not stuck around. Cleverly, since Savannah is known for the squares in their Historic District, they instead dye the water in nine fountains.
The Savannah St. Patrick's Day parade is among the largest and most well-attended. Savannah is a popular tourist destination, in general, but for this occasion, you might expect to see half a million people pile into the historic downtown to share in the weekend festivities. A unique part of Savannah's St. Patrick's Day events is their rugby tournament. Be sure to check out event dates as they occur the weekend before as well as on the day of the holiday.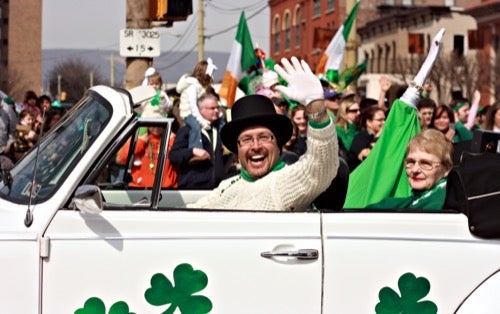 The big little town of Scranton, famous in modern times as the location where The Office theoretically takes place, is also a top spot for St. Patrick's Day celebrations.
The St. Patty's Day parade will be held on Saturday, May 11, 2023.
If you're looking for something a little less intense than a big city St. Patrick's Day that remains fun and memorable, you may want to consider the off-the-beaten-path celebratory activities that take place each year in Scranton.
Need a few more ideas for the best places to celebrate St. Patrick's Day? These cities always have something good to offer for St. Patty's Day:
Protect Your Home While You're Away
While traveling, you don't want to have stress about your house. You can breathe a sigh of relief knowing American Home Shield® has you covered. AHS home warranty coverage is designed to protect you against the unexpected. We offer coverage for parts of up to 23 home systems and appliances. Get the coverage you need to maintain peace of mind.