Learn some ways to teach your kids basic DIY skills that they can use moving forward in life.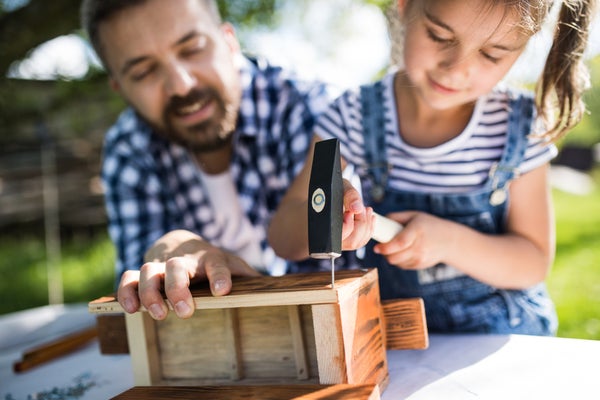 It's never too early to start teaching your kids how to handle tools and work around the house. Someday, after all, they'll grow up into adults who will need the knowledge and skills to take care of their own homes. If they already feel comfortable and confident handling tools and have some basic DIY knowledge, they'll be in a much better position to handle repairs, even ones they've never tackled before.
Of course, you shouldn't just hand your toddler a power saw. DIY lessons for kids should be age appropriate. You can build toys that encourage kids to get comfortable using real tools with adult supervision. As they get older, let your kids help you with small jobs around the house, encouraging them to do as much as they can. Enroll kids in local woodworking and crafts programs to build skills, or encourage them to take shop class in school.
Build Homemade Toys
It's easy to build homemade toys that can give your kids a chance to get comfortable wielding real tools, even when they're still too young to help with real fix-it jobs around the house. For the youngest kids, lay a section of bubble wrap out flat (on a durable surface) and teach them how to swing a hammer by popping the bubbles with a rubber mallet. You can give your kid a child-sized mallet, hearing protection and goggles to stay safe — remember to explain the importance of safety protection and always supervise your kids as they play with tools.
As your children get older and gain more control over the mallet, you can move on to teaching them to hammer nails. Hammering nails requires some fine motor control that can be challenging even for adults, so your kids will thank you later if you allow them to get practice at it while they're young. Tap some roofing nails into the end of a stump and give your kid a claw hammer to finish driving them in with. Roofing nails have large heads, so they're easier for kids to hit, and they're much less likely to bend than longer nails.
To get kids used to using wrenches and screwdrivers, build a bolt board. Sink bolts of different sizes into a board and use paint to color-code them to their corresponding nuts. Kids can practice using wrenches to take the nuts on and off the bolts. Drill some holes at one end of the board and supervise as your children screw and unscrew the screws.
Give Kids Easier Tasks at First
Kids, and even some adults, can struggle to use certain tools at first. Give your son or daughter a child-sized power drill and help them learn to drill holes in a piece of drywall — it's softer than wood and easier to drill into. Make sure to teach them how to select the right drill bit and how to tighten and remove it from the drill. Once they seem comfortable using the drill, you can teach them to use a power screwdriver to drive screws. Use foam core, available at most craft stores, to let kids practice with a handsaw.
Let Your Kids Help You Fix Things Around the House
When you're going through your home maintenance checklist, pick out things your kids can help you with. Most young kids love to help their parents, and there are plenty of kid-friendly DIY projects you can do around the home. Of course, you'll need to be patient, and you need to give your kids a chance to do some of the actual work.
Get kids involved in DIY projects, even if it's only small ones. Explain the process to them step by step and let them do the things they're capable of themselves. Of course, your children's work won't be perfect, but then again, that's not to be expected. Practice will help your kids build skills and confidence, and that's more important than not getting some paint on the floor.
Enroll Your Kids in a Woodworking or Construction Class for Children
When you were a kid, you probably learned a lot of DIY skills through your school's shop program. If your kid's school has a shop program, encourage him or her to sign up. But that might not be until middle school or even high school.
In the meantime, you can look for local children's woodworking and DIY for kids classes. These classes will give your kids the chance to make new friends while learning valuable skills, and it'll take some of the pressure off you to teach them everything, especially if you find yourself running short on patience. Plus, signing your kids up for DIY classes could give them skills that you don't have — you might be surprised to find them teaching you something the next time you both tackle a DIY fix at home.
It's your responsibility as a parent to teach your children life skills, including how to use tools and tackle jobs around the house. That's why we offer plenty of kid-friendly DIY tips and projects on our Home Matters blog. Subscribe to our newsletters for regular updates.
**DIY tips are for informational purposes only. American Home Shield's videos and other web-page content (collectively, "DIY Content") is provided to help homeowners with repair and maintenance. DIY Content is provided by American Home Shield to you for informational purposes only. When referencing DIY Content, you should always take appropriate safety precautions, exercise good judgement, and ensure your project complies with any applicable federal, state, or local laws and regulations. American Home Shield and its affiliates expressly disclaim any responsibility and any liability related to any outcome, error, or omission in connection with the DIY Content.
AHS assumes no responsibility, and specifically disclaims all liability, for your use of any and all information contained herein.