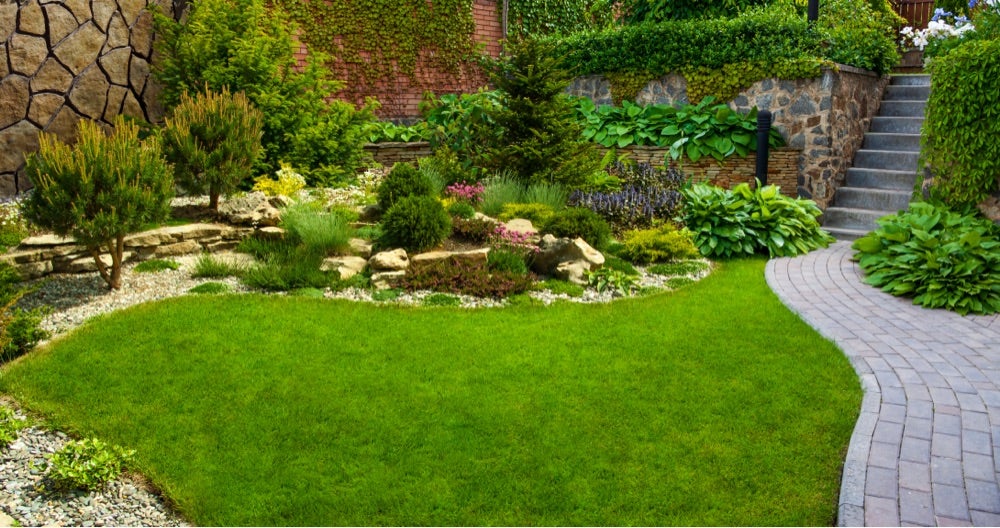 Face it. Last summer, for all your good intentions, your lawn lacked a certain luster. It started strong, but as the season wore on and the mercury rose, your lawn dropped into the middle of the pack.
Well, summer's here again, and so is your chance to redeem yourself with a yard that's the envy of the neighborhood—with a few basic tools, a few pointers from us, and a little time and effort from you. Ready?
Tips for lawn care: What, when, and how to do it.
Whether you're looking for lawn care for beginners or you're an old pro just brushing up on your skills, we've put together a simple schedule of yard care action items. Follow it, and you'll see a real difference in your lawn this summer.
Lawn care basics you should put into action right now.
It's feeding time. Add the nutrients your lawn needs to grow healthy.
Early summer is the time to fertilize your grass to help it grow thick and healthy and withstand heat and drought. Follow the directions and be careful not to apply too much fertilizer, which can burn your lawn.
Get into the weeds.
Act now, and you can kill weeds before they bloom and spread their evil seeds. If you have the time and patience to pull them by hand, go for it. Otherwise, if used carefully, targeted post-emergent herbicides eliminate broadleaf weeds without hurting the grass. That's one of the most important tips for lawn care.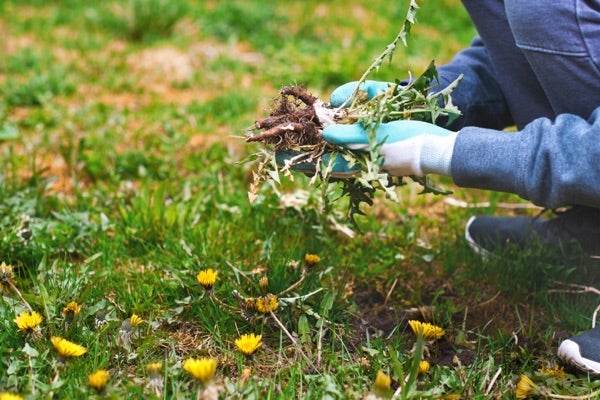 Beat the beetles.
Many insects love to eat grass, which leaves you with wilting and bare patches. Japanese beetles will lay eggs, which become grass-gobbling grubs. To defend your lawn, apply a preventative grub control product and follow the directions carefully.
Ride high.
Whether you use a riding mower, walk behind a rotary mower or walk behind a reel version, put your blades on a higher setting to help make sure the roots reach deep and the soil stays moist to reduce the need for watering. Taller grass provides more shade, keeping weeds from germinating and competing with the grass.
Don't collect the grass clippings; they decompose and help feed the grass. It's a good idea to sharpen your mower blades at least once every summer, since dull blades tear grass, leaving it more susceptible to losing moisture. Try not to cut more than ⅓ of the grass blade each time you mow. It's also a good idea to alternate the direction you mow from week to week. Not only does it prevent ruts from developing, but it also helps the grass blades grow straighter and healthier.
Grass maintenance for July 4th – Labor Day
Go soak your lawn.
Mid-summer yard care is mostly about water, water, and more water. Scorching weather can dry out your soil, wilting your grass, hampering root growth, and depleting your lawn's defense against pests and weeds.
Water the lawn thoroughly and evenly one or two times each week—easing off during rainy periods—so that the moisture reaches at least four inches into the soil. Water early in the morning if possible so the sun doesn't burn off the moisture before it soaks into the lawn. If you have a big yard and you're not lucky enough to have a built-in irrigation system, consider buying a few sprinklers to reduce the monotony of spraying with a hose.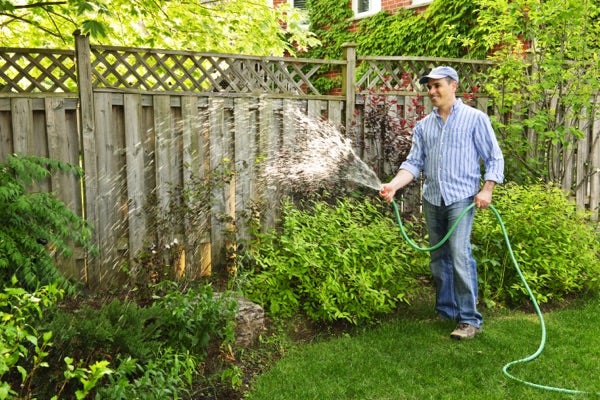 De-stress your grass.
As summer heats up, soil temperatures rise, soil conditions change and your grass needs different nutrients to help cope with the stress. Use a summer lawn fertilizer that contains less nitrogen to avoid creating scorched spots on your lawn.
Know when to stow your mower. And other stuff.
Proper grass maintenance is also about keeping certain things off your lawn. Try to avoid cutting your grass on super-hot days. Always pick up toys, lawn furniture, and other items from the lawn to protect the grass. Never park your vehicle on the lawn; you'll not only kill the grass, but you'll also compact the soil.
In fact, when temperatures soar, you should try and stay off the lawn altogether. And if Rover's potty breaks have been creating dead spots on your lawn, hit those areas with water to dilute the effect. You should train your dog to go in an area of mulch or stones that's separate from the grass.
Late summer yard care.
Keep up the good work.
As the kids go back to school and before the leaves turn, continue to water your lawn and practice smart mowing. If summer took a toll on your lawn in terms of thinning grass and bare patches here and there, it's okay to overseed the entire lawn to thicken the turf.
And now is the time to consider aerating your lawn to break up the soil and toughen up your lawn. Rent an aerator or hire a professional to pull up plugs of turf, creating holes that will let in air, water, and nutrients.
With a little TLC and some basic DIY, your lawn can stay healthy and green from early spring through late fall without costing you a fortune. You can protect your budget and your home with an American Home Shield® warranty that offers coverage for parts of up to 23 home systems and appliances. While you're online, take a look at how to get a greener lawn and how to use sprinklers without wasting water.
See the plan agreement for coverage details, including service fees, limitations, and exclusions. Coverage limits and charges for non-covered items may apply.
American Home Shield assumes no responsibility, and specifically disclaims all liability, for your use of any and all information contained herein.