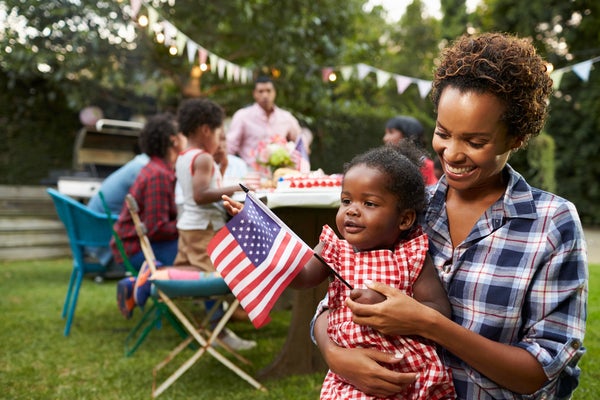 Summertime is officially here! That means going on fun outdoor adventures and planning backyard cookouts. American Home Shield® has six party ideas for the 4th of July to help ensure your Independence Day get-together will be fun for kids, adults, and all your family and friends.
1. Stay cool with refreshing appetizers and desserts.
When it comes to the main course, the grill is usually the star. A traditional BBQ menu of burgers, brats, and chicken is as American as apple pie. Throw in homemade macaroni and potato salad, and you have the perfect meal to celebrate.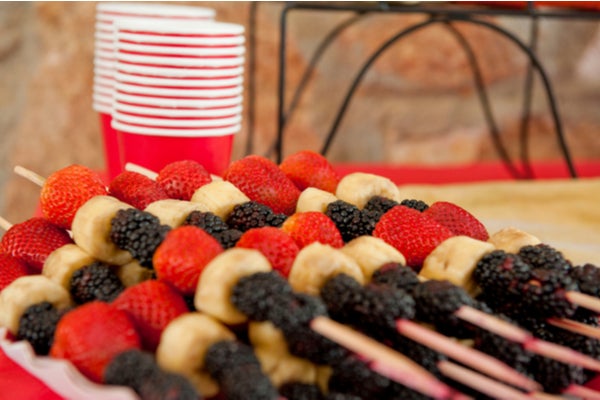 However, it's important to remember that it's the middle of summer and having some light snacks will be a welcome reprieve for your guests. Here are some 4th of July cookout ideas:
Red, white, and blue fruit skewers. Raspberries or watermelon, bananas, and blackberries make the perfect color combination for your 4th of July cookout. You can even stick them in the freezer and turn them into healthy popsicles. For bonus points, use a cookie cutter to make melon stars.
Watermelon punch. Make a delicious watermelon punch that is perfect for celebrating the 4th of July. You can add alcohol for an all-adult party or skip that step for a kid-friendly event.

Red, white, and blue salsa. Chips and salsa are perfect for grazing on while dinner is cooking. Incorporate an Independence Day theme by making the appetizer red, white, and blue. This fruity salsa by The Café Sucre Farine combines sweet and savory for a punch of flavor in each bite. Use a mix of blue and white tortilla chips as an added touch.
2. Use battery-powered LED lights to add a twinkle to your 4th of July BBQ.
LED string lights are great for adding some pizzazz to your decorating ideas for the 4th of July. You can often find string lights in the shape of stars, flags, and fireworks at your local hardware or home goods store. Purchasing lights that can be controlled with a remote makes it easy to click them on when the sun starts to set.
Illuminating your entire yard can give your backyard 4th of July party a cozy ambiance. Check out these outdoor lighting ideas for summer.
3. Level up the grilling experience.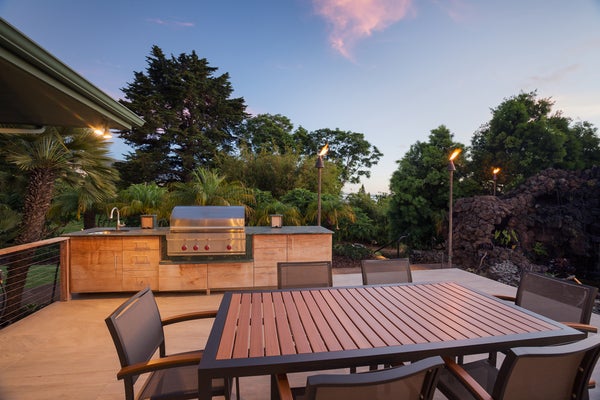 Wow your friends and family with a DIY backyard BBQ island. You can design them big or small and pick styles that work best with your yard and party themes. A BBQ island is great for any 4th of July BBQ or summer event and serves as the culinary anchor or your backyard.
4. Create Independence Day goodie buckets for each person.
Party favors are always fun ideas for a 4th of July BBQ, but why should kids have all the fun? Make a gift bucket for each person—adults included. Throw in items like:
Kid-friendly fireworks, such as sparklers, colored snakes, and pop snaps

Fun hats and headbands

Necklaces with red, white, and blue beads

Miniature bottles of sunscreen and bug repellent
Put everything in reusable tin buckets decorated with red, white, and blue (you can usually find these at your local dollar store) and hand them to each guest when they arrive.
5. Set up lawn games.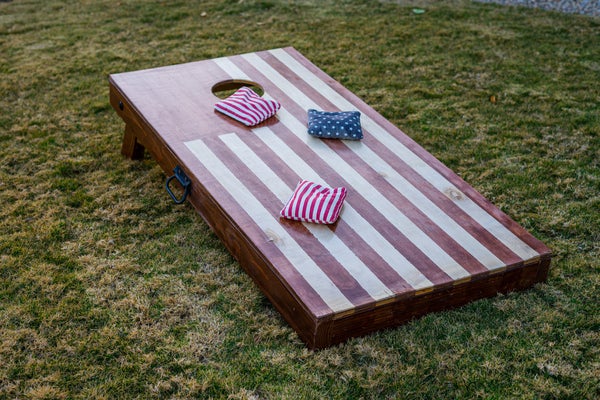 Cornhole, horseshoes, and a volleyball net are fun additions to a 4th of July cookout. Guests can play while they mingle. For the kids, consider setting up a big pinata full of candy.
6. Install a firepit.
After an action-packed day, nothing beats unwinding in front of a fire. Consider building a fire pit for everyone to gather around when the sun sets. After setting it up, have the ingredients ready for s'mores. The calm, relaxing sounds of a crackling fire and conversation are a great way to relax at the end of a gathering.
Independence Day is a time to celebrate our freedom and cherish our loved ones. Hosting a fantastic BBQ for your family and friends is a great way to celebrate this holiday and honor the brave people who fought and are still fighting for the Land of the Free.
In addition to these 4th of July BBQ ideas, learn how to get your backyard ready for summer.
AHS assumes no responsibility, and specifically disclaims all liability, for your use of any and all information contained herein.