If you want to be more thoughtful in your consumer decisions, start where the heart is: your home. As the place where you and your loved ones come together, your home environment should be as healthy and nontoxic as possible. Learn more about the best eco-friendly cleaners for your household.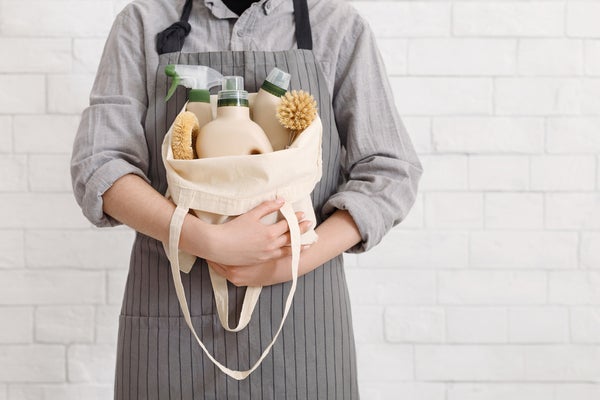 Cleaning your home is certainly a labor of love; until recent years, housecleaning used to signify harsh ingredients, toxic fumes, and potentially dangerous chemicals.
Environmentally friendly consumers who are interested in using eco-friendly alternatives are changing the name of the housecleaning game. Contemporary green cleaning technological advancements mean eco-friendly cleaning tools and supplies for every room of the house.
If you want an eco-friendly home that is green and sparkling clean, reference this list of the 20 best eco-friendly cleaning products that work great and fit any budget.
Multipurpose Earth-Friendly Cleaning Products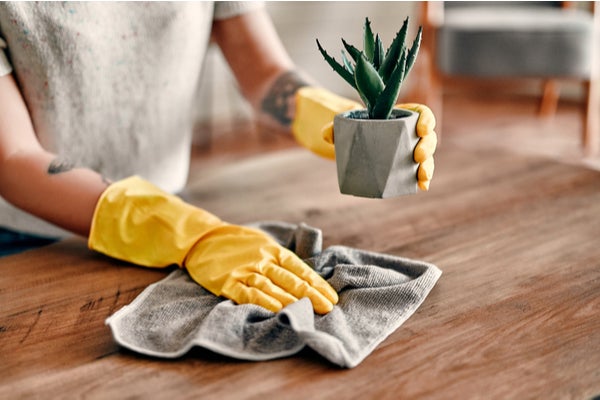 Many cleaning supply companies started making multipurpose green cleaning products for use throughout your entire home. The following companies sell general-use cleaning starter kits containing some of the best eco-friendly cleaning supplies and cleaners available.
Eco-Friendly Laundry Products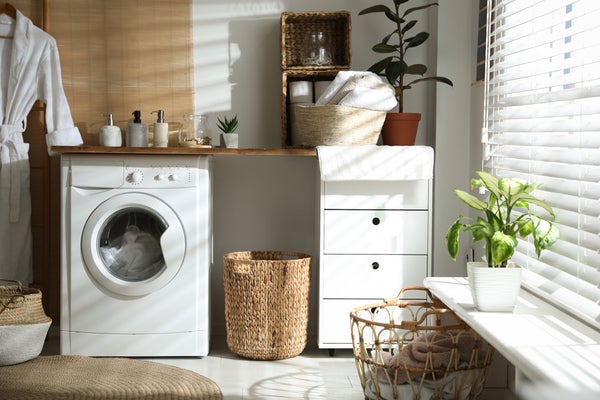 Laundry detergent ingredients can enter the water supply system, meaning that the conscientious consumer will protect their home, family, and community when using green laundry cleaning products.
To stay earth-friendly while washing loads of clothes, try to avoid laundry detergents and soaps that include phosphates, chlorine bleach, sodium laureth sulfate, dichlorobenzene, and optic brighteners. If possible, look for a detergent that comes in plastic-free packaging.
We recommend eco-friendly cleaning tools for laundry from these companies:
Tru Earth. Tru Earth eco-strips are small but mighty tools (weighing only 3 grams) in the quest for greener cleaning. To wash your laundry, you simply tear off a laundry strip containing "ultra-concentrated, hypoallergenic, eco-friendly cleaning power" and toss it in your washing machine. Certified free of parabens, phosphates, added dyes, chlorine bleach, and 1,4-dioxane, Tru Earth strips are also vegan and biodegradable. Using these strips helps your conscience feel as spotless as your clothes.

ECOS. When a company has "eco" in the name, it's probably a safe bet that it strives to be environmentally conscious. ECOS reduces, repurposes, and recycles more than "95 percent of its manufacturing and office waste" and has "been water neutral since 2016." The ECOS product line includes hypoallergenic laundry detergent and plastic-free detergent sheets.

Dropps. Self-proclaimed the "original laundry detergent pod" pioneer, Dropps provides plant-based products, eco-responsible packaging, and carbon-neutral shipping.
Many people interested in eco-friendly, ethical cleaning supplies have even started making their own laundry detergent. Making your own detergent means no packaging or transportation waste—and you know exactly what's going into your washing machine.
Once your clothes are clean, you're ready to move on to cleaning the rest of the house.
Eco-Friendly Cleaning Supplies for the Kitchen
One of the best ways to reduce waste in your kitchen is to exchange single-use disposable products for reusable ones. For example, you can replace paper towels with microfiber or cellulose biodegradable cloths and use reusable sponges instead of disposable ones.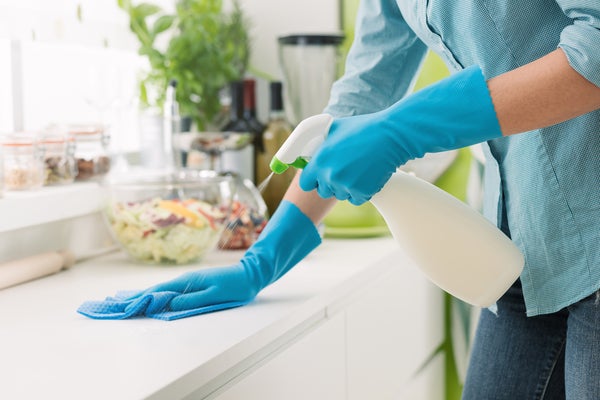 These top eco-friendly kitchen cleaning product companies will help you reduce your carbon footprint in one of the most-used rooms in your house.
Common Good. The Common Good brand's Dish Brush Cook's Set includes a natural dish brush; natural specialty brushes; a glass dish soap bottle; and a refillable, plant-based dish soap refill pouch. Their concentrated, sulfate-free formula cuts through grease, working hard so that you don't have to.

Scrub Daddy. Well-known for its appearance on the popular TV show Shark Tank, Scrub Daddy products are long-lasting and can remove tough stains and debris without requiring additional chemicals. The company's recycling rewards program allows you to send in a used Scrub Daddy product which will then be converted into fuel.

Veles. Every cleaner bottle that Veles makes "reduces greenhouse gas emissions by offering an alternative to landfill disposal for wasted food"; 97 percent of its "ingredients are derived from food waste." Veles's kitchen cleaning product line is a front-runner in earth-friendly cleaning products.
To make your own kitchen-focused chemical-free cleaning products, start by looking in your kitchen cupboard. White vinegar is a powerful disinfectant and can clean kitchen surfaces, including tables, counters, shelving, microwaves, and stovetops. If the smell of pure white vinegar is too strong for your liking, you can dilute it with water or add a few drops of tea tree, lavender, or grapefruit essential oils to your concoction to create a more pleasant aroma and enhance the white vinegar's antiseptic properties.
The Best Eco-Friendly Cleaning Products for the Bathroom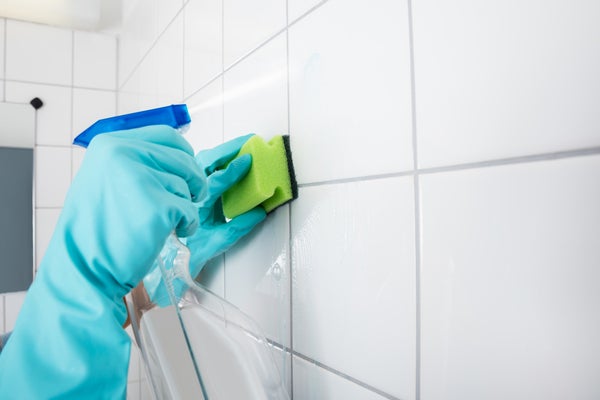 The bathroom can often feel like the place where eco-friendly cleaning dreams go to die. Mold, shower sludge, and other types of bathroom grime might make you feel like you need to use harsh chemicals to get your toilet, shower, sink, tub, and floor back into sparkling shape. However, many eco-friendly bathroom cleaning products can cut through the muck without relying on caustic ingredients.
Here are some of our top picks:
Better Life. Better Life uses plant-based, biodegradable ingredients that still manage to fight dirt and disease and come in recyclable containers. The company's use of surfactants (such as decyl glucoside) means that Better Life products remove germs from surfaces rather than killing germs like the chemicals used in most non-eco-friendly cleaners. Their Tub and Tile Cleaner is top-of-the-line for ensuring that your bathroom gets cleaned and the environment goes unscathed.

Bentley Organic. Plant-powered, environmentally friendly, and free of any phosphates, sulfates, or bleach, Bentley Organic Shower and Bathroom Cleaner is "proven to kill 99.9%" of germs, including E. Coli, salmonella, and listeria. Their secret lies in a "unique green formula blended with a mix of citrus acid that helps kill germs and bacteria." U.S. customers can purchase Bentley Organic's products on Amazon.

Attitude. This company's citrus zest-scented Bathroom Cleaner uses a unique formula to cut through soap buildup and limescale on bathroom surfaces. It is ECOLOGO-certified, recyclable, cruelty-free, and vegan, with no harsh odor or chemicals, Attitude bathroom cleaning products are excellent for the eco-conscious cleaner.
Earth-Friendly Cleaning Products for Floors
Many commercial floor cleaners contain ingredients such as fake fragrances and detergents that can harm your floors and endanger your children and pets. Our list of eco-friendly, nontoxic floor cleaners will ensure that your family stays safe and your floors remain clean.
Aunt Fannie's. Aunt Fannie's Floor Cleaner uses the power of vinegar combined with essential oils and other plant-based ingredients. With products free from dyes, cleaning sulfates, phthalates, parabens, ammonia, alcohol, and fake fragrances (among others), the company is also certified Plastic Neutral by rePurpose Global. The floor cleaner will leave your tiled, linoleum, and vinyl floors smudge- and grease-free.

Eco-Me. This floor cleaner is safe to use for sealed wood floors, tile, stone, vinyl, laminate, and linoleum. Eco-Me Floor Cleaner uses a plant-based formula that is greywater and septic safe.

Simple Green. The Simple Green® Multi-Surface Floor Care cleaner is safe for use on all hard flooring and will fill your home with a refreshing lemon scent. Simple Green is considered a Safer Choice by the EPA, meaning it meets or exceeds human and environmental safety standards.
Environmentally Friendly Carpet Cleaners
Carpet cleaners need to be tough enough to clean spills, combat stains, and reach deep into carpets to fight pet dander and other allergens. Here are some of the best eco-friendly cleaners for rejuvenating your carpets:
Biokleen. Biokleen cleaning products provide "professional cleaning power without the use of chemicals that leave harsh residues and fumes." Their Carpet & Rug Shampoo uses a bio-active formula with no artificial colors or fragrances, ammonia, chlorine, or phosphates. After mixing the concentrate following your carpet vacuum instructions, you can use it to spot-clean or deep-clean your carpets.

Stuart Pet Supply. Created particularly for people who want pet-safe carpet cleaners, Stuart Pet Supply Triple Action Carpet Cleaner & Deodorizer uses a formula that has low pH and no harsh chemicals. This one is owner- and pet-approved.

Puracy. The Puracy company's hypoallergenic, biodegradable formula offers clinical-grade carpet and upholstery cleaning while remaining safe for pets and children. The Natural Carpet & Upholstery Shampoo uses a "99.96 percent natural formula" that is "powered by concentrated plant-based enzymes."
If you want to live a more eco-friendly lifestyle, it's helpful to start at home: these 20 best eco-friendly cleaners are a great place to begin.
To protect your family, your home, and your budget even, consider investing in a home warranty. An American Home Shield® home warranty plan can enhance your lifestyle by providing coverage to repair and replace your home's systems and appliances when they breakdown due to normal wear and tear.
Check out our plans and pricing information today to choose the home warranty that works best for your household.