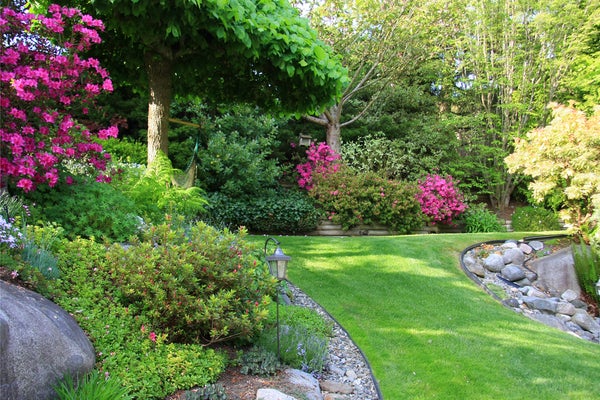 I decided to tackle the front flower bed as my major landscaping project for the year. After a couple of attempts at digging up my wayward shrubs and wildly growing weeds and grasses, I quickly realized I was in for more than I expected. So I decided to hire a landscape contractor to do the "heavy lifting." As with any undertaking, I learned quite a few things during this process, and here are the three top lessons I learned while landscaping.

Lesson #1: Know when you need help and do not be ashamed to ask for it. I admit, initially I found having to hire someone to be a bit demoralizing. As someone who takes great pride in doing all of my own gardening and landscaping, it took a bit out of me to realize I could not transform my front yard 100% on my own. Due to my status as a single working mother of three, a super busy schedule the month I wanted to tackle my landscaping, and a physical ailment that restricts my free movement at times, calling in back up was the right thing to do. By doing so, I knew I'd get my flower bed looking the way I wanted quickly and with less mental stress and possible physical ailment.

I mean, take a look at this mini jungle I was cultivating. I managed to clean it up a bit, but being low on both manpower and the needed equipment, I was going nowhere fast.

Lesson #2: Go with the feels, not the ideals! This is a big one. It's all well and fine to have a concrete plan on what you'd like your flower bed to look like, right down to the types of flowers you want planted and the color mulch you want. But I think it's more important to know the feel you want to go for vs. an exact look. I am not saying to not have a plan of what you do and do not want, but you may need to be flexible due to stock availability or possible compatibility issues. I knew I wanted to go for a more casual, cottage feel for my front landscaping. And the way I wanted to accomplish this was through the use of a flat stone border vs. pavers or brick, big stately bushes (hydrangeas bushes and lots of herbs), and enlarging my planting area so I would have room for lots of pretty flowers in and around all the new greenery.

Overall, expressing the feel of peace and comfort was what was important to me. So this is what I held on to when the inevitable compromises came into play: I could not get any hydrangeas due to compatibility issues and growing conditions, the exact shade of flat stone I wanted was not in stock, and I was advised against enlarging my bed as much as I wanted to. And while as the homeowner, you are entitled to having things your way, I held on to the feel that I wanted to create and sought alternatives that would produce it.

Lesson #3: EAR—experience, attitude, and reliability. I ultimately went with a landscape contractor I had an existing relationship with. After having him over to do an inspection, I was able to probe him about his experience in what I wanted done in particular. This allowed him to answer my questions and to bring up any possible issues with my plans that I had not known or even considered. This contractor happily answered all my questions and provided references for me to check out. He also showed up to all scheduled appointments on time and kept in touch with any alterations that needed to be made. Because of this, I was more than confident in my decision to hire him. And while you may not be personally acquainted with a landscape contractor, you can follow the EAR process with anyone you interview for your job to ensure your comfort in proceeding. There are also several tips to hiring a professional landscaper you can find online that speak on insurance, bonding, and contract questions.

In the end, I am more than happy with the finished project. In place of the boring bushes and jungle of tangled weeds and grasses, I am now the proud owner of three Eleanor Taber Hawthorne bushes, two lavender bushes, and a rosemary bush. In the end, it was well worth it to hire a professional as I now have the best looking yard on the block and the leeway to undertake my remaining two yard projects at my leisure.


ABOUT THE AUTHOR
La-Tessa Montgomery is an avid & adventurous, novice gardener. She is also a single mother of three and a first time homeowner who bravely faces all homeownership challenges by keeping her loving stepfather on speed dial. In addition to gardening, La-Tessa's hobbies include cooking, photography, and writing. She's earned recognition for both her photography and writing via contest wins, peer acknowledgements, and participation in local photo exhibitions.
---
Next
>
Spring is Blooming. Unfortunately, So Are Allergies
AHS assumes no responsibility, and specifically disclaims all liability, for your use of any and all information contained herein.