As a homeowner, you probably spend time making sure your home's facade and landscaping look nice. However, have you considered how your home looks at night? A well-lit yard filled with twinkling lights is the final touch to a perfectly maintained home. Exterior lighting installation is a great way to make your home stand out long after the sun goes down, and it also serves as a form of security.
To create a welcoming, well-lit ambiance at your home, learn how to perform outdoor lighting installation.
Three Things to Consider Before You Install Outdoor Lights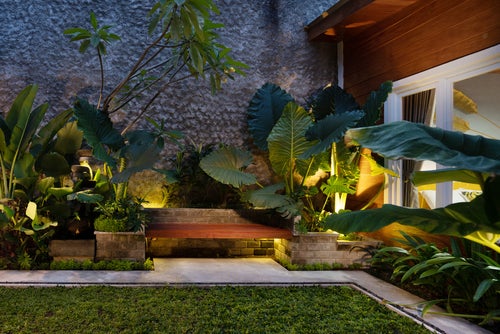 1. Decide what you want to light.
Do you want to shine a light on your walkway or cast a glow on the front of your house? Perhaps you also want to illuminate your prized bed of flowers or create simple outdoor lighting for summer nights. Any of these options can beautify your home after dark.
2. Choose from three types of landscape lights.
Solar-powered lights: You can forget about outdoor light wiring with this option. If installing outdoor solar lights, keep in mind that you'll need to do so when the sun is at its brightest so that they can properly light up at night. Solar-powered lights are a good option when there's no electrical source nearby and if you have climate concerns. They are relatively inexpensive but tend to have shorter life spans than plug-in outdoor lights. Learn more about how to use solar power for a more energy-efficient home.
Low-voltage lighting: This lighting plugs into any outdoor GFCI outlet. Low-voltage lighting is safe to work with and easy to install, making it generally the best option for residential installation. These lights provide a great combination of illumination, energy efficiency, and low cost.
Line voltage lighting: Operating at the same voltage as the appliances in your home, line voltage lighting requires the use of a conduit to protect the wires as well as an electrical junction box. Since learning how to wire outdoor lights can be a difficult process, a professional should install line voltage lighting. This type of lighting is fantastic for security lighting, spot lighting, or for moonlighting large landscape areas.
Any of these outdoor lighting ideas can be smart lights, so if the concept of high-tech lighting appeals to you, look into purchasing automated, app-controlled smart lighting options.
3. Plan and prepare.
If you decide to go with the recommended low-voltage lighting option, keep the following in mind:
Before you go shopping, spend some time in your yard at night to see which areas will benefit the most from lighting; then, create an exterior lighting installation plan. Apps like Landscape Lighting are a great way to figure out a lighting plan with the powers of modern technology.
To get a rough estimate of the total wattage required, multiply the square footage of the area you want to light by 1.5. If you're using multiple outdoor lights, consider dropping down in each fixture's rated wattage to avoid "over-lamping" or making your yard too bright.
Shop around. There are various lighting styles and options, ranging from utilitarian to trendy, so you should be able to find lights that match the design of your house and your personality.
Don't overload your yard with lights. This will make the landscaping look flat. Instead, balance out your landscape lighting installation by highlighting certain areas to draw your eye and add dimension.
Install lighting control, such as dimmers, motion sensors, and timers to reduce your energy bill.
Make sure your fixtures are made of high-quality, weather-resistant materials so they last longer.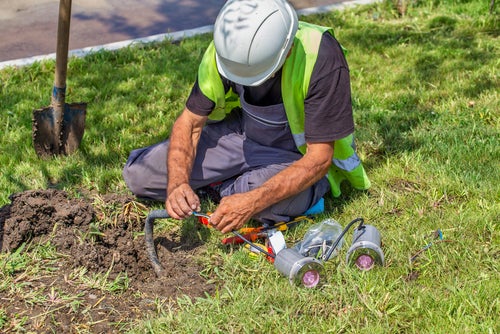 Tools You'll Need for Outdoor Light Installation
To install outdoor lighting, you'll need the following tools:
Screwdriver
Drill
Pliers
Wire Stripper
Wire cutter
Flashlight
Voltage tester
Shovel
Anchors
Outdoor lighting kit
How to Install Outdoor Lighting
Take the low-voltage power cable and strip the ends. Connect them to the terminals on the transformer.
Identify the power source, which should be an outdoor GFCI outlet. If you need to install an outdoor outlet, do that first.
Then, mount the transformer on the wall or a stake near the power source at least one foot above ground level. Do not plug anything in yet.
Assemble and arrange the lights according to the type of lights you've purchased and their accompanying directions. This may involve pressing them into the ground.
Dig a shallow trench for the cable. Run the cable along the trench and attach the lights to the cable. Note: Be sure to call your utility company or call 811 before you dig anywhere on your property.
Connect the power cable to the transformer. Plug it in and check that all the lights are working.
Go around the lights and bury the cable. Wait until nighttime to make any final adjustments. Here's where a flashlight is handy.
Once you've completed your outdoor lighting installation, plan other outdoor DIY projects to enhance your property.
To further enhance your home, consider signing up for an American Home Shield® home warranty. While we do not cover outdoor electrical, we do cover the electrical system inside your home. All three of our plans include an electrical system warranty, which covers built-in exhaust, vent, and attic fans; the main breaker and fuse panel box; doorbells and chimes; interior electrical lines; ceiling fans; and garage door openers. A home warranty can help offset the cost to repair or replace covered items in your home that malfunction due to everyday use. Your budget and peace of mind will thank you. Look at our pricing and plans to choose the best plan for your household.
AHS assumes no responsibility, and specifically disclaims all liability, for your use of any and all information contained herein.