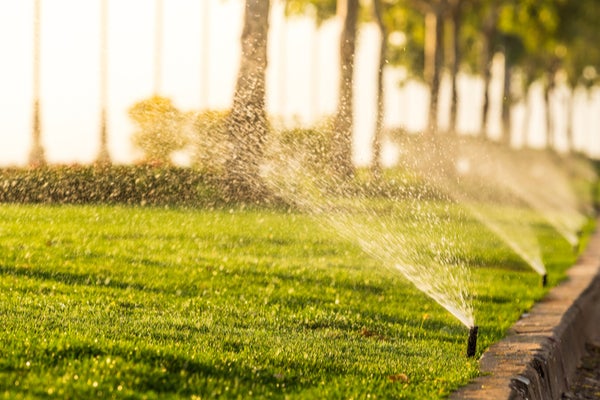 What time is the right time to water your lawn?
Smart watering starts early. By sticking to early morning hours (4 a.m. to 10 a.m.) you will be active while water demand is low. This can be especially beneficial in areas with water regulations impacting lawn maintenance. It's also important to note that watering after 10 a.m. could cost you precious moisture, as the summer sun causes evaporation in your lawn. When it comes to a beautiful green lawn every drop counts. Grass on the sunny, southern sides of a home will need more watering than shady areas of lawns with northern exposures.
How much is enough water?
Surprisingly, less is more. That means you're better off watering your lawn deeply and less often. Most lawns need about an inch of rainfall a week to maintain a healthy, green appearance throughout the summer. Steer clear of multiple, short watering sessions and grow regionally appropriate grass to increase your lawn's potential to conserve water and retain health and beauty when water is limited. Also, be sure to monitor how much water your sprinkler provides. By using a water gauge, you can measure the amount of sprinkler water and estimate how long it takes for your lawn to receive one inch.
Are all sprinklers the same?
There are a variety of sprinklers on the market and many feature multiple settings. While brands can come down to a matter of personal preference, be sure to pay attention to set your sprinkler to throw larger drops of water semi-laterally. A fine mist will evaporate in the summer sun too quickly, resulting in less than adequate watering. If you have an automatic sprinkler system, don't forget to check your heads regularly. You want to be sure they remain on-target and haven't veered from your lawn.
With a few minor adjustments you can keep your yard lush and green all summer long.
AHS assumes no responsibility, and specifically disclaims all liability, for your use of any and all information contained herein.