It's no secret that buying a house in the current real estate market can be challenging. If you are looking for a property with an existing house, you may have found that options are limited in your area or are selling quickly. Perhaps you've considered building a custom home but realized that supply chain issues and labor shortages would affect the move-in timeline. What should homebuyers do when faced with various options?
Consider prefabricated homes. These homes are a nice option for buyers who want an often less expensive alternative that has some flexibility. American Home Shield® is here to help you navigate the pros and cons of buying a prefab home.
What is a Prefab Home?
Before diving into the pros and cons of prefab homes, it's important to know what this type of house is. "Prefabricated home" is a blanket term for houses that are built off-site and moved to their final destination. Let's review the subcategories of prefab houses, including manufactured, modular homes, and kit homes.
Manufactured Homes
Manufactured homes are houses that are built entirely in a factory and then shipped to their destination. These pre-manufactured homes are designed and crafted on a steel base, or chassis, making them movable, which is why they are often called "mobile homes." Because every part of the structure is built in a factory, this helps ensure that the rigorous Housing and Urban Development codes required for these types of homes are followed.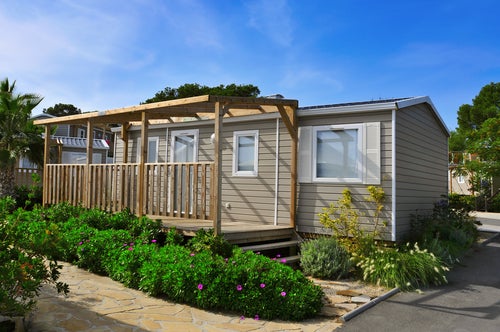 Modular Homes
Modular homes and manufactured homes are similar because components of both types of structures are built off-site. However, once each portion of a modular house is manufactured, then the home is assembled permanently at its final location. You can think of modular construction method as pre-building rooms of a house and then piecing them together in a preferred configuration. Modular homes are extremely customizable, but they can also be the most expensive prefab housing option.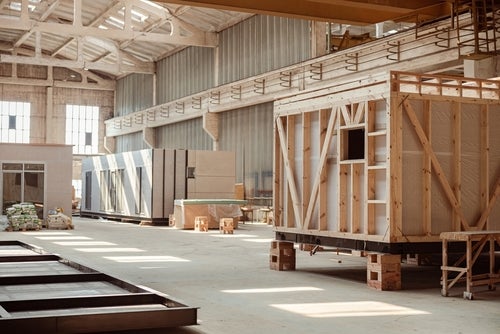 Kit Homes
A kit home is a pre-purchased layout and construction kit. All parts of the structure are assembled off-site and then delivered to the building location to be constructed. Homebuyers can purchase prefab home kits to either build themselves or hire a construction company. Kit homes are not as customizable as modular homes because homebuyers pre-purchase a floor plan.
Pros and Cons
Now that you know a little more about the various prefab options, let's review the pros and cons of purchasing a prefabricated house.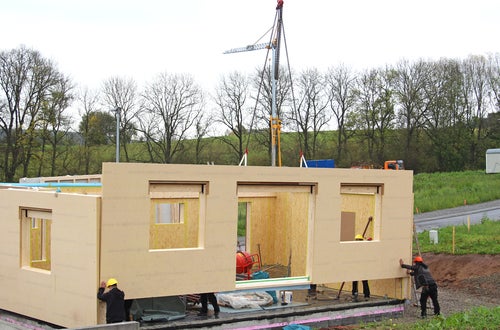 Pros of a Prefab Home
You can get a brand-new home at a more affordable price. The cost of prefab homes varies depending on the style and size of the house you choose. For example, the average cost of manufactured homes in the United States is only $128,000, much lower than the national average of traditional home sale prices. A kit home can be less expensive than a conventional house because building materials are purchased in bulk. Modular homes are more costly than manufactured or kit homes due to their customizability, but they generally cost less per square foot than a standard house.
Modular and kit homes may appreciate. Unlike most manufactured homes, modular and kit home values can increase in value. It's always good to know that you may get a return on your investment if you decide to sell in the future.
Manufactured home parks provide easy access to utility hookups. Water, gas, and electricity hookups are easy to facilitate when you place a manufactured home in a dedicated park.
Prefab homes usually are built more quickly than traditional houses. Since much of the work is done in a factory off-site, the prefab home construction process usually happens much quicker. Kit home construction may take longer than manufactured or modular homes but is generally shorter than traditional home construction because all the materials are delivered at once.
They're a great option if you want to buy land. Buying a plot of land and building a house can be expensive. Building a prefab home can help you reduce costs because it is generally smaller and often made with energy efficiency in mind. You can even build a self-sufficient prefab home and invest in alternative energy sources, like windmills or solar power.

Many prefab homes offer the same features as a traditionally built house. Pre-built houses don't mean you're missing out on the home of your dreams. The sky is almost the limit when designing some prefab homes. You can add garages, decks, high-quality home systems and appliances, and more.
Cons of a Prefab Home
Most manufactured homes depreciate. There are several pros and cons of manufactured homes, but depreciation is one of the biggest downsides. Because a manufactured home is movable, it doesn't retain or increase its value compared to modular, kit, and traditional houses.
You can own your home and still have to pay rent. If you're planning on living in a manufactured home park, it's vital to factor in the park's costs. When living in the park, you may have to pay a lot rent, a sewer bill, and a fee for the installation of utilities. Fees vary depending on which park you choose, so always research what you're liable for before signing on the dotted line.

You'll have to pay for land and utility hookups. If you buy land and build a traditional, modular, or kit home, you'll need to set aside extra cash not only to clear the land but also to access and hook up water, electricity, and gas to your house.
Final Thoughts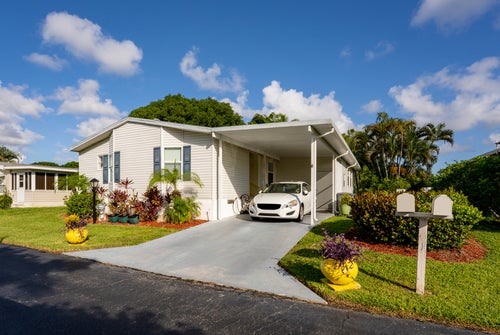 One of our best tips for first-time homebuyers and seasoned homeowners alike is to do as much research as possible. Understanding the many pros and cons of prefabricated homes will help you better prepare for your home purchase. Remember that you can always consult your real estate agent about the steps for buying a house and what home may be best for your family and financial situation.
Whether you're building, buying, or fixing a home, it's always a good idea to have a financial safety net. Having your home systems and appliances covered by a home warranty from American Home Shield® can help protect your budget and keep your household running smoothly. No matter how long you have been a homeowner, it's never too late to protect your home with a home warranty. See the plan contract for coverage details, including service fees, limitations and exclusions. Charges for non-covered items may apply.
Check out our homebuying resources for more tips on finding your dream home.
AHS assumes no responsibility, and specifically disclaims all liability, for your use of any and all information contained herein.