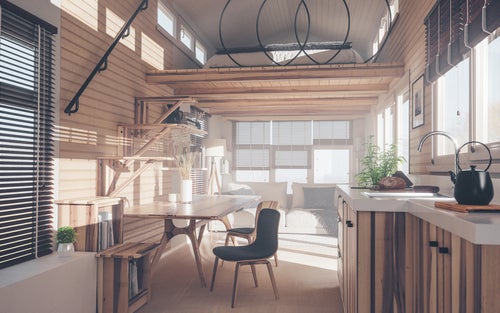 If you are interested in joining the tiny house community and living a more minimalist lifestyle, it's a good idea to research tiny home appliances and furniture. Many manufacturers recognize the need for small, efficient appliances and are making products that better suit the tiny home lifestyle—both on- and off-grid.
Whether you're building a tiny home or purchasing one pre-made, organization is key. Having a small space doesn't mean doing away with the luxuries of modern living—you just need to plan accordingly.
The best tiny home appliances are compact, have more than one use, and are energy efficient. Because of these features, you may find that appliances for tiny homes cost more than traditional appliances. That's why it's important to do your research and invest in quality products that will last for years to come. American Home Shield® has put together helpful tips on finding the best appliances for tiny houses.
The

Best Appliances for Tiny Homes
The clever designs of modern tiny homes allow you to have an array of systems and appliances—depending on space, of course. We'll break down each room, or space, highlighting which appliances are necessary and what you can splurge on.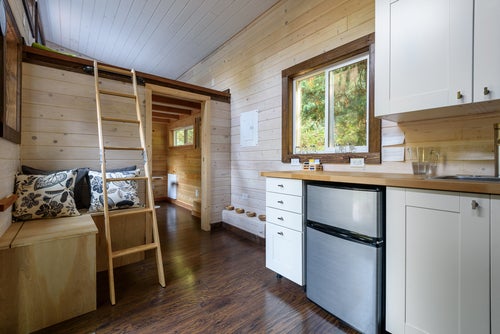 Tiny Home Kitchen Appliances
Investments in the kitchen depend on your lifestyle. Do you live alone or with a partner? If so, you may be able to get away with a small stove and a compact refrigerator/freezer combo. This will allow room for more convenience-based appliances, like a dishwasher. If you're living small with a large family, you may need to invest in tiny house kitchen appliances that are closer to full-size—more people mean larger food requirements.
You also have to decide which countertop appliances to invest in. For instance, if you eat toast for breakfast every day, you may want to find the space for a toaster. If it's not in your daily routine, you may want to consider alternative methods, like toasting your bread on the stovetop or investing in a small toaster oven so the appliance can be used for a variety of dishes. Look for a design that gives you the full benefit of the appliance but doesn't take up much room.
Use this list of recommended kitchen appliances for a tiny house while you shop around:
Multicooker, such as an all-in-one air fryer, slow cooker, and instant pot

Food processor or blender that can perform multiple jobs

Toaster oven

Portable induction cooktop that you can stow away to use counter space
Mini-fridge or small-space refrigerator/freezer combination

Portable countertop dishwasher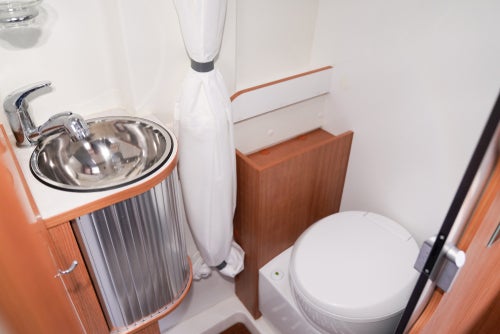 Appliances for Tiny House

Bathrooms
Like the kitchen, your tiny bathroom stores appliances that you'll use frequently throughout the day. A good rule of thumb is to give yourself more square feet per appliance the more you use it. If you spend a lot of time applying cosmetics, add space for a larger sink and vanity. If you prioritize long, relaxing showers at the end of the day, splurge on a full-size shower area with a rain showerhead to create a spa-like environment.
Consider incorporating some of these tiny house appliances for your bathroom:
Small wall-mount sink, or consider simply using the kitchen sink for handwashing to save space

Shallow-depth compact toilet

Corner shower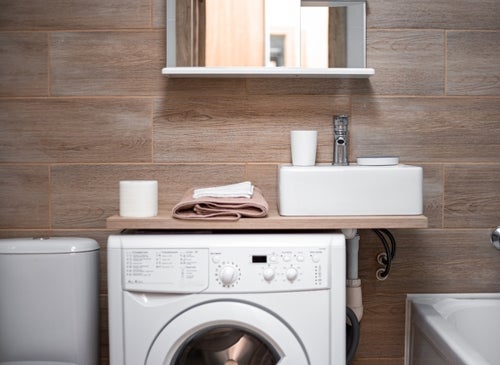 Laundry Appliances for a Tiny Home
Washer/dryer duos are very popular in the tiny home community. If you live in a mild climate, you may even consider skipping the dryer altogether and hanging up the wash on a clothesline to dry.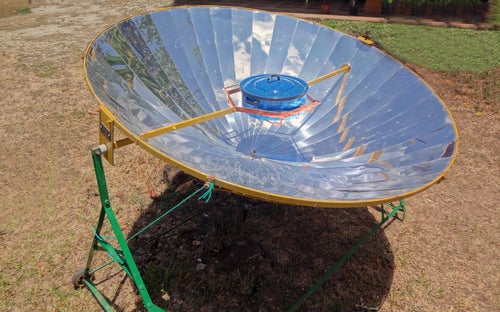 Tiny House Appliances

for Living Off-Grid
If you're harnessing your own solar power, you'll want to invest in off-grid tiny house appliances. Energy efficiency is the key—that way, your power from the sun can be used in many different areas. Learn about the pros and cons of solar panels. Another important factor to consider is if you rely on your own water and waste system.
Here are some appliances to consider purchasing for your off-grid tiny home:
Composting toilet

Propane or solar refrigerator

Solar cooker or outdoor fire pit for cooking meals
Where to Buy Appliances for a Tiny Home
Many big-box home improvement stores sell appliances intended for tiny living. Compact appliances are needed in small apartments, some coliving environments, and RVs, so they are easier to find than you might think. For off-grid tiny house appliances, you may want to consider camping stores or specialty websites, like The Cabin Depot or Solar Store.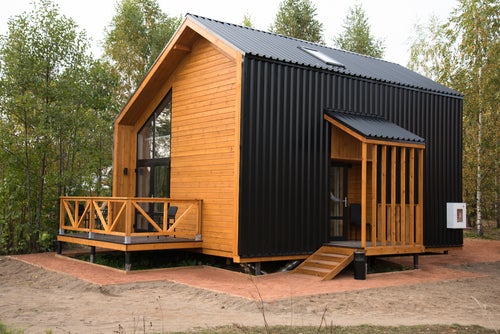 Tiny living doesn't mean having to live in discomfort. Your small space can accommodate plenty of amenities—the key is organizing your tiny home to get the maximum benefit.
If your tiny home is an accessory dwelling unit on your property, consider purchasing American Home Shield® warranty coverage to help protect your budget. Coverage includes parts of up to 23 home systems and appliances—you won't have to break your budget if they break down due to normal wear and tear. Check out our home warranty pricing to find a plan that works for you.
See the plan contract for coverage details, including service fees, limitations and exclusions. Charges for non-covered items may apply.   
Do you want to learn more about how to live a fulfilling life with less? In addition to appliances for a tiny house, we also have tips on the best states to build a tiny home to help you start your path in an area with the best resources.
AHS assumes no responsibility, and specifically disclaims all liability, for your use of any and all information contained herein.