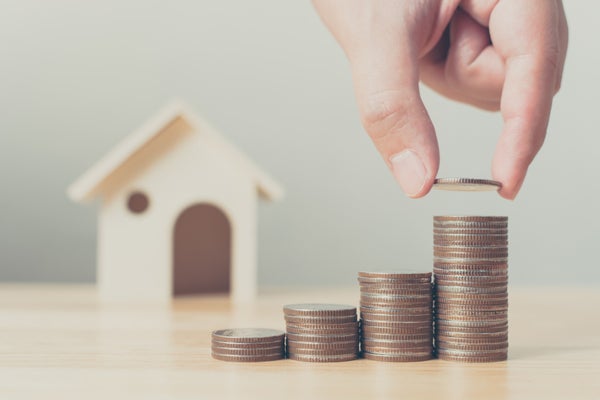 In some ways, renting can be a blessing—there's no dealing with property taxes or performing upkeep—but there are a lot of frustrations that come with someone else owning your home. You have limits on how much you can personalize your living space, and paying rent can often feel like throwing your money away. If you feel this way, it's time to figure out how to save money for a house, so you can make a good investment and start building equity.
Many renters ask about how much money to save for a house. Most loans require a down payment. Most homeowners start saving for 20 percent of the price range for a home they would like to purchase. This saving method can help you avoid paying private mortgage insurance. Additionally, you'll also need money for closing costs and a home warranty plan to protect your budget in case a major part of your home appliance or system breaks down.
While learning how to save money for a house while renting is challenging, small financial changes can make a difference. American Home Shield® offers tips on the best ways to save money for a house while renting.
1. Put yourself on a strict budget.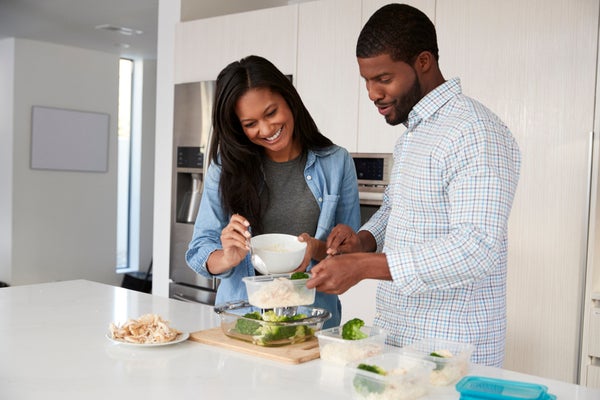 When asking yourself how to save for a house, creating a budget should be your first step. Write down all of your expenses and find areas to cut back. Here are some ideas:
Whittle down your subscriptions. Remember that streaming service you subscribed to years ago to binge-watch a popular show? Do you still use that service, or have you forgotten that automatic payments continued? Figure out which streaming platforms and phone or computer apps you can live without and cancel them. Pro tip: Sometimes, initiating the cancellation process on subscriptions you want to keep will automatically bring up offers or free months to try to entice you to stay.

Cut down on your food budget. We know your morning coffee ritual can be a needed start to the day, and going out to dinner once in a while with friends can be a mood booster. However, if you're wondering how to save up for a house, cooking at home can save you a lot of money. Try deleting the food delivery apps off your phone, so you're not tempted to order take-out. Sign up for online coupon companies to get money back. Some grocery stores offer free app memberships so you can clip coupons while you shop.
Make saving money fun by grocery shopping and meal prepping with a loved one or friend. That way, you can prep a variety of inexpensive meals and spend quality time together.
Shop around. If you've been with the same carriers for a while, ensure that you are not overpaying on your phone, internet, and car insurance. Check with other companies to see if you can get a better price. Just be careful about bundling—it sounds like a great deal, but they'll often include features you don't end up using.
2. Increase your income.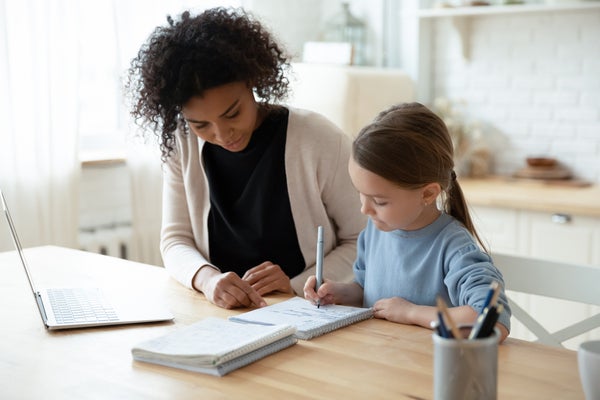 Want to know how to save money for a house? Earn more money. That's easier said than done, right? Well, maybe not.
You can start by asking your boss for a raise. Make sure that you support your request with research on salaries for similar jobs in your industry and locale, and include a list of your professional accomplishments. The worst they can say is no.
It's also beneficial to be on the lookout for a higher-paying job, even if you're happy in your current position. If you find one, you can approach your manager with the offer information and ask them to match the pay and benefits. If this doesn't work out, consider taking on a new, higher-paying position. However, be cautious about changing jobs if you are in the process of getting pre-approved for a mortgage—this could raise a red flag to the lender. In this case, it would be best to wait a few months to get pre-approved or wait until after you receive pre-approval to change jobs.
Finally, try earning more money with a side hustle. Look for jobs that can work around your current schedule, like delivering groceries for companies like Instacart or selling artwork online through platforms like Etsy. Consider if your talents align with contract services you could provide, such as taxes, graphic design, or tutoring. When figuring out how to save money fast for a house, boosting your income is key.
3. Create actionable steps toward your goals.
Have you heard of the term "manifesting"? Basically, the concept involves writing down your goals and thinking about them positively and often.
If you are constantly thinking about your goals and writing them down, you are more likely to pursue them—but manifesting also includes taking action. Print pictures of your dream homes and stick them on the fridge as inspiration. Every day, or at least every week, take active steps toward your goal of saving for a house, whether it's putting a certain amount into your savings account or taking on a side gig to make extra money.
You can also make it into a game. Write "How to Save Money for a House in 6 Months" (or however long your timeline is) on a poster board, including the amount you need to save and how you'll earn that money along the way. As you achieve each goal, check it off. It's a fun and satisfying way to save money and manifest your goals.
4. Transfer money to your savings automatically.
This is a simple step for how to save for a house. Set a portion of each paycheck to be automatically deposited into your savings. Then, pretend withdrawals don't exist until it's time to buy your dream home.
You can also use money-saving apps to help you budget and save.
5. Lower your debt, and actively work to raise your credit score.
When figuring out how to save for a house while renting, it is crucial to know how much debt you have and your credit score.
Ideally, you'll want to reduce your debt, especially if you have credit card debt, which typically has high interest. You may want to try the snowball method, which involves paying off the small debts first, then using the "extra" money to pay off the bigger debts. Just be sure to pay off the debt with the highest interest rate first. You can learn more smart finance steps by following financial bloggers, like Money With Katie.
Paying off your debt is also a good way to increase your credit score. Ensure that you are making payments on time for credit cards, utilities, student loans, and more. (Learn more about buying a house when you have student loans.) Though the credit score needed to buy a house depends on the lender and type of loan, the higher, the better. Learn more about boosting your credit score at sites like Debt.org and Credit Karma.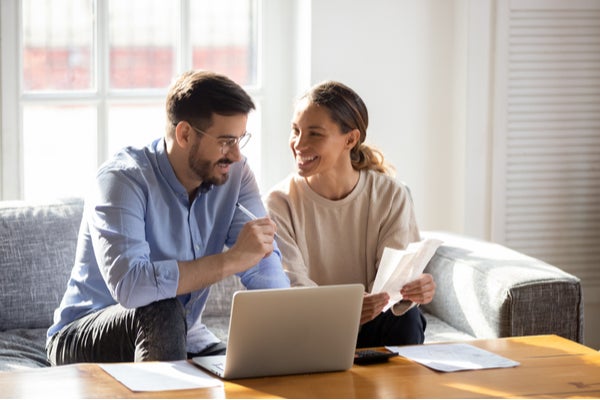 Learning how to save money for a house while renting is a reachable goal, but it can be challenging—especially if you live in an expensive city. Check our lists of affordable cities to live in for 2022 and the best places to buy a house. When you meet your financial goals, read why winter is the best time to buy a house.
Once you finish saving for a home and find one to plant roots in, make sure you protect your investment with an American Home Shield® home warranty. Check out our pricing and plans, and learn how much you can save by choosing a home warranty for your household.