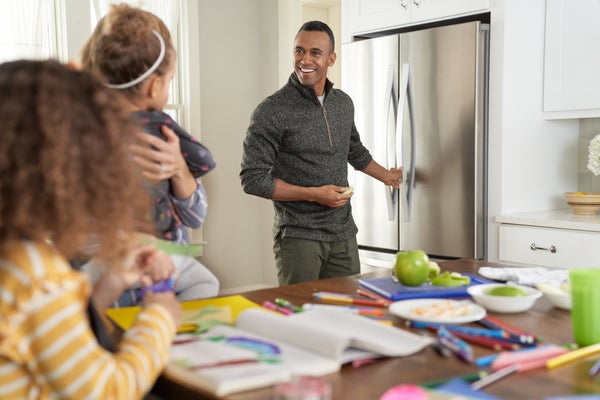 Your refrigerator is easily one of the most indispensable appliances in your home, so when things aren't running properly, you want it fixed quickly. American Home Shield® is here with a handy list of some of our best DIY refrigerator repair tips to help you diagnose and fix your fridge.
Troubleshooting Common Refrigerator Issues
Refrigerator self-repair doesn't have to be a pain. Understanding the issues (and sometimes sounds) to look out for, as well as knowing how a refrigerator works, is the best place to start with your DIY journey.
We've found some of the most common refrigerator problems that are super easy to fix, from busted ice makers to below-average fridge temps. Let's walk through how to fix a refrigerator properly, so it's back up and running in no time.
How to Fix a Warm Fridge
Does the temperature feel a bit off? Are your produce and beverages warmer than you would like? This issue could be due to your air damper, baffle, or diffuser. Don't worry. A quick check can help fix a refrigerator that's not cooling properly.
Your refrigerator's air damper/baffle/diffuser (one device, a few different names) helps balance the air flow from the evaporator fan housing. It also controls the amount of cold air entering the fresh food compartment. If the device is damaged, this can result in higher-than-normal temperatures.
You're probably wondering where you can find your air damper. It's commonly located where the cold air enters your refrigerator's fresh food compartment; it looks a little like window blinds. You'll notice the damper is encased in plastic, with a Styrofoam lining to prevent air leakage.
Here's where the warm fridge troubleshooting comes in. Once you locate your damper, make sure that air is flowing freely. It's possible that the airflow could be blocked or restricted, and if it's stuck in the closed position and isn't able to open, you may need a replacement.
Some refrigerators use a temperature-sensing bulb to adjust changes in the interior temperature. If this bulb is found in an incorrect position or damaged, adjust or replace to resume normal operation.
How to Fix a Leaking Refrigerator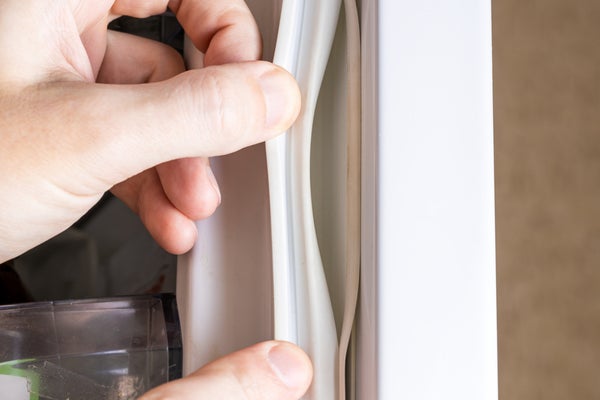 No one wants to see a puddle coming from under their refrigerator. If you find yourself with a small stream emerging from under the fridge, it could just be a door gasket issue, which can be a simple fix.
Here's how to repair a refrigerator when it comes to pesky leaks. You're going to want to check your door gaskets and/or seals found along the outside of your refrigerator doors. Your door seals are typically made from vinyl material and will normally have a flexible magnetic strip inside to help create an airtight seal. If you're experiencing moisture along the edge of the door, don't sweat it. Inspect your gaskets for warping or damage, because even a small amount of air leakage from a defective gasket can result in defrost issues or water leaks.
When replacing a gasket, you want it to be as pliable as possible. Insider tip: Just place the new gasket in your clothes dryer for a few minutes to help make it more flexible and easier to install. See? You've got this!
How to Fix a Refrigerator Ice Maker
Another common refrigerator problem can occur with the ice machine is no longer dispensing ice. This can happen when the ice cubes freeze together and clog up the machine. Dispensing ice more frequently can help prevent clogs, but to fix an existing one, open up the compartment in your refrigerator that makes the ice, remove the bin, and break up the ice clumps.
If this tip doesn't fix your ice maker, a frozen water line might also be the issue. This can be fixed by turning off the valve on the water line itself and letting the water thaw for a few hours. You can even speed things up by using a hair dryer to thaw the frozen line.
How to Fix a Noisy Refrigerator
Do you hear clanking or obnoxious whirring? Don't let your fridge interrupt your peaceful household. Noise can often be the sign of bigger issues, or an easy-to-fix nuisance. When refrigerator repair troubleshooting this issue, there can be a multitude of culprits. However, the most common one is the condenser fan. Your condenser fan circulates air throughout the condenser coil in order to remove heat. It also circulates air over the drain pan to evaporate and defrost water. This little fan does a lot of heavy lifting for your refrigerator, so if you're hearing a loud noise, you'll want to investigate it immediately.
Before you go looking for your fan, you should disconnect the power to your fridge and remove your rear access panel. Once that is taken care of, look for any trash or obstruction that could be preventing air flow. A periodic vacuuming to remove debris is a great refrigerator maintenance tip.
While you're back there, check your fan motor for signs of wear and tear. It's a good idea to check out your fan blade, too, which can be easily replaced and help sustain the life of your fan motor. Learn about other handy tips for a more efficient refrigerator.
What to do if Your Fridge Won't Start
When the refrigerator won't start, your first instinct may be to panic. Keep calm—you may just be dealing with an overload relay issue, which is easily fixable with DIY refrigerator repair.
What does the overload relay do? (Stay with us—we're going to get a technical for a sec.) The overload relay is used in the compressor circuit. Power is applied to the compressor motor windings through the overload device. Then, the overload relay starts winding in the circuit until the compressor is running at full speed.
If you hear your fans running and your compressor won't start, or if you hear a distinct clicking sound from your refrigerator, check your overload relay for overheating.
Now that you know what you're looking for, you'll want to know where to look. Modern refrigerators combine the overload relay into the side of the compressor. Grab a multimeter (a hand-held electrical measure device) to check your overload relay. The start capacitor provides increased starting voltage to the compressor windings. If your start capacitor is defective, then your compressor may not start. If everything checks out, you may have a faulty compressor.
Dealing with a compressor is a bit more advanced than simple DIY refrigerator repair, so we recommend contacting a qualified contractor for additional refrigerator repair troubleshooting.
What to do if DIY Refrigerator Repair Goes Wrong
While some common refrigerator problems can be easily diagnosed and fixed with DIY refrigerator repair, more advanced issues (like a faulty compressor) can seem intimidating. And let's be honest—many of us aren't naturally handy around the house. That's why we recommend an American Home Shield® home warranty.
We offer home service plans that not only cover your refrigerator, but many of the appliances and systems you use every day, including your oven, A/C unit, washing machine, and more, so you can select the option that works best for your household. And if you're already a member, then you know how easy it is to protect yourself from unexpected repair costs and place service requests for covered items.
Sources:
https://www.hunker.com/12606365/what-does-a-refrigerator-overload-protector-do
https://www.partselect.com/Repair/Refrigerator/

Do you need help with your Refrigerator? AHS ProConnect offers Refrigerator repair near you.