A quick and easy way to save on heating costs and conserve energy is by insulating your hot water pipes.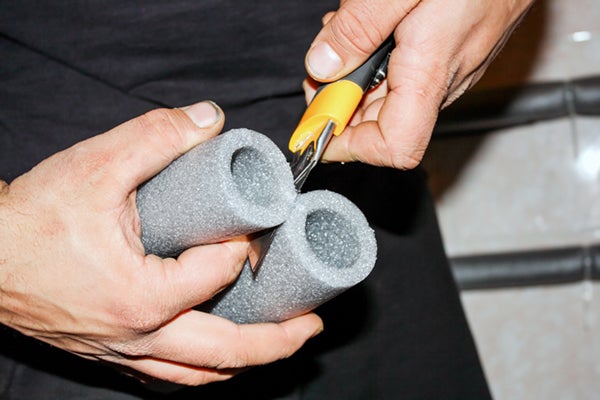 Did you know your hot water pipes radiate a lot of heat that can add unnecessary heating costs to your energy bills? A great solution is to insulate your pipes to reduce heat loss and raise the temperature of the water by two to four degrees Fahrenheit. That means you won't have to wait as long for your water to get hot, and you'll be conserving water and energy while saving money.
Before you begin pipe insulation
Check your owner's manual for the required clearance from the water heater and its flue vent. Certain types of foam pipe insulation could emit toxic gases if they burn. 
Determine the type of insulation to use. For electric hot water heater insulation, pipe sleeves made with polyethylene or neoprene foam are the most commonly used. The safest and best pipe insulation for gas heaters is fiberglass pipe wrap if your pipes are within eight inches from the flue. 
Measure the diameter. Plumbing pipe is measured by its internal diameter (3/4 inch is common), but the actual outside diameter will be larger, depending on the material.

What you need:
Tape measure
Foam pipe covers or strips of fiberglass pipe wrap from your hardware store
Pipe insulation tape (acrylic or duct tape) or cable ties to secure the pipe sleeves or aluminum foil tape or wire to secure the pipe sleeves or aluminum foil tape or wire to secure the fiberglass pipe wrap
Gloves, long sleeves and pants if using fiberglass pipe wrap
Scissors, box cutter, or utility knife

Steps for insulating pipes:
Measure. Starting at the water heater, measure all accessible hot water pipes to determine the lengths of pipe insulation needed. Insulating the first three feet of pipe from the water heater is especially important.
Cut. Using a sharp tool, cut the pipe sleeve or fiberglass pipe wrap to the lengths needed.
Fit. Place your cut pieces of insulation along your pipe with the seam face down.
Secure. Tape, wire, or use cable ties to clamp your lengths of insulation every one to two feet.
Just as you have options in terms of the best insulation for boiler pipes, you also have a variety of ways to protect and provide insulation for outdoor water pipes, such as hose valves and faucets. You can either use foam pipe insulation or you can buy insulated drawstring bags that fit tightly around valves during the winter to prevent frozen pipes.
Now that your DIY insulation is complete, you should start seeing savings on your energy bills. But what if you notice issues with your plumbing, like leaking or rust and corrosion? That's where American Home Shield® home warranty benefits come in. We offer coverage for your plumbing system, electrical system, and more—we even offer water heater coverage. When your home's major systems and appliances are covered by a home warranty, your budget and peace of mind are protected.
To learn more winter tips for your home, check out how to insulate a garage door and how to prep a vacant home, like a vacation property, before the cold sets in.
AHS assumes no responsibility, and specifically disclaims all liability, for your use of any and all information contained herein.