Do you live in a humid or muggy climate and notice a lot of condensation on windows and mirrors? Does anyone in your household suffer from allergies or asthma? Have you experienced mildew or mold issues? If you answered yes to any of these questions, your home could benefit from a home dehumidifier. Let's talk about dehumidifier benefits.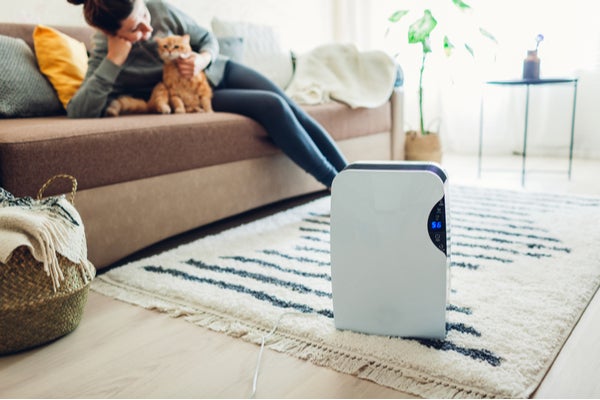 What Does a Dehumidifier Do?
A dehumidifier works by removing excess moisture and humidity from the air. While humidity levels can vary due to changing seasons, weather, energy use, air circulation, and other factors, most experts agree that keeping the relative humidity level between 30 percent and 50 percent is a good goal, with 45 percent being best for comfort and health. According to Consumer Reports, humidity levels above 50 percent can host dust mites, mildew, and mold, which triggers allergies and other health problems. It's important to make sure dark areas like your basement stay below 50 percent humidity since they don't have access to sunlight or natural air from outside.
You can gauge your home's relative humidity level with a device called a hygrometer, which can be purchased at hardware and home improvement stores. In summer months, you can expect the average interior humidity to be higher, and it will likely be lower in winter months. If your hygrometer is consistently getting readings above 50 percent, a home dehumidifier might be a good investment.
How to Choose a Dehumidifier
There are two dehumidifier types:
Compressor dehumidifiers: These are the most common dehumidifiers and are usually the most affordable. They work by passing the damp air over a chilled coil, using condensation to suck the moisture out into a disposal tank. The air is then reheated by a warming coil and sent back out.
There are some drawbacks to the compressor version. They tend to be loud and bulky and work best in warmer climates—since they use condensation, the air must be relatively warm upon entering the machine.
Desiccant dehumidifiers: These work by removing the moisture via a desiccant wheel, which is then dried with an internal heater. The desiccant dehumidifier is quieter and tends to last longer than compressor dehumidifiers. You don't have to empty a disposal tank, and it doesn't require refrigerant.
Desiccant versions tend to be pricier, and the dehumidifier energy usage is a little more than compressor humidifiers. But if you live in a colder climate, it may be the way to go.
The average whole house dehumidifier cost is anywhere between $1,300 and $2,800. The cost to run a dehumidifier is from 3 to 16 cents an hour on average. You can pick up a small room version for only a couple hundred dollars, but the dehumidifier benefits may make you want to splurge on one for the whole house.
5 Benefits of a Dehumidifier
1. Helps with allergies
Many allergens and allergy triggers favor humid environments, such as dust mites, mold, and mildew. Rooms where water is used or that contain poor air circulation, like bathrooms, laundry rooms, and basements, may be especially prone to harboring allergy-causing substances, which can spread throughout a house. A dehumidifier can help decrease the moisture that supports allergen growth, improving air quality and helping to prevent some types of bacteria and virus growth, too.
2. Reduces pest-related problems
Allergens aren't the only unwelcome things that like humidity. Pests like spiders and roaches tend to gravitate to moist environments. Pay attention to the rooms where you spot the most pest activity—if they are rooms where water is present or humidity is high, you may have found the root of the problem.
3. Controls moisture levels
High levels of moisture in a home can cause structural problems like warping and deterioration. Condensation can build up, causing mold to form. The steps to remove mold can be both a health hazard and outrageously expensive, so mold growth should be avoided at all costs.
Ironically, homes that are well sealed for energy efficiency can have some of the worst problems because of decreased air circulation. If you notice peeling paint or wallpaper, unusual stains, or a musty odor, you may need a dehumidifier for mold prevention.
4. Improves comfort
No one likes feeling sticky, especially while trying to sleep at night. Homes with proper humidity levels are generally more comfortable. The indoor air quality is usually improved, and the air stays cooler when a dehumidifier is in use.
5. Reduces energy costs
Another benefit of a dehumidifier is that it may control energy costs by helping your air conditioner work more efficiently. When it comes to a dehumidifier vs. an air conditioner, the air conditioner's primary job is to cool the air, with moisture removal as an added benefit. Because a dehumidifier's entire job is to remove moisture from the air, it means your air conditioner likely doesn't have to work as hard to maintain a comfortable temperature, saving energy use as well as wear and tear on your cooling equipment.
Humidifiers aren't designed to cool the air; they just to take the moisture out. However, you can purchase air conditioner/humidifier hybrids—usually portable units—that can do the job of both.
If you're also in the market for a new A/C unit, you have several options: from central air conditioning to window units and ductless air conditioners. American Home Shield can help you with comparing A/C units and choosing the best option for your home. Get A/C unit protection with our home warranty coverage, which covers up to 23 essential appliances and home systems when they break down due to normal wear and tear. Check out our warranty options to pick the plan that works best for your household.
AHS assumes no responsibility, and specifically disclaims all liability, for your use of any and all information contained herein.