There is nothing more satisfying than opening your door to see a luxurious expanse of a green grass lawn. However, that satisfaction can quickly drain away if your yard is not draining properly. Beyond being an eyesore, improper yard drainage can also keep your plants from growing and cause damage to your home.
Standing water also poses multiple health hazards. Bacteria and mold profligate in moist environments, which can lead to lasting health issues for you, your family, and your pets. Even more concerning are the insects drawn to standing water. Since mosquitos breed in standing water and can carry disease, you should fix your yard drainage system before they settle in.
Before you hurry to call your plumber, check out these yard drainage solutions for do-it-yourselfers to keep your grass pristine and your home in peak shape.
Check Your Gutters and Downspouts
Your home's gutters and downspouts could be contributing to drainage issues. Before doing anything else, inspect all gutters and downspouts to make sure that they are in good condition, not clogged by dirt and debris, and are sufficiently directing water away from your house.
Add More Drains and Drainage Materials
If it seems like your gutters and downspouts are in working order, you can add other drains and materials to your yard to improve its drainage efficiency and efficacy. Here are a few yard drainage solutions:

Channel drain. Add a homemade channel drain or trench drain to your yard to redirect water from your yard and away from your house. Installing a drainage system in your yard is relatively simple:
1. First, cut a slim trench into your yard's sidewalk or adjacent driveway and fill it with concrete.
2. Then, position a channel drain into the concrete, ensuring that it slopes towards the drainpipe.
3. Line the drainpipe with flat stones to prevent over-erosion and backfill the trench with asphalt.
4. Finally, plant grass seed or lay down sods of pre-grown grass to keep your lawn looking lovely.
French drain. A French drain allows water to flow through permeable gravel and into a perforated PVC pipe, directing water away from your home.
Yard drain. A yard drain passively channels water directly from your yard to an endpoint like a dry well.
Landscape drainage. This exchanges any hardscapes in your yard with materials that allow for more effective water drainage. Replacing any concrete or asphalt in your yard with porous materials such as crushed or pea gravel will help mitigate drainage issues.
Installing a downspout extension will improve your home's already-existing downspouts by moving water even farther from your home.
Add a Water Feature
Even though it may seem counterintuitive, adding a pond to your yard is an excellent DIY yard drainage solution. After ensuring that your local building code allows for a residential pond, you can create sloped yard drainage by digging out a pond in the lowest part of your yard. Line the pond with vinyl pond liner or cement, and let nature take its course. To prevent the issues inherent in standing water, you will likely want to circulate water in your pond using a pond aerator.
Build a Garden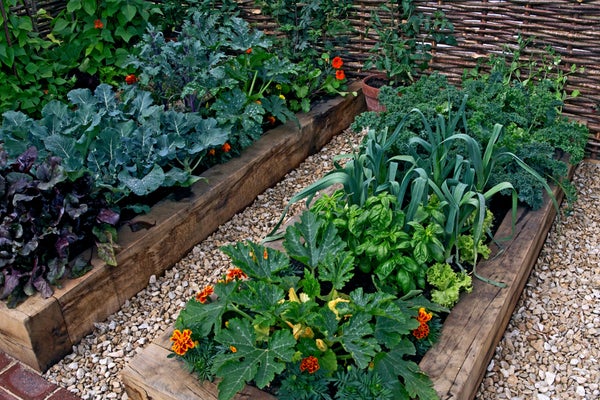 For a more visually appealing yard drainage solution that is DIY, you can build a garden that thrives with moisture. Try creating a garden using fast-draining soil mix and moisture-loving plants.
You can also build a raised garden in the part of your yard that does not drain properly. This type of garden drainage raises soil and compost above ground level, which allows water to drain effectively through the soil before impacting your yard.
Once you figure out which DIY yard drainage solutions work best for your home, keep your home's systems and appliances protected from expensive issues due to wear and tear.
Investing in an American Home Shield® home warranty can give you peace of mind. From flexible pricing and plans to comprehensive coverage, a home warranty from American Home Shield can help keep your home and your budget happy and healthy.