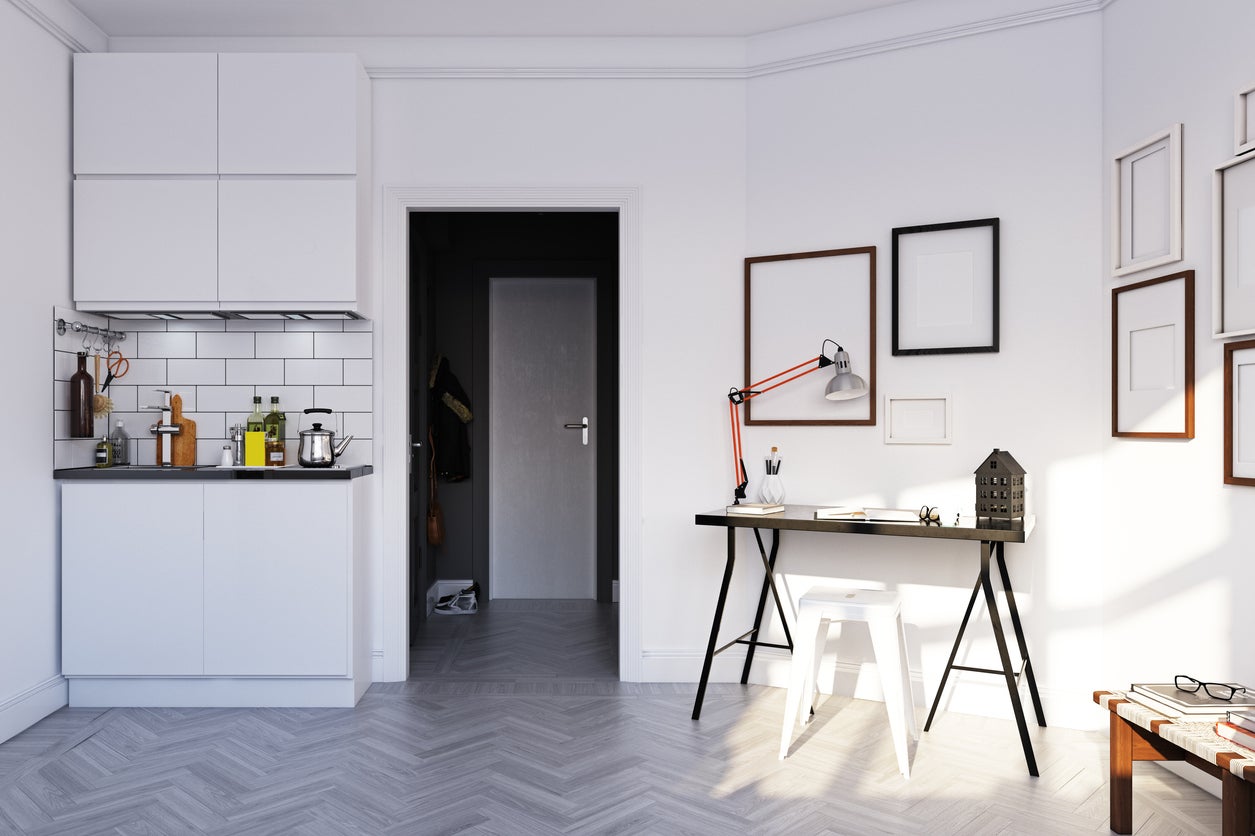 The global pandemic has changed a lot about the world we live in, and workplace culture has been one of the biggest areas impacted. Thanks to the pandemic, working from home is now the norm. In 2022, 4.3 million people in the US will work from home at least half the time. However, for many of us, our homes are not set up for work. This article looks at how to convert small spaces, like closets, cupboards, and even bookshelves, into home offices and say goodbye to the kitchen table!
How to win at WFH
Working from home (WFH) also has its perks if you do it right. It allows greater flexibility in terms of hours, which can be great for those who can self-motivate to get the work done when it needs to be done, in their own time.
Working from home also reduces travel time and positively impacts the environment, with much less commuting. The greater flexibility frees up more time for exercise, rest, or spending time with family and friends. You can also save costs on ordering food with your kitchen right there—there's no excuse not to bring your lunch!
A home office means you can separate work from home life while still having all the comforts and convenience at your fingertips.
Why a home office is important
In theory, the idea of working from your bed sounds pretty good, right? Unfortunately, the reality can be very different. Whether you have a busy household with kids, reside with roommates, or live alone, working from home can be a logistical nightmare if you don't have a dedicated space to operate.
Nourishes a work mindset
You may find yourself working from the kitchen table in the morning, from the sofa after lunch, and even from the bed as it nears the end of the day! This can cause countless distractions and can impede your work mindset. Having a dedicated workspace keeps you focussed and productive.
It creates boundaries
Not having a dedicated workspace can blur the boundaries between work and home life. If you're finding it hard to switch off from work and bringing this stress into your personal time, a dedicated workspace could be the answer.
5 Ideas to create a home office in a small space
With working from home here to stay, it's time to get creative. Here are some of our favorite home office ideas for small spaces.
The "cloffice"
Got a closet? Well, you also have an office! You can transform your built-in closet into a tactical, compact workspace. Just add in shelving and a desk, and you can create the ideal home office closet.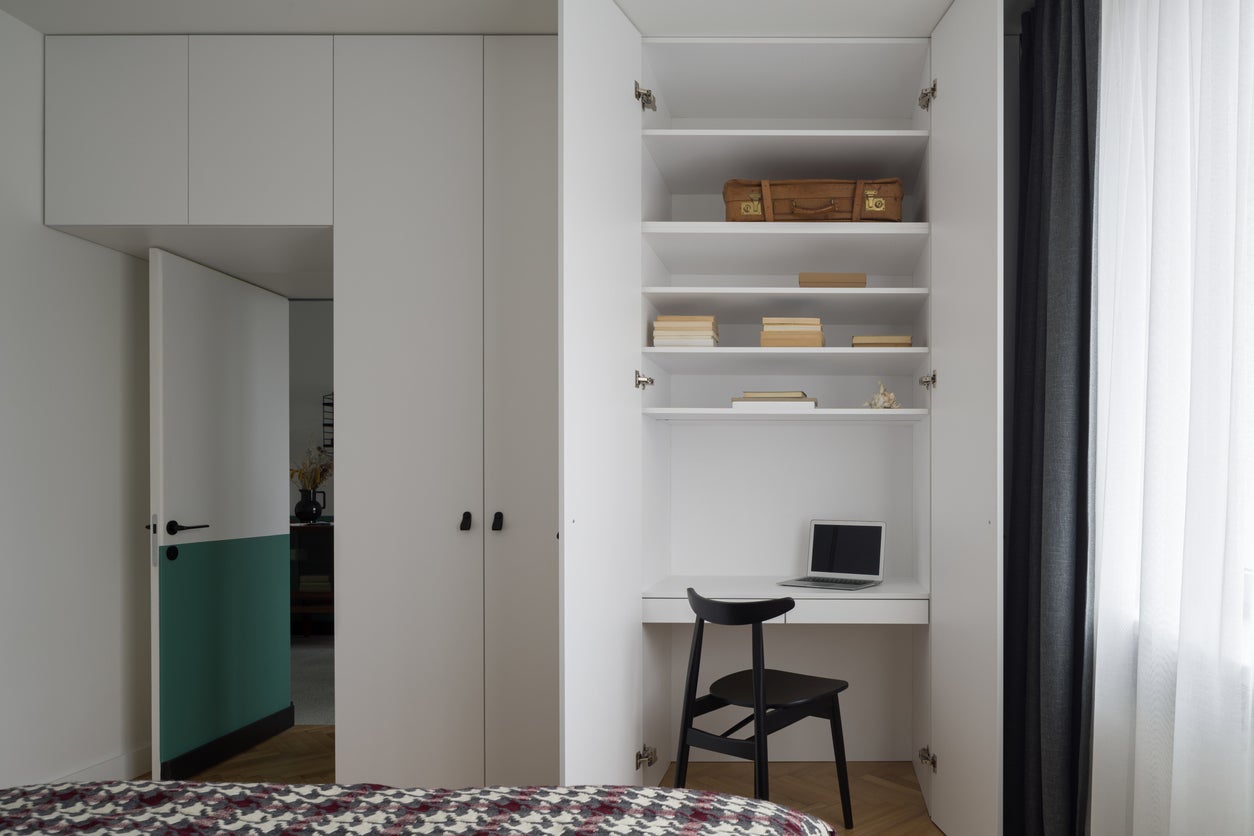 The bookshelf desk
Turning a bookcase into a workspace is one of the most practical, ingenious ways to create a home office in a small space. By getting yourself a low-level bookcase, you can use the top as a workspace and the shelving as storage for your work folders as well as your books. You can even remove the chair at the end of the day, and the space will revert to just a regular bookshelf—voila!
The under stairs office
Whether it's the awkward space under the stairs or a tiny attic space in the roof, adding in some custom-made shelves, storage solutions, and a chair can make for a functional, stylish home office.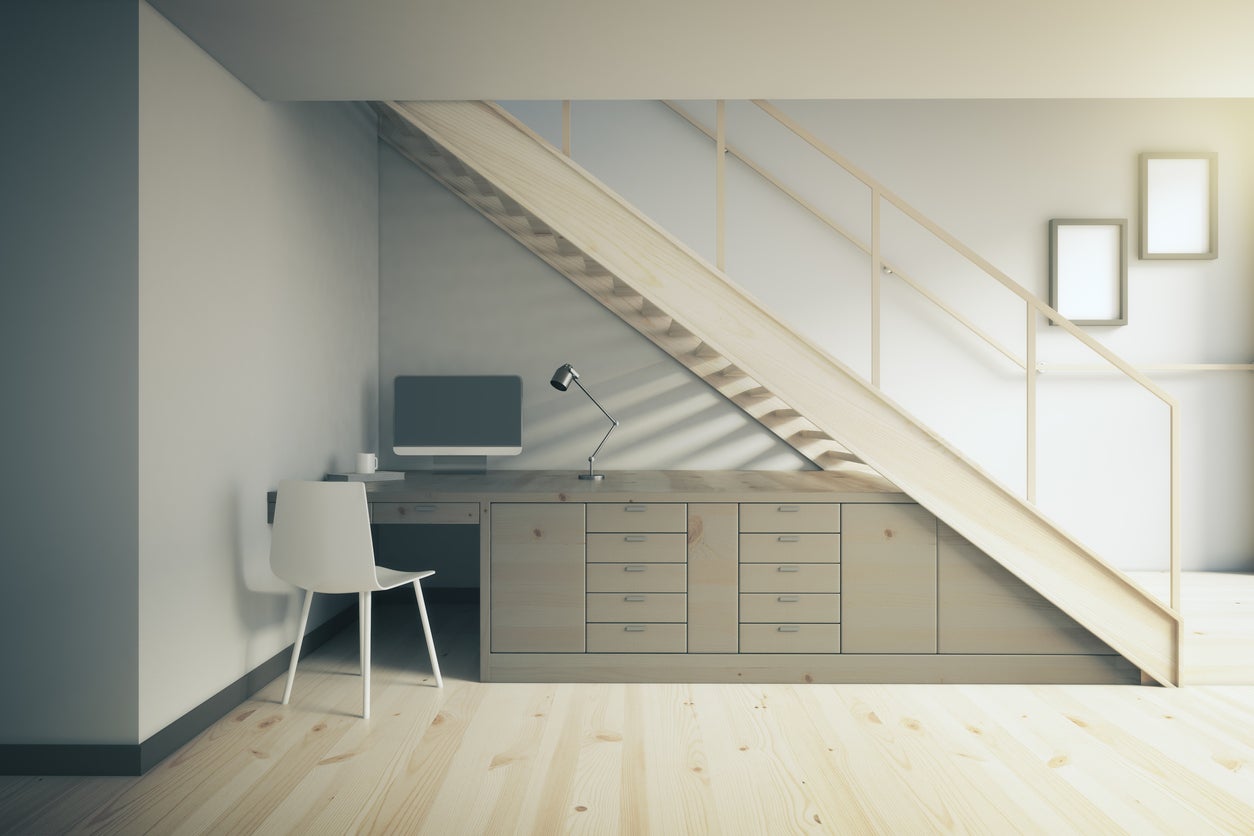 The loft bed office
Perfect for those living in a studio space or who are restricted to working from their bedroom, a loft bed means you can use the underneath space as your office. Simply fit it out with a desk, some shelving, and a chair, and you have a perfectly functional home office enclave that feels removed from the rest of your bedroom.
The multi-purpose workspace
If you're looking for small home office ideas that don't require too much effort, simply dividing a room with a bookshelf or curtain can be an easy way to create a home office when you're short of space. This means you can convert a room into a multi-purpose space without making any permanent changes.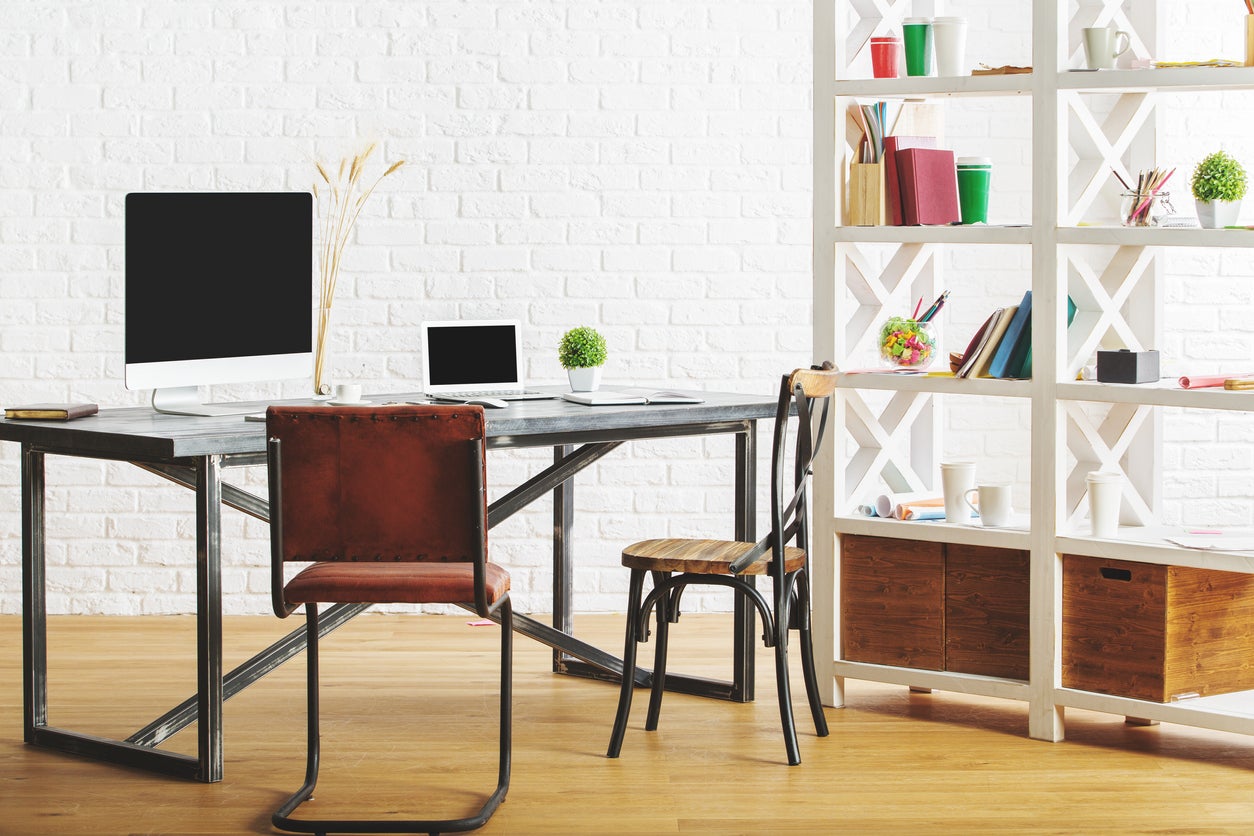 6 Tips for creating a home office in a small space
Tiny home-dwellers, apartment livers, or anyone lacking extra space in their home, these are our top 6 tips for creating your perfect home office.
Use colors that help open up a space, such as whites and other light tones. We also suggest choosing just one or two colors; mixed schemes and patterns can create a feeling of chaos and a lack of cohesion.

Choose a location that makes the best use of space. There are many different spaces in a home that could be an office, but choose the one with the greatest potential to be functional.

Ideally, choose a spot with plenty of natural light, as this is essential for productivity and can help boost mood. If natural light is hard to come by in your home, deck out your office space with a low-lit lamp with the illusion of natural light.

Add some details to make it more comfortable, like incorporating plants, buying a comfortable desk chair, and installing effective and creative storage solutions. These will help create the most functional and welcoming workspace for your needs.

Think outside the box. Don't be afraid to experiment with ideas like dividing a room to have multiple uses or installing shelving that uses the entire height of the wall to allow ample desk space. The options are endless!

When your home doubles as your office, it's important for things to run smoothly. Invest in a home warranty plan so you can spend more time being predictive and less time worrying about repairs. AHS Home Warranty plans outline home warranty costs and offer peace of mind and mean you have one less thing to stress about.
Get creative with your home office
Working from home is now a part of life for many of us, so adapting our homes is one way to make it easy and enjoyable. Luckily, there are plenty of interesting ways to create home offices, even in very small spaces. Find what works for you as we navigate this "new normal" and thrive in whatever space you choose to create!
AHS assumes no responsibility, and specifically disclaims all liability, for your use of any and all information contained herein.