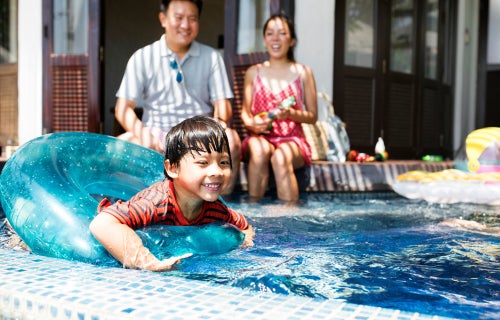 On a hot summer day, there's nothing more refreshing than knowing your pool is in perfect shape. These days, there seem to be apps for just about everything, but did you realize that includes your family pool? The best pool apps help you worry less while soaking up the fun in your backyard even more.
The greatest thing about outsourcing your pool maintenance needs to your phone is that it gives you more time to kick back, relax, and enjoy the summer. These clever smartphone apps for your pool will save your family time, money, and guesswork.
1. Nimbus Pool Doctor
Pool Doctor is one of the best pool maintenance apps out there. It's designed to control your pool's chemical balances and supports regular, saltwater, and bromine pools—but it only displays the analytics appropriate for your pool. Pool Doctor helps keep your pool clean, clear, and chemically balanced by helping you set the pool's ideal chemical range and allowing you to adjust its pH levels, hardness, chlorine, salt, and bromine. Changing measurement units is easy, and the program saves and tracks treatment records. Given sufficient data, it automatically records the Langelier Saturation Index (LSI). It has a shock calculator and allows users to configure their own ideal ranges and chemical requirements.
Here's what to know about pool chemicals.
2. Pool Pal
To use the Pool Pal app, simply input your pool's specs and details, and follow its recommendations to keep the water balanced. You can see the Calcite Saturation Index (CSI) and LSI for real-time readings or hydrogen peroxide, alkaline level, pH levels, hardness, borates, filter cleaning, water temperature, water pressure, and more! You can even set goals for your pool using the app, making it a great resource for pool maintenance for beginners.
3. Pool Smart
The Pool Smart app teaches pool owners how to maintain a pool's water balance with just the right measurements of chemicals. The swimming pool maintenance app also includes helpful features such as tracking algae growth, cloudy water, and stains. This troubleshooting function helps mitigate aggravatingly common issues. Different pages provide clear details on exactly what your pool needs to improve.
4. Pool Care
From chemical tests and detailed adjustment recommendations to maintenance, backwash schedules, and filter cleanings, the pool chemical app Pool Care reminds you what to do and when to do it—all for free. It allows users to graph and view their data, maintain multiple pools or spas, and even email their results.
5. Pooli
An essential tool for any pool and spa owner, the user-friendly Pooli app allows you to test and manage your pool from afar using its built-in test strip scanner and pool chemical monitor. Keep track of the supplies you have and how much upkeep you need to do going forward using this pool chemical phone app. You can even use it for your hot tub!
6. Pool Heater
The Pool Heater app allows you to communicate with your pool or spa heater using the power of the internet. You can check on water volume, water temperature, and the heat pump running mode. It even allows you to turn the pool heater on and off, set a timer, change heater modes, learn about any maintenance concerns, and see water temperature changes over time. This pool app also promises seamless background troubleshooting and problem resolution for a worry-free, comfortable pool temperature.
7. ScreenLogic Connect
The ScreenLogic Connect app is compatible with the Apple Watch, meaning that once you integrate it with your pool, it's easy and intuitive to control your pool from a distance. Track the history of your pool's chemicals and lighting on the app's convenient interface. ScreenLogic Connect is a great app to use when you reopen your pool.
8. Swim by American Red Cross
Swim by American Red Cross is a pool safety app, not a pool maintenance app, but we've included it to help keep your family safe. Swim is a five-star-rated program and a go-to poolside resource for parents. Features include activities to keep young swimmers safe, water skills tracking, and rewards for children's accomplishments. It also makes water safety fun through games, videos, and water activities.
Using these pool chemical monitor and maintenance apps, as well as this pool maintenance guide, can help you keep your pool in tip-top shape—not only throughout the summer but also year-round. But when its parts and components break down, rely on an American Home Shield® home warranty. With pool and spa warranty coverage, your budget will be protected when your pool's hardworking aboveground components (part of the heating, pumping, and filtrations system) malfunction due to normal wear and tear. Learn more about how pools are covered by a home warranty, and choose one of our plans, which provide home warranty coverage for your household and budget.
AHS assumes no responsibility, and specifically disclaims all liability, for your use of any and all information contained herein.