Shopping for a new home? First-time home buyer? Learn how to make an offer on a home and get some insight into the process.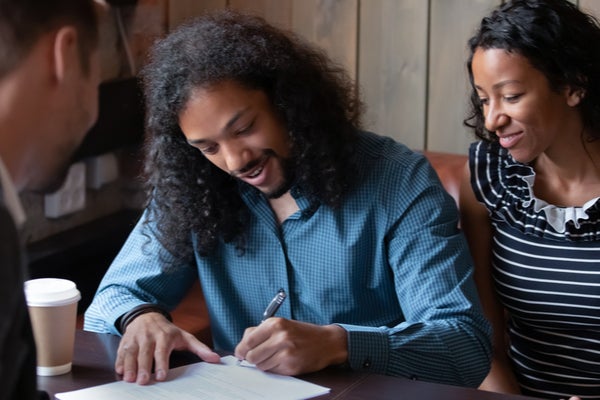 Maybe you've been looking at homes for some time, or maybe you fell in love with the first home you walked into. Maybe it seems like a great deal has just fallen in your lap. It doesn't matter how you found it, just that you did.
But buying a home can be a long and complex process. You can't just shake hands over it. There's paperwork to fill out and laws to be followed. Plus, you may have to contend with the pressures of a hot market and a competitive bidding war. Here's how to make an offer on a house that will get accepted.
Know the Market
Before you can make an offer on a house, you obviously have to arrive at a price that you think is fair and, hopefully, one that will save you money. You also want to make sure your offer isn't one that will instantly turn sellers off. You don't want to insult them by offering too little, but you also don't want to sell yourself short by offering too much.
Working with a real estate agent can be really helpful for this and other parts of buying a home. Your agent will know the market intimately and will be able to give you advice and raw data on which to base your decision. He or she can pull comps for the area, so you can see what other houses nearby are selling for.
Your agent can also help you understand how hot or cool the market is. If nearby houses are moving quickly and selling for asking price or above, you'll be making a very different offer than if houses in the area are languishing for months. If the market is competitive, you may want to offer closer to asking price, especially if the house is newly listed. But if the market is calmer, you may be able to get an offer accepted at much lower than asking price.
Sellers may be more desperate to unload a house that's been on the market for a while, so the longer a house has been on the market, the lower your offer can come in and still have a chance of being taken seriously.
Stick to Your Budget
It can be tempting to break your home-buying budget, especially when you've just seen a gorgeous house and you're already hearing the pitter patter of little feet or imagining the flowerbeds abloom with your favorite perennials. But, by this point, you should know how much you can afford for a downpayment and a monthly mortgage payment. Plan to spend another $1,000 or so for inspections and appraisals. And you'll need about three to five percent of the sale price for closing costs. You don't want to end up house poor, so it's best to offer less than you think you can comfortably afford. If that puts the house out of your reach financially, then it's not meant to be.
Submit a Written Offer
Once you've arrived at a figure, you need to submit your offer to the seller in writing. Again, it's easier to do this if you have an agent because your written real estate offer letter must adhere to state and local laws. It might need to contain details like a legal description of the property, and it will need to be accompanied by earnest money. What is earnest money? It's a percent of the home's value that you put down with your offer to show good faith — the money will be held in escrow until the deal is completed, and you could lose it if you pull out of the deal without a good reason.
Make it Competitive
If other buyers are making offers on the same house, you may want to make your offer more competitive. Some buyers do this by offering over asking, but another way to do it is to waive some or all contingencies. For example, you might choose to forgo a home inspection or appraisal. Some buyers choose not to make a purchase contingent on the sale of their old house. Weigh the decision to waive contingencies carefully, and make sure it's okay with your lender. Your mortgage underwriter might require an appraisal or inspection, for example.
Personalize Your Offer
One way to make your offer stand out in a hot market is to write the sellers a letter introducing yourself and your family and explaining why you'd love to live in the house. While you might think that a buyer would just take the highest offer with the fewest contingencies, that's not always the case. People form emotional bonds to their homes, and many sellers want to see their cherished homes go to buyers who will love them just as much.
In addition to introducing your family to the sellers, your offer letter should discuss the specific things about the home and neighborhood you love, describe how your family will live in the home and highlight why your offer is better than others (perhaps you're flexible about move-in dates, willing to waive contingencies, offering more than asking price or offering all cash). A letter humanizes your offer and could sway a seller towards accepting it, even if it's lower than others.
Making an offer on a home is just the beginning of the journey of homeownership. Once you've moved in, you'll need advice to help you keep your home in great shape. You can find them on our Home Matters blog, where we offer home improvement, repair and decorating advice for every homeowner.
AHS assumes no responsibility, and specifically disclaims all liability, for your use of any and all information contained herein.