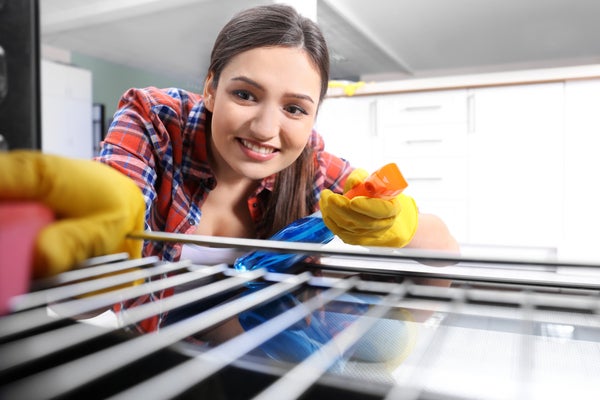 When food leaks, pops, or bubbles out into the oven, your oven racks can become an encrusted mess that even the self-cleaning cycle can't completely fix. If your oven racks are layered with grime, grease, and baked-on gunk, it's time to give them some special attention. You can always hire a professional or try a store-bought oven cleaner, but if you'd prefer to save money or avoid the harsh chemicals found in oven sprays, there are several alternatives for cleaning oven racks.
What

's

the Best Way to Clean Oven Racks?
Just like cleaning any other major kitchen appliance, there isn't one best way to clean an oven or oven racks. Luckily, several proven oven cleaning hacks can work for you. If you're wondering how to clean oven racks, here are three methods that we've found can do the job well.
1. The

Merry Maids

Method
The professionals at Merry Maids® recommend using a large, plastic kitchen trash bag and a spray degreaser (homemade or store-bought) for cleaning oven racks. Cleaning the oven with an ammonia, liquid dish soap, and warm water mixture is an effective way to remove grease. You can also use ammonia on the racks before sealing them inside the trash bag.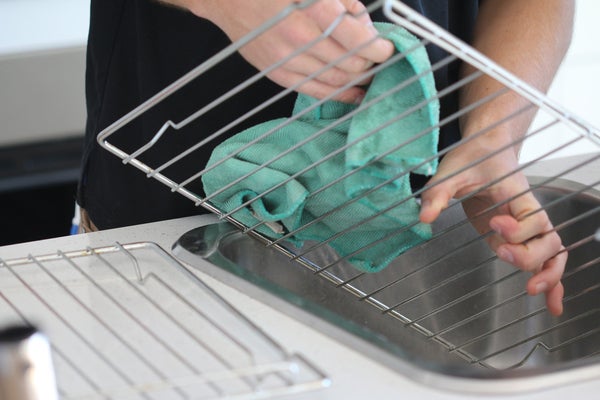 Maybe your oven racks need a bath. That's right! You can use your bathtub to help in cleaning oven racks. First, put towels or an old shower curtain liner in the bathtub to prevent the racks from scratching the tub's surface. Then, place the dirty oven racks in the bathtub, fill the tub with hot water, and add dishwasher detergent (powdered or liquid). Let the racks soak for several hours or overnight. You can also use a homemade oven-cleaning solution of ammonia and warm water in the bathtub instead of dishwasher detergent.
3. Natural

Oven Rack Cleaning

Method

s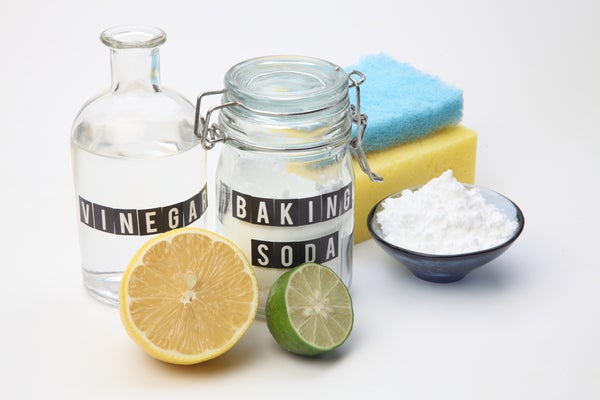 Here are a few of the best natural home remedies to clean oven racks for those who like to avoid harsh chemical cleaners.
Clean your oven with baking soda and vinegar. Sprinkle household baking soda on the oven racks, then spray with white vinegar. When the solution stops foaming, cover the racks in hot water (either in the bathtub or sink) and let them sit overnight. For heavily soiled oven racks, you can then use salt and a scrubber to remove any stubborn stains.
Clean the oven with baking soda and water. Another natural method to try is a simple paste of three-parts baking soda to one-part warm water. Apply the paste with a paintbrush or pastry brush, and let the mixture sit on the racks to work its magic for about 20 minutes. Remove the paste with a sponge and warm water, or use a plastic spatula or scraper if the paste has dried. If that still didn't get off all the grime, try mixing some concentrated dish soap along with a half-cup of kosher salt into the baking soda paste. Spread this mixture on the racks and let them sit overnight. The next day, rinse with warm water and use a little distilled white vinegar if there's any residue to remove.
Clean the oven with lemon. If your attempt to clean your oven with vinegar and baking soda isn't enough to clean those extra-grimy oven racks, try cleaning the entire oven with the racks inside. (If you have a self-cleaning oven, make sure it's not on the self-clean cycle.) Squeeze the juice of a few lemons into an oven-safe dish, add water, then put the dish inside the oven. Turn the oven to 250 degrees and leave on for about 30 minutes. Remove the racks and scrub off those last bits of grease.
4. The Dishwasher Method
If your oven racks fit and are dishwasher-safe, you can stick them in the dishwasher and run a normal cycle. The dishwasher method is probably one of the easiest ways to clean oven racks, but it may not be the most effective. Grease and grime are baked onto your racks, so one of the other oven cleaning hacks listed here might work better.
If your oven racks have become warped or damaged over time, you may want to learn about home warranty plans offered through American Home Shield, which include oven warranty coverage. Our plans provide the coverage you need to protect your hard-working appliances and home systems as well as your budget.
Now that you've learned the inside scoop on how to clean oven racks, check out more DIY tips and tricks, including how to clean the rest of your oven, how to clean the oven hood, and how to spot common oven problems.
Do you need help with your Oven? AHS ProConnect offers Oven repair near you.
AHS assumes no responsibility, and specifically disclaims all liability, for your use of any and all information contained herein.