Self-cleaning ovens can save you both time and a backache from having to bend down and scrub out the grime. But the intense heat of the oven self-clean function can be a little intimidating. Check out these tips to learn how to use this feature.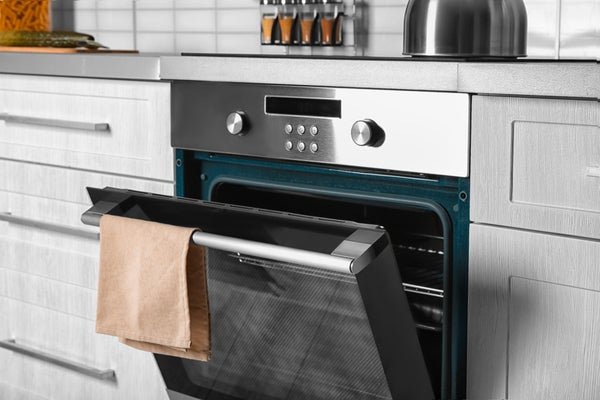 Cleaning an oven has to be one of the most tedious and least popular kitchen tasks. It's so easy just to shut the door and ignore all of the baked-on grime from pizzas and casseroles long past.
The clean function on an oven seems to work like magic. You simply close the oven door, start the cycle, and a few hours later, all of those nasty food remnants have turned to ash, and you're one wet rag away from a sparkling oven. But let's face it, using the oven self-cleaning cycle can be a little intimidating. The thought of high temperatures and the smell of something burning is alarming.
So how does a self-cleaning oven work? Courtesy of Merry Maids, here are some of the best ways to clean a self-cleaning oven.
How to Clean a Self-Cleaning Oven
Read your manufacturer's instructions before running a cleaning cycle and follow the directions word-for-word. If you can't locate your manual, find it online. The manual may provide important info for your particular oven.
Remove any oven racks, pots, pans, utensils, and foil liners in the oven before cleaning. There are other ways to clean the oven racks. You also want to make sure nothing is sitting on top of the oven.
Remember to ventilate. The burning may emit fumes that can be harmful. It's a good idea to turn on the kitchen fan and open windows if you can. If you have pets, it may be a good idea to remove them from the house during the process. Birds, in particular, can be very sensitive to burning smells.
Plan ahead. When reading the manual, make sure to take note of the oven self-clean time frame. It usually takes at least a couple of hours, so you don't want to start it right before dinner—unless you want an excellent reason for ordering takeout.
Don't use commercial oven cleaners or oven coaters in a self-cleaning oven. High heat plus potentially toxic and flammable chemicals means a bad situation. Never, ever add them when using a self-cleaning oven.
Clean only the parts of the oven that are listed in your manual.
Don't clean the oven door gasket, as you can damage the oven's seal.
Don't touch the oven or let children near it during the self-cleaning cycle. Most auto-clean ovens automatically lock for safety reasons, but keep in mind that the stove itself can get very hot while cleaning a self-cleaning oven.
Don't leave. As tempting as it might be to take this time to do other errands, it's just not safe. Make sure to stay home during the entire process.
After cleaning your oven, learn how to clean the oven hood. Voila! Your appliance is back to being spick and span.
Proper cleaning and routine maintenance can go a long way in extending your oven's life span, but all appliances can eventually break down from normal wear and tear. That's where a warranty for your self-cleaning oven comes in handy.
Affordable home warranty coverage from American Home Shield can save you the headache of troubleshooting your oven yourself or tracking down someone reliable to fix it. Just call or contact us online, and we'll handle the rest. Then, you can get back to expertly running your household. Visit us online to learn more about our home warranty plans and pricing.
Do you need help with your Oven? AHS ProConnect offers Oven repair near you.
AHS assumes no responsibility, and specifically disclaims all liability, for your use of any and all information contained herein.