Home Clothes Washers Warranty Coverage
Home Warranties Explained
Your washing machine is an investment. After all, this appliance can last a decade or more. In addition to proper maintenance to extend its life, expert repairs to the washing machine can help it last. Over the course of your washing machine's life, it's likely to encounter the occasional problem, requiring prompt attention. A Home Warranty Plan with washing machine coverage can put you one step closer toward resolving your problem.
American Home Shield's® Home Warranty Plan ensures that when a covered problem strikes with your washing machine, you can take care of it. Our team of qualified, professional service contractors will come to your home to diagnose and repair your washing machine. With the AHS Home Warranty Plan, you will be connected to a service contractor ready to resolve your problem. In some cases, you will only pay the Trade Service Call Fee as outlined in your contract, and the rest of the washing machine repair will be covered. Please be aware the contract does contain certain exclusions and limitations.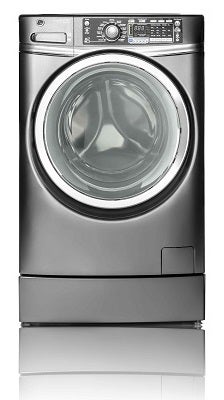 Compare Home Warranty Plans with Home Washing Machine Coverage
AHS offers three types of home warranties with coverage for washing machines. Learn more about AHS Home Warranties to discover the right one for your needs.
If you like the convenience of having your household appliances covered under a single warranty, opt for our Appliances Plan. In addition to enjoying coverage for your washing machine, you'll also receive coverage for other household appliances, including your clothes dryer, dishwasher, range, oven, free-standing ice maker, trash compactor and more.
Perhaps a comprehensive warranty is appealing because it will help ease your worries about unexpected covered household expenses. The Combo Plan includes many household appliances as well as major components of home systems including HVAC, electrical, plumbing, water heaters, central vacuums and more.
You can also add your washing machine to our Build-Your-Own Plan, which allows you to choose coverage for major components of 10 or more appliances or systems to add to your flexible home warranty plan. For example, you might opt to add only those aging appliances to your plan and keep those newer appliances that are still under manufacturer warranty off of your warranty plan. If your washing machine, along with other appliances, is a specific area of concern, the Build-Your-Own Plan might work for you.
When selecting the right Home Warranty Plan for your family, look beyond the specific appliance and determine what systems and appliances in your home will benefit most from home warranty coverage. Then, match your needs to one of our three warranty plans designed to suit any family's needs.
What's Covered in a Home Warranty with Washing Machine Coverage?
Home warranties with coverage for washing machines include most components and parts of your appliance. During your contract term, repair or replacement of your washing machine is covered, up to a $3,000 maximum. You can call AHS, which will schedule a service contractor to evaluate the issue and identify a solution.
When a covered appliance fails, you'll enjoy expert and reliable service that has your appliance up and running in no time.
Suggested Plan For You
With a Home Systems Warranty Plan, you will be covered for the replacement or repair of the components of many key home systems, including the Clothes Washers.

Get Quote