Home Ranges/Ovens/Cooktops Warranty Coverage
Home Warranties Explained
Your oven and cooktop range are probably two of the most used appliances in your home. If you love to cook, you rely on these appliances several times a day to create warm and delicious meals. Even though these appliances can last up to 15 years or more, their long life doesn't make them immune from unexpected malfunctions. Like any appliance, your home oven and cooktop range can falter, resulting in a kitchen that's out of service. When these appliances do not work properly, you'll need to service them efficiently in order to have your kitchen functional again.
American Home Shield® offers home warranties with oven and cooktop range coverage, giving you robust protection should these appliances malfunction. When a covered breakdown occurs, you'll be connected to a qualified, professional service contractor who will come to your home, diagnose the problem with this appliance and offer a solution -- either repair or replacement of your oven and cooktop range. Discover an AHS Home Warranty Plan that's right for you.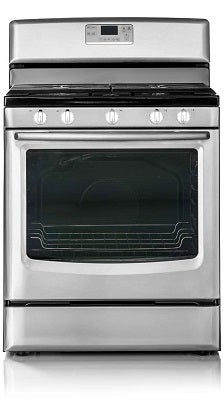 Compare Home Warranty Plans with Home Oven & Cooktop Range Coverage
When it comes to adding a layer of protection to one of your most-used appliances, you need a warranty that is designed especially for your needs. This appliance enjoys coverage under two AHS Home Warranties, so select a plan that meets your household's needs.
Perhaps you're looking for broad home warranty coverage that includes coverage for an oven and cooktop range, as well as warranty coverage for components of home systems and other appliances. Then check out the Combo Plan, which covers major components of many home systems and appliances at risk of breakdowns. When your air conditioning goes out on a hot summer day, your oven stops working or you have a leaky pipe, the Combo Plan has you covered for these issues and many more.
Warranties for ovens also fall into AHS's Appliances Plan. This home warranty covers parts and components of many home appliances. In addition to securing coverage for your oven and cooktop range, you'll also enjoy additional protection for your washer and dryer, dishwasher, refrigerator and more.
What's Covered in a Home Warranty with Oven & Cooktop Range Coverage?
Many components and parts of ovens and cooktop ranges are covered in AHS home warranty plans. When these appliances fail, you can call AHS, which will connect you to a qualified, professional service contractor to address your malfunction. You will pay a Trade Service Call Fee for the visit and the service contractor will identify a viable solution to your problem. While additional fees may apply depending on the solution, you might not pay anything other than the Trade Service Call Fee, a cost that is outlined in your contract.
Frequently used appliances like your range, oven and cooktop are at risk of malfunction. When you invest in an AHS Home Warranty, you'll enjoy the budget protection that this coverage brings. As a result, you won't stress when your oven or cooktop range stops working; you'll just contact AHS for an expert solution.
Suggested Plan For You
With a Home Systems Warranty Plan, you will be covered for the replacement or repair of the components of many key home systems, including the Ranges/Ovens/Cooktops.

Get Quote