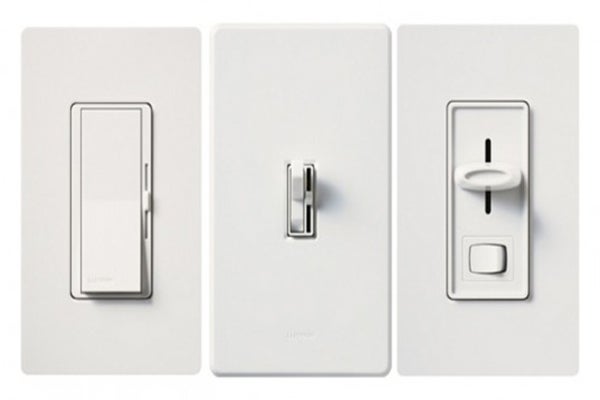 Dimmer switches are an affordable, easy way to make a big difference in your home's lighting appeal as well as in your energy use. An often-overlooked decorating secret, a dimmer switch can change the mood of a room with just a touch. Installing a dimmer switch or changing one out is a relatively simple DIY task that will allow you to update your lighting without an electrician.
Let's get enlightened (sorry—we had to) about the different types of dimmer switches and their benefits in this dimmer light switch guide.
Why Should I Consider Dimmer Light Switches in My Home?
There are many good reasons to install dimmer switches around your house. When the lights aren't functioning at full capacity, they use less energy and save bulb life. Dimming lights can make a room more comfortable and create a lovely ambiance for a party, gathering, or event.
Locations for Installing a Dimmer Switch
When people think of dimmer switches, they often think of dining rooms or entry halls, which are common areas to find them. However, replacing a light switch with a dimmer can be useful in many different rooms and areas around a home:
Bathroom. Being able to dim the lights first thing in the morning will allow you to start your daily routine without a bright light assaulting your eyes, providing an easier transition from sleeping to waking. Also, adding a dimmer switch can give the effect of candlelight without introducing a fire hazard. For ultimate relaxation at home, lower the lights before taking a luxurious bath.
Bedroom. Rarely do you truly need bright light in the bedroom. To keep your bedroom a place for rest, incorporating a dimmer light switch can inform your body that the day is winding down and encourage better sleeping habits. If bright light is needed, your windows and skylights are a natural source.
Kitchen. While full light may be needed for some tasks in the kitchen, the ability to turn the lights to a lower level can come in handy, especially for early morning coffee-making or late-night snacking. The dimmer switch can differentiate the cooking area from the dining area; use overhead lighting above the island or kitchen table to distinguish the areas for bigger gatherings.
Hallways. Dimmers—and even better, touch dimmer switches—in hallways can be handy at nighttime, especially for households with little ones. Using the dimmer will keep bright lights from shining into bedrooms while ensuring safety if someone gets up during the night.
Living room or den. Lower the lighting to transform your living room into your own movie theater. The dimmer lets you crank the lights up again when reading a book or enjoying a hobby that needs a bit more light.
Porch. Controlling the porch light with a dimmer switch gives you better control over energy consumption; turn up the lights when you need to see outside and dim them overnight for security while conserving power.
What Types of Dimmer Switch Styles Are Available?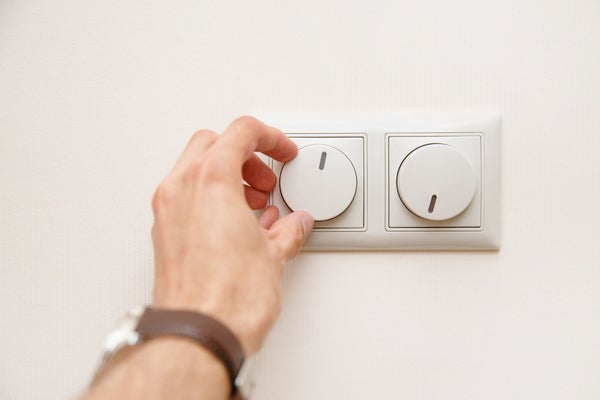 From a LED dimmer switch, smart dimmer switch, and 3-way dimmer switch, there are many different types of dimmer switches to choose from. For true energy efficiency, be sure to select a model that is rated for use with compact fluorescent lamp (CFL) and light-emitting diode (LED) bulbs. Be sure to choose dimmable CFLs whenever using this type of bulb with dimmer switches, or it could pose a fire hazard. Before purchasing a dimmer switch, know what wattage you will need and whether you have a single-pole or three-way switch.
You'll also need to decide which control style you want. The rotary style, with a circular turning knob, is the most common type of dimmer. A toggle style looks like a regular light switch but has a smaller piece on the side that moves up and down to control the light level. A rocker control works similarly to the toggle, but the small control piece is found on the side of a larger light switch. A slide has a horizontal switch that also moves up and down for light control, and tap switches are usually intended for use with LED bulbs. Scene selector controls have several buttons that let you choose the lighting level. For consistency, you might want to match the control style with other dimmer light switches in the room or throughout your home.
If you notice a dimmer switch buzzing, you may need to change out the light bulb(s) in the fixture with new ones or lower wattage. A humming dimmer switch can also indicate that the switch has insufficient wattage capacity or is of poor quality.
Steps for Installing a Dimmer Switch:
1.  Read the manufacturer's instructions carefully for the dimmer switch that you purchased. Don't forget to read the warning information.
(The following are general instructions and may not apply to every type of dimmer switch.)
2.  Turn off the electricity to the switch, room, or zone at your home's main fuse box/circuit breaker. Remove the cover and test the wires with a voltage detector to verify that the power is off. Turn the switch to the off position.
3.  Disconnect the wires, and reattach them to the dimmer switch following the manufacturer's instructions. Place the wires back into the electrical box.
4.  Screw the dimmer into place and affix the cover plate.
5.  Turn the breaker and the switch back on.
If you run into any unusual circumstances as you're installing a dimmer switch, if you're unsure of how to proceed after you get started, or if you can't get the switch to work, call a qualified professional for help. Protect your home with an American Home Shield® electrical system warranty for any other electrical issues in your household. Get ahead of any wiring, electrical line, or breaker issues with our comprehensive warranty coverage.
Once you get accustomed to dimmer switches and the control and flexibility they provide, you'll want them in every room. Dimmer switches are a great example of how small changes can make a big difference in a home and how adjusting a small component, like lighting, can add a whole new perspective to a room.
Read more about lighting in your home, including energy-saving tips, how to reuse old lightbulbs, and the best lights for household appliances.
AHS assumes no responsibility, and specifically disclaims all liability, for your use of any and all information contained herein.