Women have been rising to the top of their industries and these women are no exception. Meet the former homemakers who are now dominating the real estate market.
It's Women's History Month and we want to show our appreciation by highlighting some of the current all-stars in the real estate industry. From top realtors to company cofounders, here's how women are positively affecting the real estate industry from all angles. With a special in-depth look at the top women real estate agents who dominating the real estate market.


via Politico New York
MaryAnne Gilmartin – President and Chief Executive Officer of Forest City Ratner Companies
MaryAnne is one of the most influential leaders in the New York commercial and residential real estate business. She is the president and chief executive officer of Forest City Ratner Companies, the New York office of Forest City Realty Trust, inc. Some of the more high-profile real estate projects that she has been involved with include Pacific Park Brooklyn, The New York Times Building and the New York by Gehry building. Over the years, MaryAnne has been recognized for her contributions and active involvement in not just the New York real estate industry, but also in the New York art and communications scenes. She is a current board member of the Brooklyn Academy of Music and is a current member of the board of trustees for New York Public Radio. As confirmation for her leadership skills and expertise in one of the world's top real estate cities, MaryAnne was awarded the Woman of the Year honor in 2007 from WX New York Women Executives in Real Estate and has repeatedly been featured on Crain's New York Business's annual list of New York's 50 Most Influential Women.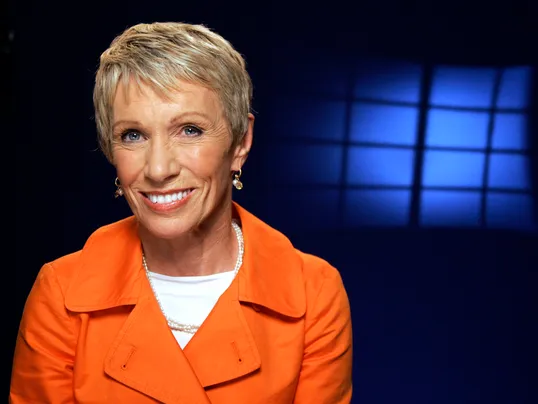 via USA Today
Barbara Corcoran – Entrepreneur, TV Host, and Author
You probably know her best from her involvement with the popular TV show, Shark Tank. But Barbara Corcoran is much more than just a talking head on a successful TV show. The once New Jersey diner waitress turned millionaire is a hard hitting, quick-witted real estate guru who found success by getting it done the tough way. With the help of her boyfriend at the time, Barbara Corcoran took a risk and invested a $1,000 loan in starting her own real estate business. Jump ahead a few decades and now Barbara has a multi-billion dollar company real estate company, a seat on one of TV's hottest investment shows, and a number of books detailing her secrets to success under her belt. Some of her greatest advice for young entrepreneurs in the real estate business, and others alike, is to learn how to quickly move on from missed opportunities, and to essentially go with your gut when quick opportunities do arise. As she puts it, "Every great decision I've made in business since was made exactly that way -- quickly without any thought."


via Not So Big House
Sarah Susanka – Author and Home Visionary
Tiny homes – a trend many of us are now familiar with – have risen to prominence over the past few years thanks in part to a woman by the name of
via New York University


Rosemary Scanlon – Divisional Dean of the NYU Schack Institute of Real Estate
Let's go back to school for a moment and highlight one of the most influential women in real estate academia, Rosemary Scanlon. As the divisional dean of the NYU Schack Institute of Real Estate, Rosemary Scanlon has had a tremendous impact on the future of real estate not just in New York City, but also the entire world. NYU's Schack Institute of Real Estate has a network of global alumni that influence the global real estate industry on a daily basis. Rosemary herself rose to real estate academia prominence with the help of an impressive resume. She served as New York State Deputy Comptroller from 1993 to 1997 after leaving her post as the chief economist for the Port Authority of New York and New Jersey. In the late 90's Scanlon traveled to the U.K. where she served as visiting research fellow at the London School of Economics from 1997 to 1999. Now, as divisional dean, her influence survives through the generations of real estate students she interacts with on a daily basis.


via Mercury News
Sarah Leary – Cofounder of NextDoor
Many of the leading innovators coming out of Silicon Valley today have made it easier for us to connect with the greater world. But one woman inspired by her youth growing up in a close-knit New England neighborhood decided to harness the power of our current tech boom and use it to bring people closer to those in their immediate surroundings. That woman is Sarah Leary, and she cofounded the now widely used neighborhood social media application, NextDoor. With this application, people are able to easily connect with those in their surrounding neighborhood and discuss matters like upcoming neighborhood events, missing pets, available jobs, criminal or suspicious behavior, and much more. More than 40 percent of U.S. neighborhoods have adopted this useful application and the number continues to rise. Sarah attributes her success to staying positive, optimistic, and determined even when the odds were stacked against her. She began her career at Microsoft in the early 90's when her male counterparts dominated the tech world. Instead of viewing this as a hurdle, Sarah kept her focus forward and held strong to her belief that the tech industry was in fact a meritocracy and to her, "anyone can come in, take on the challenge, and if you're good you are going to get more opportunities."

Thanks to evolving mindsets and business practices, our appreciation for women's contributions to the real estate industry and society as a whole is no longer just contained to one month of the year. Nowadays, influential female leaders continuously grace the covers of prestigious business publications with their inspiring stories and corporate advice.

Sources:
• Fortune
• Forest City
• Entrepreneur
• New York University
• Not So Big House
• Makers
• Nextdoor

Next > 5 Best Values for Your Home Improvement Dollar
AHS assumes no responsibility, and specifically disclaims all liability, for your use of any and all information contained herein.