A real estate career can be interesting, exciting, challenging, rewarding, and stressful -- sometimes all in the same day. In addition to dealing with all the moving parts of typical real estate transactions, real estate professionals find themselves responding to market and economic fluctuations and a variety of human emotions on a daily basis. Real estate is also a service-driven career with pressure to perform and please clients, creating another level of stress. Here are five tips that can help you avoid burnout: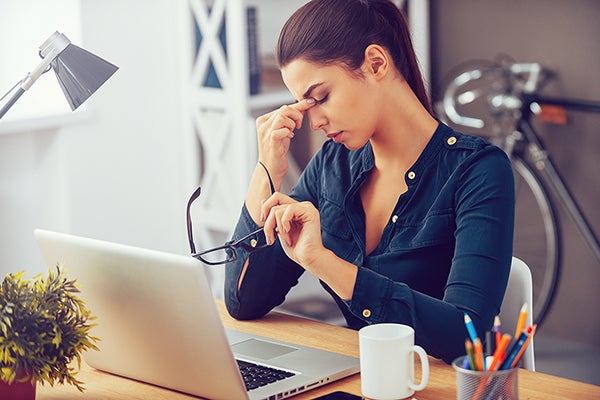 1. Strive for balance.
It's easy to slip into an all-work-and-no-play routine as a real estate professional. Between working around clients' schedules, continuous access to technology, and staying on top of listings and transactions, you can quickly find yourself working around the clock. While you may have to tilt the scale in favor of your career when you're starting out or during particularly busy seasons, it's vital to find ways to maintain a wholesome work-life balance that enables you to relax, rewind, and recharge on a regular basis. If you're finding it hard to find an equilibrium, try blocking out time on a daily, weekly, monthly, and quarterly basis for family time, hobbies, getaways, fun, and self-care. You'll find you're a better real estate professional when you're leading a well-rounded life.
2. Practice healthy habits.
Making your health a priority can help you handle stress better and boost your immune system. Eating a nutritious diet and making time for regular exercise can be beneficial for both your physical and mental health. It's also important to build time in your schedule for regular physician visits and check-ups, as well as for dental and eye care. Making healthy choices each day will pay long-term dividends in your energy level and your ability to cope with stressful situations.
3. Stay focused.
When things get hectic, it's easy to get distracted, which can lead to more stress. As much as possible, try to stay organized and prioritize the most important tasks that you need to accomplish each day. Keep a list of your short-term and long-term goals, and filter everything you're doing through those lens. Concentrating on moving forward can often lead to a sense of accomplishment, which may lessen any pressure you're feeling.
4. Reach out.
When things get tense at work, don't be afraid to seek help. Use friends and family as sounding boards, or go to colleagues for advice. Other real estate professionals can often relate to your experiences and share how they've handled similar situations. Look for more experienced agents who might be willing to mentor you or network by attending local association meetings and workshops. If your anxiety persists or worsens, consider making an appointment with a professional counselor.
5. Be prepared.
Know in advance that things may be stressful, and prepare by doing your homework and planning a strategy for handling stressful or frustrating situations ahead of time. For example, American Home Shield® home warranties can help you keep transactions on track, reducing stress for you and your clients. In addition to offering important budget protection for your buyers and sellers, an AHS home warranty can help you mitigate home inspection issues, streamline transactions, and minimize post-closing involvement.
For more information about the benefits of American Home Shield home warranties for your clients and you, contact your American Home Shield Account Manager or call 888.776.4663.
AHS assumes no responsibility, and specifically disclaims all liability, for your use of any and all information contained herein.