Find out more about what to look for when comparing homeowners insurance policies.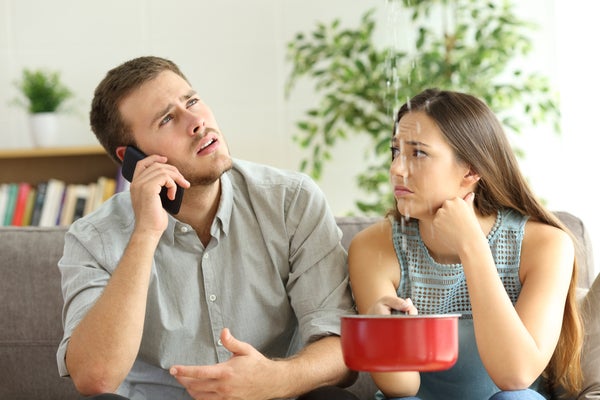 If you own your own home, you need homeowners insurance. Homeowners insurance is different from the home warranties we offer. A home warranty protects your home's systems and appliances from breakdowns due to normal wear and tear, while homeowners insurance protects the structure of your home from things like fires, burst pipes or storm damage.
You might never need to make a claim against your homeowners insurance, but if you need it, you really need it. What if something happened to your home that significantly damaged or completely destroyed it? You most likely couldn't afford to make the repairs or rebuild out of your own pocket. Homeowners insurance covers those costs, so you don't lose all the equity you've worked so hard to build, and so you can replace any possessions that were damaged or destroyed. If you have a mortgage on your home, you're most likely required to carry homeowners insurance, but even if you don't, it's still required to protect your investment.
But if you're looking to renew your homeowners insurance or buy a policy for the first time, finding the right coverage can be challenging. Policies can be worded differently, and each insurer uses their own endorsements and forms. That's why you have to know what you're looking for, understand what kind of coverage you need, and be willing to look past premium prices and vet companies for customer satisfaction.
Here are some ways to make sure you find the right homeowners policy for you.
Understand Insurance Coverage Types
There are three basic levels of homeowners insurance coverage: actual cash value, replacement cost, and guaranteed or extended replacement cost. Actual cash value coverage pays out the value of your home and belongings after accounting for depreciation, so you'll get back what your house and possessions were worth when you lost them, not what you paid.
Replacement cost coverage replaces the original value you paid for your home and possessions, so you can, at least in theory, afford to replace them. However, the problem with this is that things get more expensive and more valuable with time. If you bought or built your house a long time ago, it could be worth a lot more than what you paid for it, and it could cost a lot more to rebuild or repair, too, due to inflation and increases in labor costs.
Guaranteed or extended replacement coverage pays the actual cost to repair or rebuild your home, even if it's more than the policy limit. Usually, there's a limit to how much they'll pay out, though. Typically, the most you'll be able to get is 25 percent more than your coverage limit.
Know What Coverage You Need
You should get the highest tier of homeowners insurance coverage you can afford. Many financial advisors recommend getting guaranteed replacement coverage because it can give you some financial cushion in case construction prices rise — as they almost certainly will — between the time you buy your home and the time you need to repair or rebuild it. However, that may not be the only coverage you need.
You'll also need some personal liability coverage, ideally at least $300,000 worth, to protect you if someone successfully sues you to cover medical costs. Additional living expenses coverage will pay if you need to relocate due to mandatory evacuation or because your house has been rendered unlivable — it'll help cover the costs of a hotel or short-term rental, food, parking and other basic living costs. You may also need flood insurance, earthquake insurance, mine subsidence insurance, drain and sewage backup coverage, and other riders specific to your situation.
Look Past the Price
With each insurer using their own forms, endorsements and policy wording, it's important to look past the price of the premium and drill down into the details of what each policy covers. It can be tempting to just go with the company that quotes the lowest rate, but you might be seriously disappointed with your coverage, should you ever need to use it. Get quotes from at least five companies and read the policy details carefully. Compare coverage types and limits to get a more accurate picture of what different policies cover when comparing homeowners insurance.
Investigate Customer Satisfaction
When comparing homeowners insurance companies, it's important to choose one that has a good retention rate. When the worst has happened and you're dealing with serious damage to your home, or even a total loss, you need great customer service, not a run-around. Check each company's rating on your state's Department of Insurance website, and find out if any official complaints have been lodged against them.
You can also look up a company's score with the National Association of Insurance Commissioners. A score from top credit agencies like Standard & Poor's, A.M. Best, Moody's, and J.D. Power can give you an idea of whether they are financially capable of paying claims. And, of course, customer satisfaction information in annual reports, online reports and personal recommendations can let you know what level of service to expect.
Owning a home brings additional responsibilities, and those include shopping for and purchasing things like homeowners insurance. If you spend the time now to investigate and do your research, you'll enjoy peace of mind down the road knowing you have the coverage you need. If you already have homeowners insurance, but you're in the market for a comprehensive home warranty plan, American Home Shield® has you covered. Get a fast and easy quote online to find out which one of our options work best for you.