Insulating materials work by slowing or inhibiting heat flow (conductive and convective) throughout your home. What does this mean when you're figuring out how to keep your house cool? Warmer air will always seek out cooler air in order to achieve a balance in temperature—the less insulation in your home, the more vulnerable it is to extreme temperatures.
Depending on insulation type and the climate you live in, your attic insulation should be about 10 to 15 inches deep. Keep the heat out of your garage by insulating the garage door—a small step that can make a huge difference.
5. Seal door and window gaps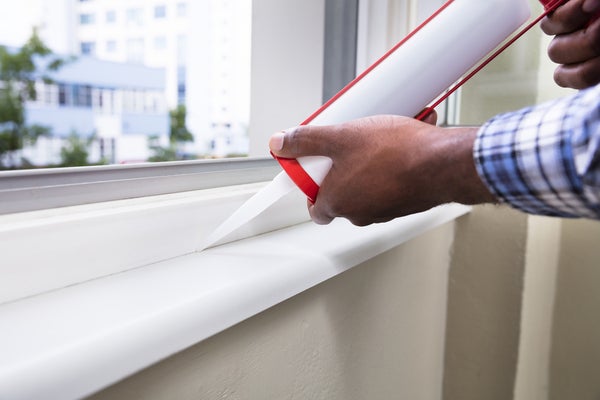 An insect infestation can make even the mildest temperatures intolerable. If roaches, ants, or other bugs are constant visitors, it may mean that your home isn't fully protected against the elements. Check your windows and doors and seal any gaps with caulking or new weather stripping. Keeping your house cool in extreme heat is much easier when cool air can't escape through cracks or gaps in doors and windows.
6. Consider window replacement
If your home is exposed to full sun during the summer, consider replacing your existing windows with more energy-efficient models. Though this is one of the more expensive ways to keep the house cool, the pay-off may be worth it.
Double-pane windows can actually trap heat (in an air space separating the window's interior and exterior glass) before it flows into your home. Replacement windows that have a low-E (low emissivity) rating are even more heat resistant. The glass of these windows is coated with a transparent, UV-blocking compound that can cut solar heat gain virtually in half. New windows are also a sound investment to increase the value of your home should a move be in your future.
7. Pressure wash the exterior
It's normal for your house to look dirty or grimy. The outside of your home can take a beating; with rain, wind, and sun exposure, buildup of dirt and debris can happen quickly. This kind of buildup—such as leaf litter in your rain gutters—also traps heat and moisture, raising the ambient temperature around your home.
The best remedy is a thorough pressure washing. If you are unsure about how much pressure your outdoor surfaces (brick, vinyl, wood, etc.) can withstand, hire a professional cleaner. Just be sure to pay particular attention to the deck, patio, and other areas where you'll be spending time relaxing in the shade.
During a Heatwave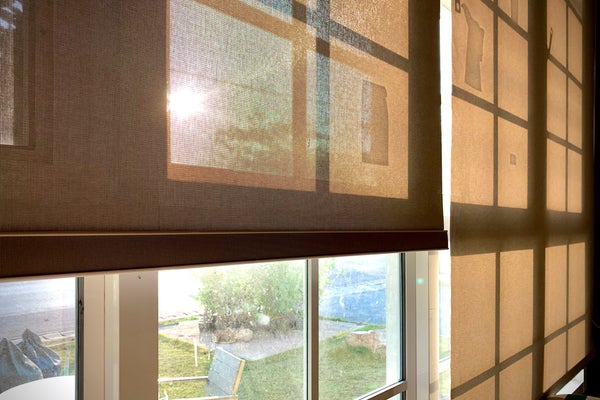 Has the heatwave already hit? You don't have to sweat out the summer. Follow these tips on how to stay cool in extreme heat.
1. What to do if the second floor of your house is too hot
This issue is normal because hot air rises. However, if you notice a significant temperature difference between the first and second floors of your home, and your A/C is running, chances are that your house doesn't have enough insulation or isn't sealed around the windows. Insulating and sealing are long-term solutions, but sometimes you need a quick fix. We get it!
If you have A/C, here are some ways to keep the house cool on all floors:
Close a few vents downstairs so that the air is directed upstairs.
Adjust your thermostat so that the fan setting is on constantly, which should circulate the cool air.
Close the blinds or drapes, especially for second-floor windows, to block heat from the sun.
2. What to do if you don't have A/C
Many homes and apartments don't come with air conditioning, especially in climates that stay mild year-round. But a hot day can sneak in every now and then. Here are some ideas on how to keep the house cool without A/C:
Shut the window blinds and close the drapes.
Turn off any appliance that creates heat (oven, clothes washer or dryer, even that tiny curling iron!). If you really need to roast veggies or dry your towels, try to use the appliances at night, when the air (and hopefully your home) is cooler.
Turn on the exhaust fan in your kitchen and bathroom to move warm air up and out.
Use those fans. Turn on ceiling fans or use standup, box fans when you're upstairs to circulate the air. If temps are milder at night, position a fan in front of an open window to draw in that cool air. This is one of the best and cheapest ways to keep your house cool in the summer.
Open windows at night and in the early morning to let the mild air in.
And don't overlook the power of an ice pack. Apply it to your forehead or neck for instant cooling. (Maintaining your refrigerator throughout the year can help ensure that on those blistering hot days, you'll still have plenty of cool refreshments on hand.)
3. What to do if your A/C unit isn't coolng the house
During the hot months, our air conditioning units work extra hard to keep us cool. Sometimes issues might occur with your A/C not keeping the house cool. Here are some quick fixes for common air conditioner problems.
We can't control the weather. But we can take care of our homes and make sure they're properly equipped to keep their cool, no matter how heated the circumstances. American Home Shield is here to help, not only with the best ways to keep your house cool but also by keeping you protected with a home warranty year-round.