Hardwood floors are a popular choice for homeowners. Timeless, beautiful, durable, and easily integrated into any style, hardwood flooring can add value and warmth to a home.
However, hardwood flooring prices may deter some homeowners on a budget. To help you make an informed decision, American Home Shield® provides an in-depth look at the cost of hardwood floors, including the average price ranges for materials, installation, and maintenance.
Wood Flooring Costs: Solid and Engineered
Whether you're renovating or building a house, there are many factors to consider if you're thinking of installing wood floors.
Hardwood flooring prices range from $3 to $13 per square foot. (Price ranges were gathered from The Home Depot and Lowe's.) Prices vary depending on demand, the type of wood you choose, and the square footage of the space. The installation cost for hardwood flooring also varies depending on the type of wood and local labor costs.
Here's a closer look at price points based on wood type, quality, and installation.
Solid Wood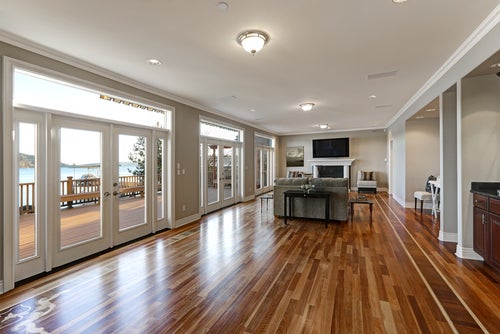 Durable and attractive, solid hardwood is a traditional flooring for any home. Costs for solid wood flooring depend on the type of wood you're interested in using.
Highest price: Exotic woods, including mahogany, Brazilian walnut, and tigerwood, are among the most beautiful, but they're also the most expensive.

Materials: $6 and up per square foot

Installation: $4 and up per square foot

Budget picks: Oak, American cherry, and teak are popular because of their durability and lower price points.

Materials: $3 and up per square foot

Installation: $2 to $7 per square foot
Solid hardwood floor installation costs are generally higher than those for engineered wood. Attaching wood planks with nails, for example, is more expensive than the technique used for engineered wood: they can simply "float" above the subfloor.
Engineered Wood
Engineered wood typically features a top layer of natural wood, such as oak, birch, maple, or hickory. Additional sheets of wood are then placed underneath to ensure durability.
Materials: $8 and up per square foot

Installation: $4 and up per square foot
Budget picks: With a five-core layer and relatively thick veneer, mid-range engineered wood offers an affordable upgrade.

Materials: $5 and up per square foot

Installation: $4 and up per square foot

Basic options: The basic engineered wood options showcase three core layers and a wood veneer layer between 1/16 and 1/12 inches thick.

Materials: $3 and up per square foot

Installation: $3 and up per square foot
The "floating method" is typically used to install engineered wood, which involves clicking or attaching the panels to each other instead of to the subfloor. This method makes engineered wood flooring costs generally less expensive than solid wood because installation costs are cheaper. However, it's worth noting that engineered wood cannot be resurfaced multiple times.
Maintenance Cost of Hardwood Flooring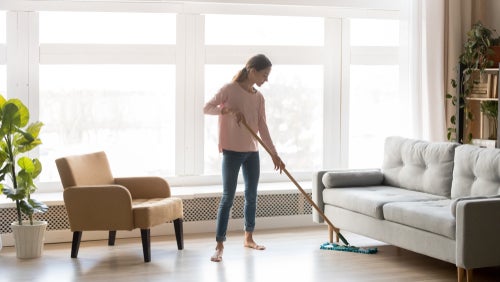 When investing in hardwood floors, you should also factor in the cost of maintenance. Pets, kids, lifestyle, and proximity to moisture should be taken into consideration when choosing between solid hardwood and engineered wood flooring.
You'll need to use the right hardwood floor cleaners and follow general hardwood floor maintenance tips. It is also important to read about caring for and refinishing hardwood floors.
Final Thoughts
No matter which material you choose, make sure the hardwood flooring costs fit within your budget.
You can help protect your budget with an American Home Shield® home warranty. We have three plans that cover parts of up to 23 systems and appliances you use daily. Check out our home warranty pricing and plans to choose the right plan for your budget and household.
AHS assumes no responsibility, and specifically disclaims all liability, for your use of any and all information contained herein.