Redecorating the Oval Office is not just a statement of the president's taste. It's also a statement of control. This is the office where the president meets international dignitaries and greets the cameras to share messages of grave importance. He (or, one day, she) doesn't want it to look like his predecessor still owns the turf.
It was William Howard Taft, the 27th president of the United States, who first moved the seat of power into what would become the Oval Office in 1909. As American Home Shield® celebrates our 50th anniversary this year, and we wanted to look back at the evolution of the most illustrious room in the nation's most famous house.
We researched the changes made by each administration and created 3D renderings of each of the Oval Office's 20 new looks. Use this tool to compare each president's interior design against any other – and be sure to scroll on for a more detailed look at the evolution of the Oval Office.
From Taft to Biden, let's take a closer look at some of the biggest decisions the leaders of the free world have made: wallpaper, paint, ornaments…
William Howard Taft (1909-1913)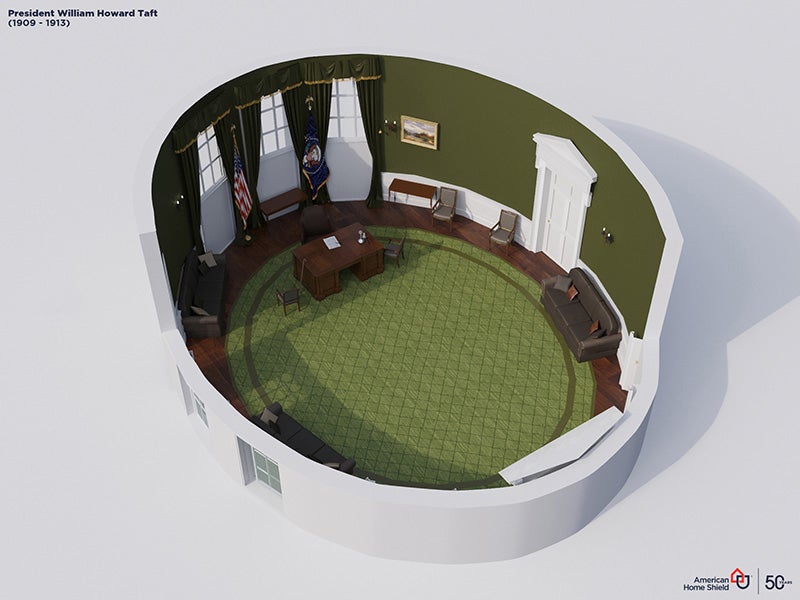 Taft made the decision to move the executive office from the Roosevelt Room to the room of the president's secretary (now known as the Chief of Staff) during his expansion of the West Wing. The office had previously been rounded at just one end, but Taft had it remodeled to a more democratic oval shape.
Woodrow Wilson (1913-1921)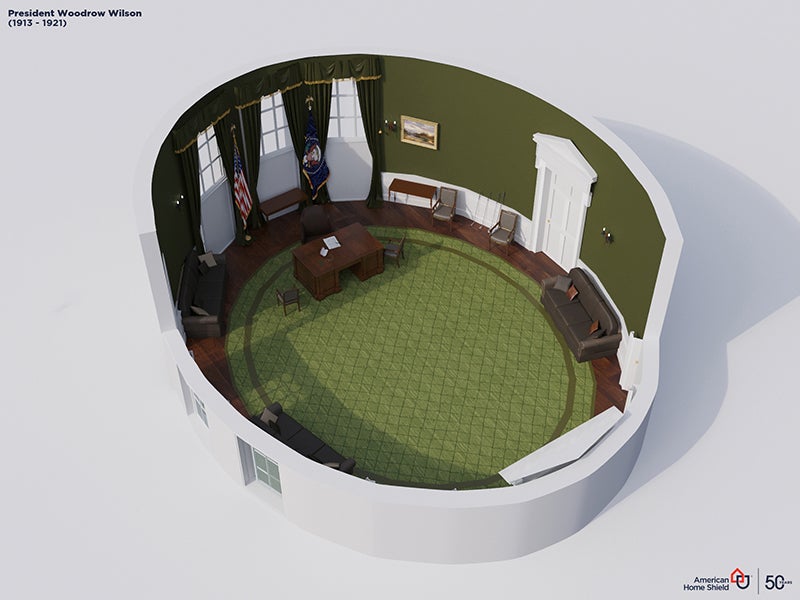 Following a period of reinvention in the West Wing, Taft's immediate successors made only minor changes to the new Oval Office. President Wilson preferred to work in the Treaty Room (which would later become Obama's "man-cave"), missing out on Oval Office features such as silk velvet curtains and mahagua wood floor.
Warren Harding (1921-1923)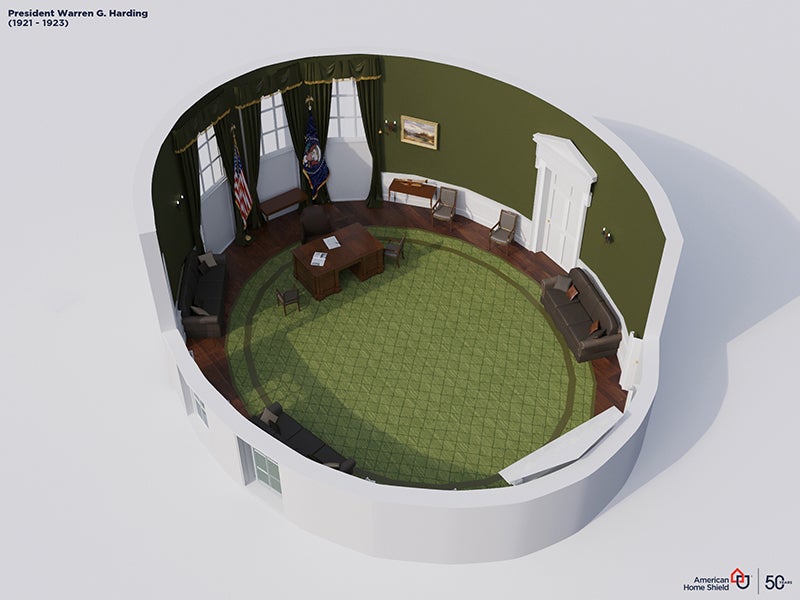 Harding died two years into his administration. A poignant photo of the Oval Office in August 1923 shows Harding's leather desk chair and famous blotter adorned with mourning crepes.
Calvin Coolidge (1923-1929)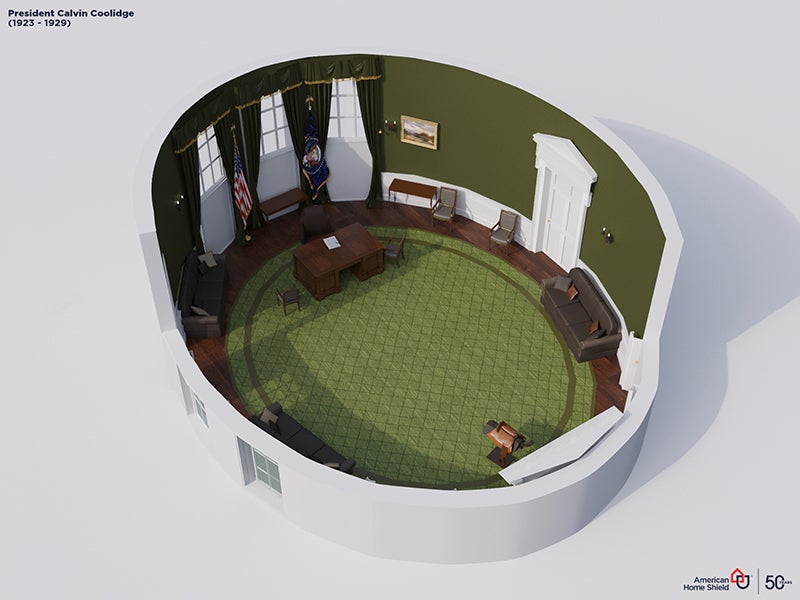 Coolidge's Oval Office still reflects the work that designer Nathan C. Wyeth did for William Taft. A marble mantel in the neoclassical style adds gravity and authority to the scene, while the fixtures are by celebrated lighting and metalwork company E. F. Caldwell & Co.
Herbert Hoover (1929-1933)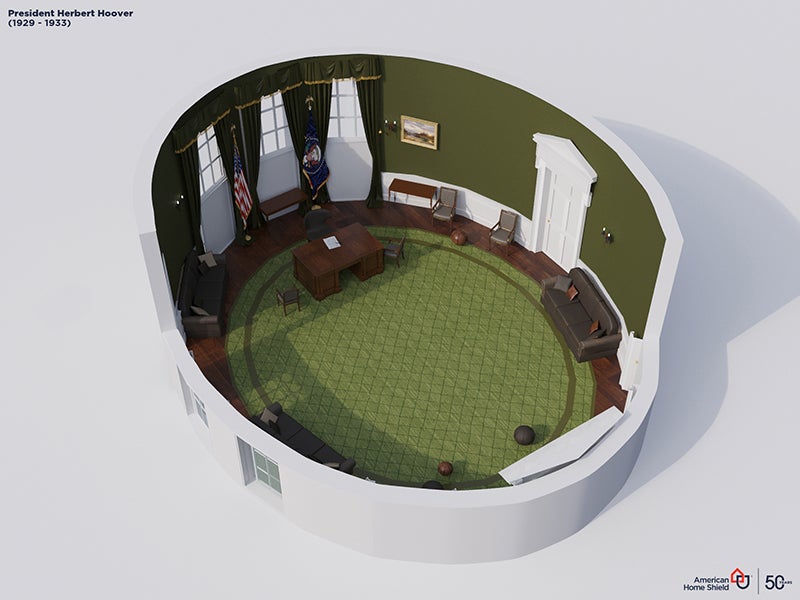 Wyeth and Taft's Oval Office was ruined by the White House fire of Christmas Eve, 1929. Sitting President Hoover repaired and expanded the office in a colonial style, with butternut wood-paneled walls.
Franklin D. Roosevelt (1933-1945)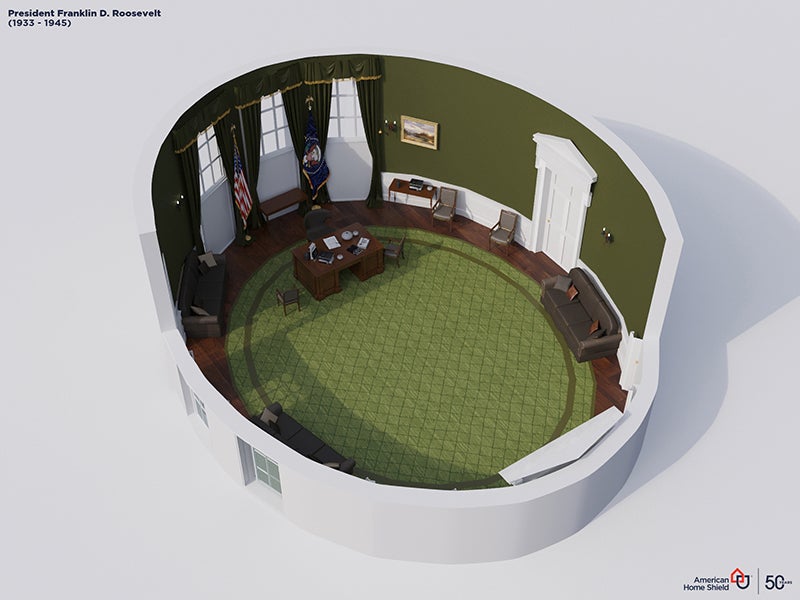 Despite Hoover's renovations, Roosevelt soon relocated the Oval Office to the southeast corner of the West Wing, where there was better natural light. He also expanded it by two feet. However, he kept Hoover's 17-piece suite, with which the Grand Rapids Furniture Manufacturers Association had refurnished the old Oval Office. It included a desk, "davenport, club chair, two large and one smaller wing chairs, two tables, swivel desk chair, two armchairs, two bookcases, a small table and three smoking stands of two sizes."
Harry S. Truman (1945-1953)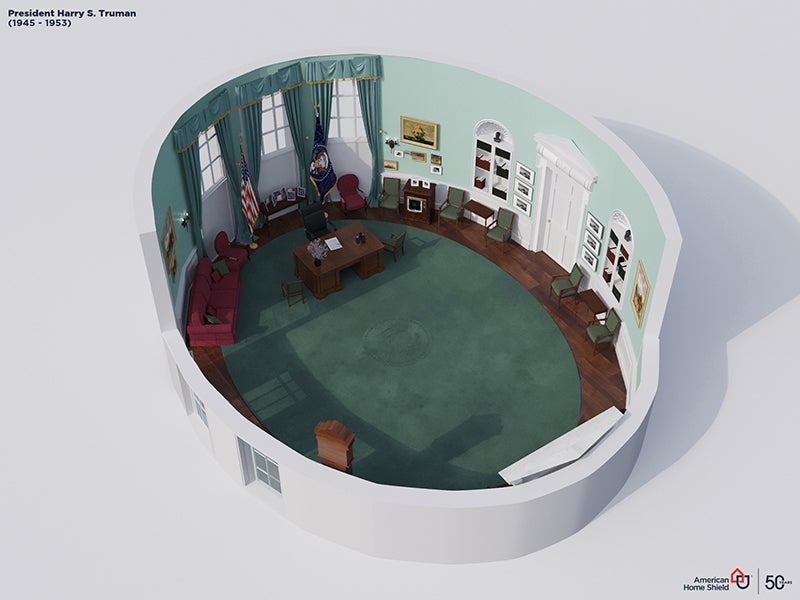 Truman was the first to have a rug with the Seal of the President. It was a continuous blue-green color, with the crest implied by cutting the pile to different lengths. The rug would not be replaced until the day that JFK was assassinated. (This was a coincidence; Jacqueline Kennedy planned for the office to be redecorated while they were away in Texas.)
Dwight D. Eisenhower (1953-1961)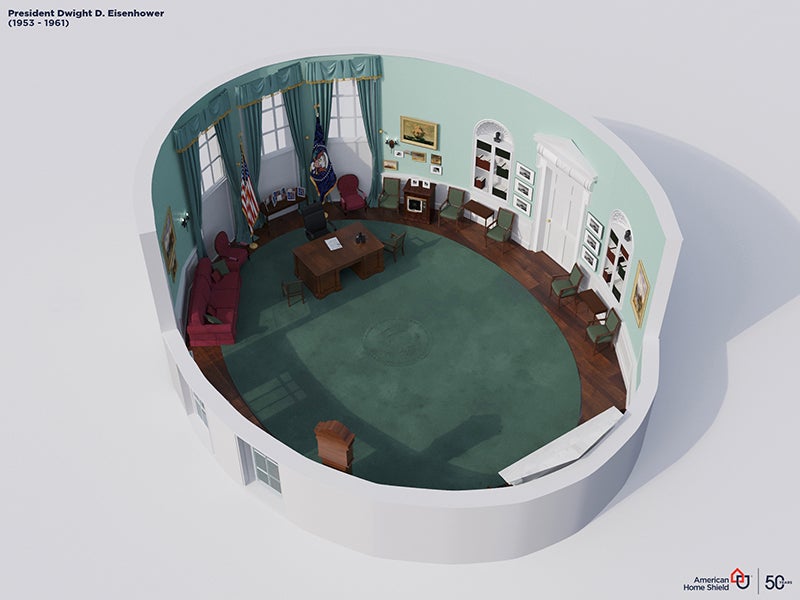 Eisenhower is one of just two presidents not to have made significant changes to the décor of the Oval Office. However, he reportedly destroyed the floor with his golf spikes, which he neglected to take off when returning from the putting green he established on the back lawn.
John F. Kennedy (1961-1963)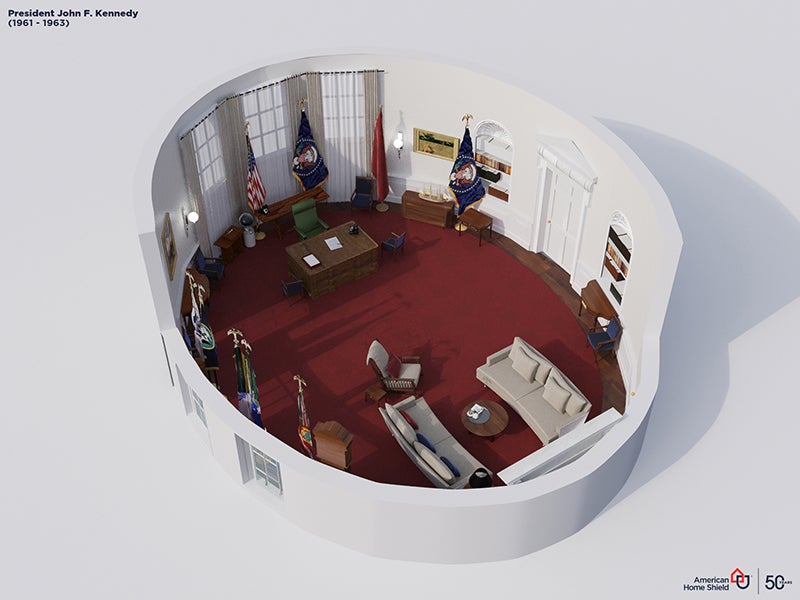 First Lady Jacqueline Kennedy invited French interior designer Stéphane Boudin to renovate and restore the White House. Boudin introduced a new red rug, white sofas, and pale curtains, but the Kennedy's never got to see the finished job. Prior to the renovation, John Kennedy had personalized the space with items including a paperweight made from a coconut shell that saved his life in World War II.
Lyndon B. Johnson (1963-1969)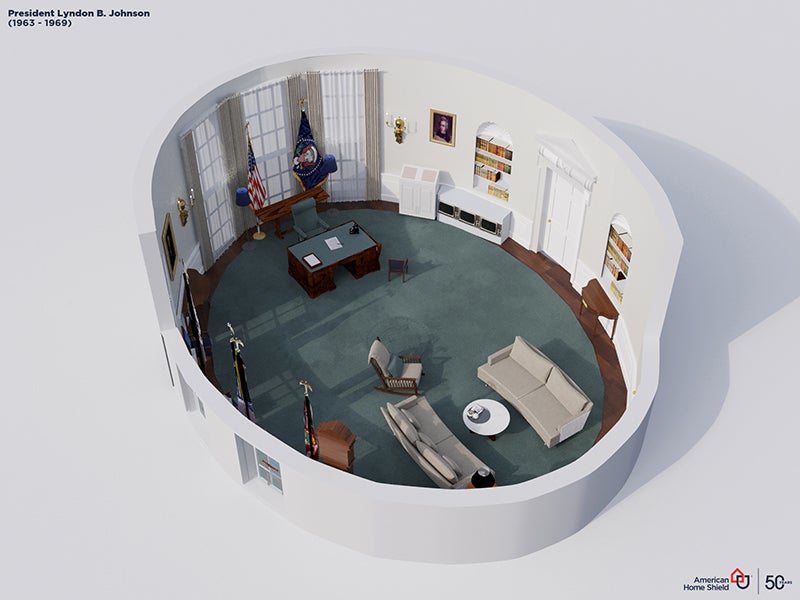 Johnson covered up Eisenhower's spike-prints with wood-grain linoleum. He also brought the Oval Office into the media age, installing a teletype cabinet and banquette with three television sets. Johnson even had his own TV remote complete with LBJ monogram – so there was no fighting over who controlled the channels!
Richard Nixon (1969-1974)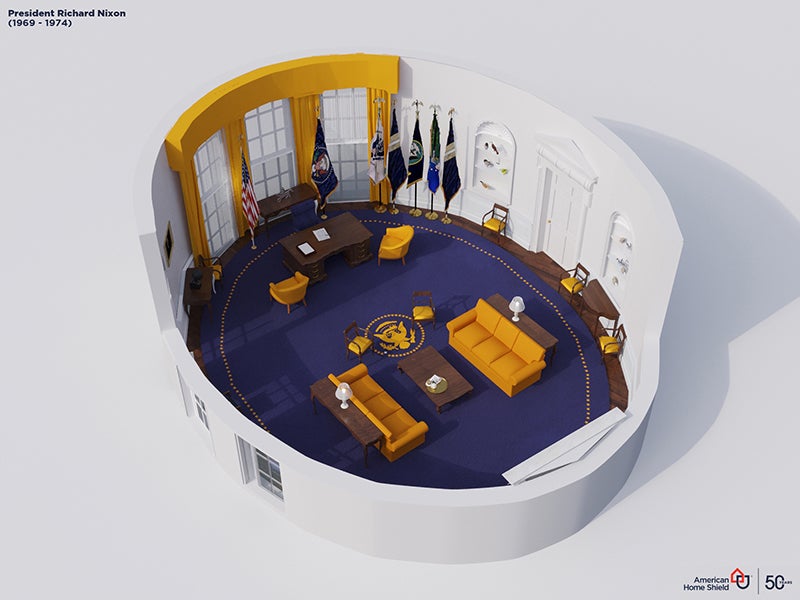 Nixon chose a bold combination of blue and gold for his Oval Office – perhaps anticipating that guests would include Elvis Presley. Nixon also brought the Wilson desk (currently used by President Biden) into the office, wrongly believing it to have belonged to his idol, Woodrow Wilson.
Gerald Ford (1974-1977)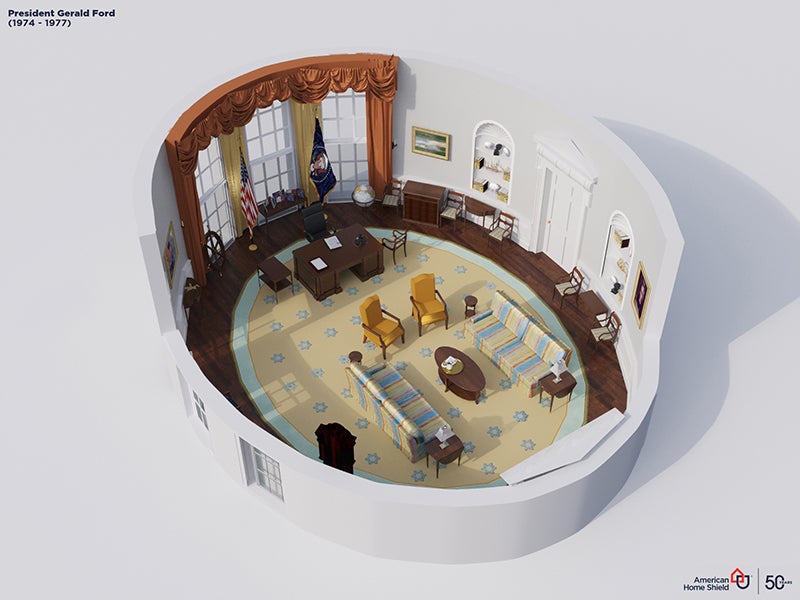 Ford dialed down Nixon's gold and royal blue to a bright but mellow color scheme of yellow, baby blue, and terracotta. It is Ford who installed the Seymour tall case clock that remains in the Oval Office today. This mahogany timepiece was built around 1800 and is considered a "treasure" of the White House.
Jimmy Carter (1977-1981)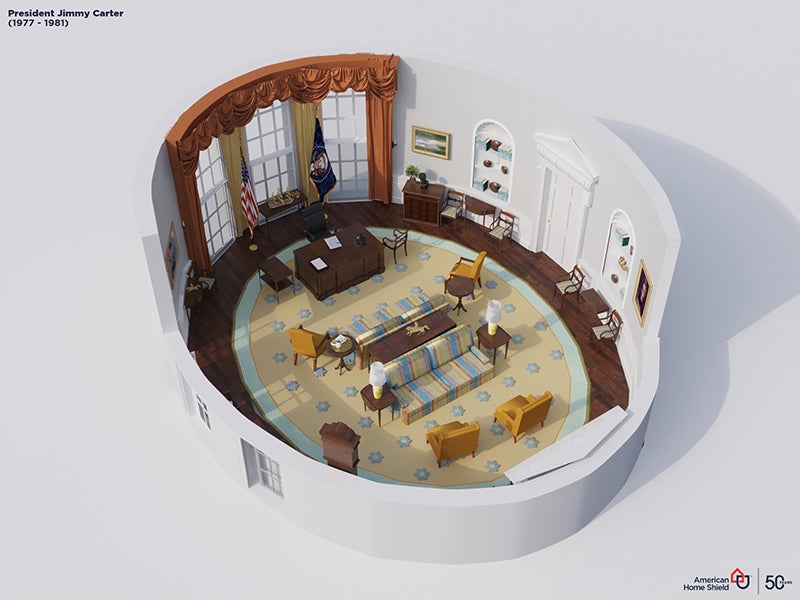 Carter kept Ford's décor, but added some personal effects. He also brought back the famous Resolute desk first used by JFK and favored by every president since Carter, with the exception of the Bushes.
Ronald Reagan (1981-1989)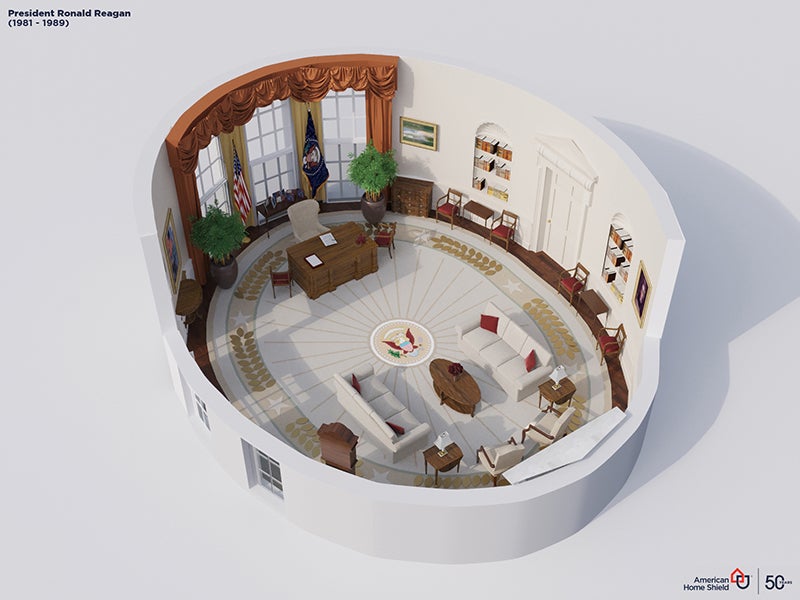 The 40th President of the United States waited for his second term before redecorating. Of note is the new rug with sunbeam design atop a new floor in walnut and quartered white oak. Reagan also had a 2" base added to the Resolute desk to fit to stop him banging his knees on the drawers.
George H. W. Bush (1989-1993)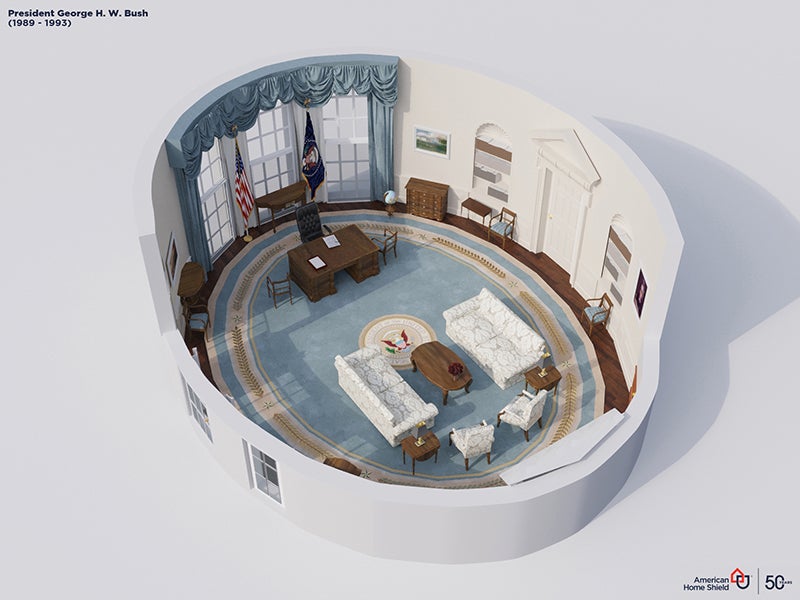 The first President Bush modernized the Oval Office with a steel blue and cream color scheme. He also displayed numerous family photographs. Bush Senior is the only president to have used the C&O desk in his Oval Office – he had grown fond of using it while serving as Reagan's vice-president.
Bill Clinton (1993-2001)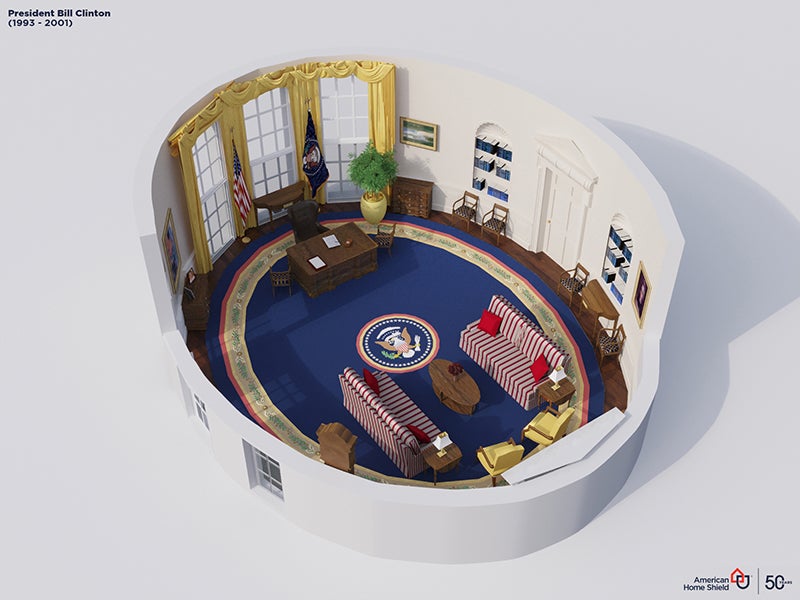 Kaki Hockersmith decorated Bill Clinton's office in a scheme that can't help but recall the Nixon era. Hockersmith's eye-catching blue seal rug has recently been brought back into the Oval Office for the Biden administration.
George W. Bush (2001-2009)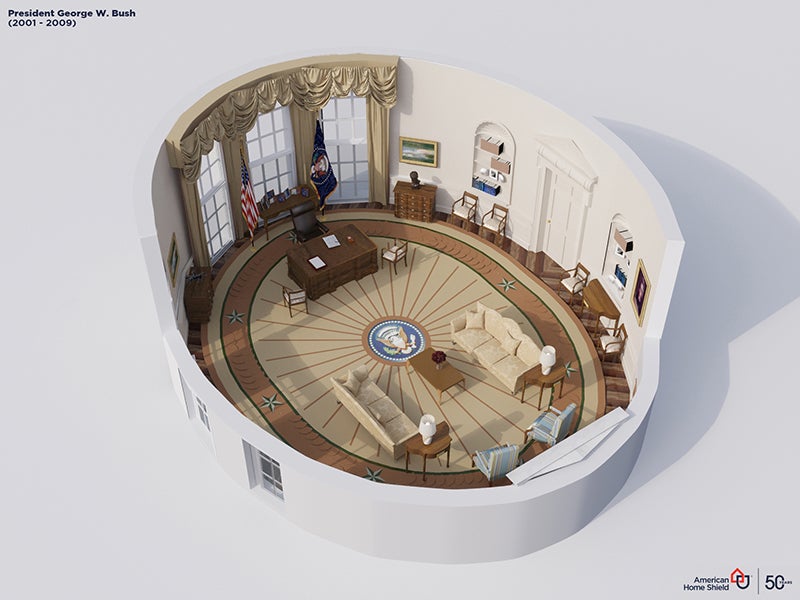 Bush Junior echoed Ronald Reagan with his choice of a sunbeam-themed rug, which designer Ken Blasingame paired with antique gold drapes. The rug itself was designed by First Lady Laura Bush, and was intended to evoke the optimism of sunrise.
Barack Obama (2009-2017)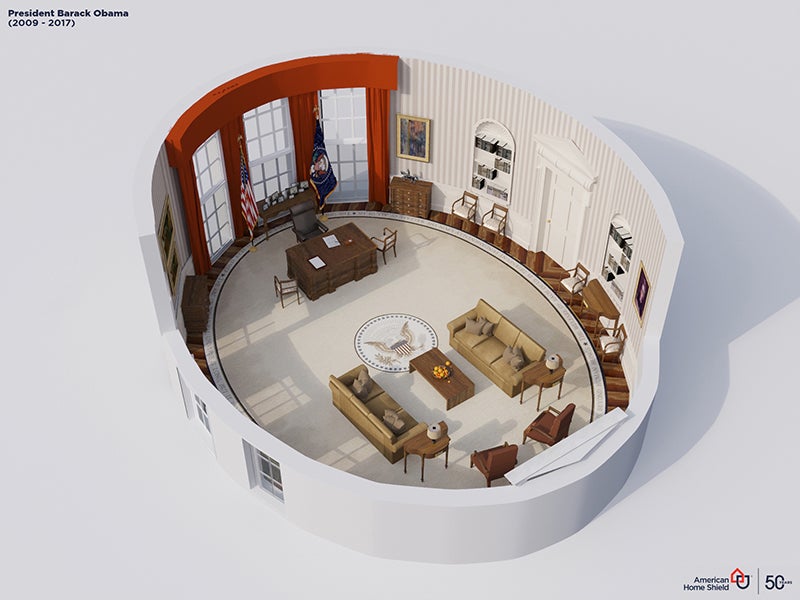 President Obama was the first to choose patterned walls, opting for golden tan and light-beige striped wallpaper. The room's cool fawn-colored velvet sofas and neutral tones reflected the fact that Obama genuinely used the office to sit down and work. "Someone said that Bush's looked like the kind of room you'd have tea in, and that it was very genteel, but that Obama's looked like a place you'd have a quick espresso and get down to work," according to Obama's designer, Michael S. Smith.
Donald Trump (2017-2021)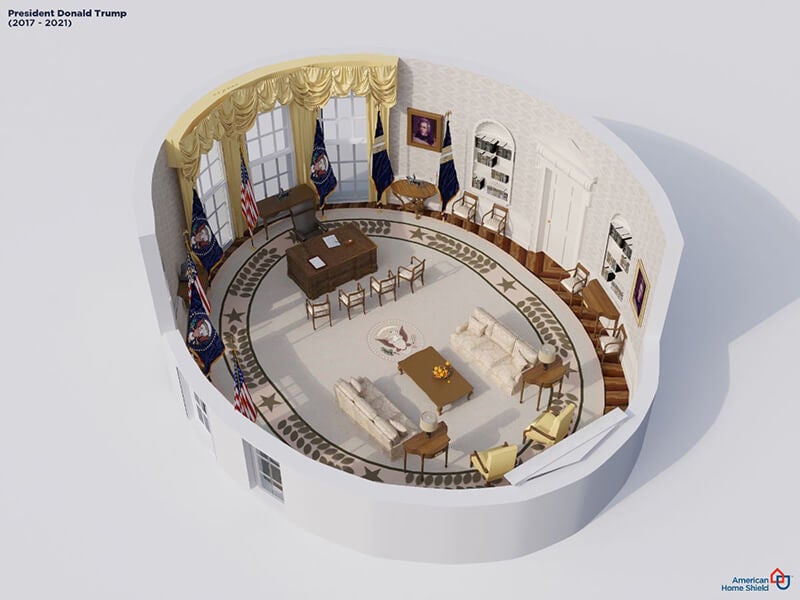 Trump's choice of drapes turned out to be somewhat ironic. The gold curtains he found in storage were originally chosen by First Lady Hillary Clinton for husband Bill's Oval Office. Trump also replaced Obama's wallpaper, opting for a motif of sea scrolls, leaves, and floral medallions, intended to evoke the building's sense of history.
Joe Biden (2021-)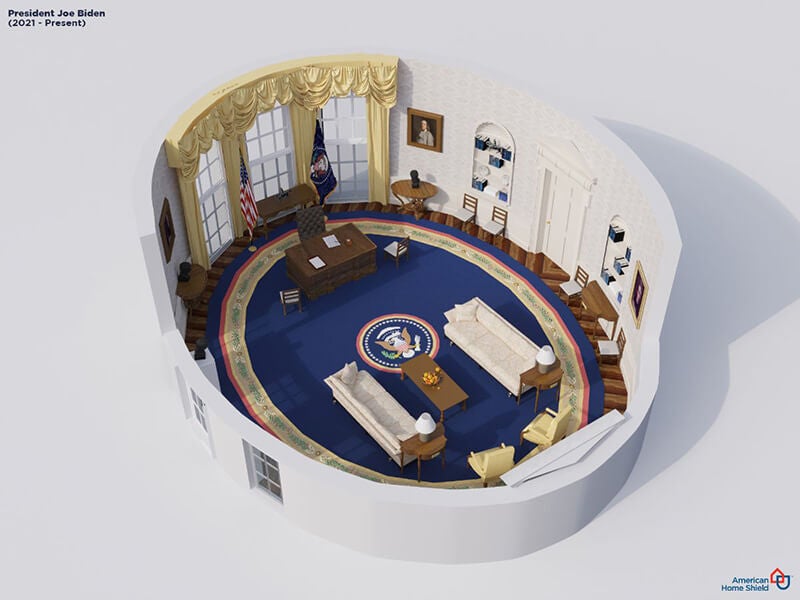 President Biden opted to keep the Clinton drapes in the windows and has brought back Clinton's navy rug, too. New additions include a 3.9-billion-year-old moon rock.
The décor of the Oval Office is a statement of personal taste and of intent. It's also a chance for the president's interior designer to make a statement and do something historic.
The White House is a home to be proud of. And like all homeowners, it feels good to take pride in where we live and work, now more than ever. A home warranty can provide the confidence and budget protection you need when a home issue arises, so you can get back to the things you love – like deciding which rug looks best in your home office.
METHODOLOGY
Our research team compiled a comprehensive list of presidents and sourced images of the Oval Office interiors during their presidency. We took images from The White House Museum, The White House Historical Association and other authoritative sources to help our design team produce accurate renders.