Get ready for 2021 with this comprehensive home maintenance checklist.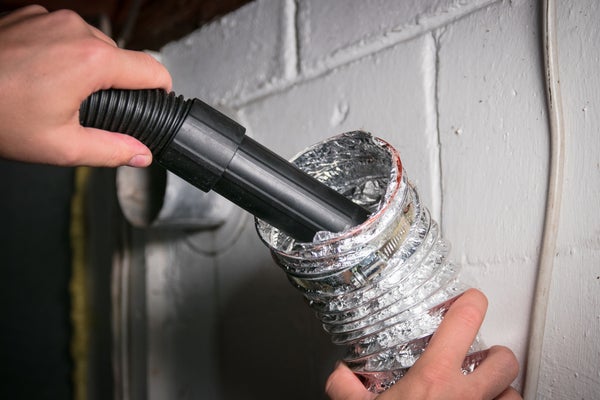 It's hard to believe it, but the end of 2020 is in sight. And that means you're going to have to start preparing your home for 2021. Here's a comprehensive home maintenance checklist that can help you stay on top of repairs in the new year.
Monthly Home Maintenance and Repairs
There are lots of home repairs and maintenance chores that need to be done monthly. Staying on top of the following will help you save money in the long run:
Refill salt in the water softener as needed
Snake sink, tub and shower drains to unclog them
Test fire extinguishers, GFCI outlets, carbon monoxide and smoke detectors
Check indoor and outdoor air vents and clear them of blockages and debris
Clean your showerheads and faucet aerators
Vacuum heat vents and registers
Clean the garbage disposal with ice, orange peels, and degreasing dish soap
Clean your refrigerator
Seasonal Home Maintenance Chores for Spring
As the snow melts, the ground thaws and the first spring flowers begin to bloom in 2021, it's time to prepare your house for warmer weather with spring maintenance. Remember to:
Clean your window and door screens
Inspect and repair weather stripping and caulking around windows and doors
Inspect the roof for damaged, loose or missing shingles
Power wash your siding
Wash your windows inside and out
Refinish your deck
Inspect and repair shower, bath and sink caulking
Polish your wood furniture
Dust your light fixtures and ceiling fans
Vacuum out your dryer vent
Inspect your outdoor faucets and sprinkler heads, and repair them as needed
Have your A/C serviced
Fertilize your lawn
Flush your water heater
Have your septic tank inspected and pumped, if necessary
Clean your A/C filters
Replace the batteries in your smoke and carbon monoxide detectors
Seasonal Home Maintenance Chores for Summer
Once it's warmed up, you'll want to take care of more stuff indoors and out of the heat, if you can. Over the summer, plan to:
Clean your dryer vent and washing machine hoses
Oil your garage door
Check for leaks in the kitchen and bathrooms
Repair leaking faucets, showerheads and running toilets
Clean your refrigerator drip trays and vacuum the condenser coils
Inspect tile grout in your bathrooms and seal it as necessary
Prune your shrubs and trees
Keep your lawn tidy
Seasonal Home Maintenance Chores for Fall
In most parts of the country, fall weather is warm and dry, but not so hot that you can't take care of outdoor home maintenance tasks. It's the perfect time to prepare your home for the winter months, so there can be a lot to do in the fall. Make sure you:
Aerate the lawn
Clear your leaves
Have your furnace serviced early in the season
Have your fireplace inspected and cleaned
Inspect the caulking and weatherstripping around your home's windows and doors, and repair it as needed
Install your storm windows
Repair exterior siding and paint trim as needed
Clean your gutters again
Inspect your roof again
Drain and winterize sprinkler systems, outdoor spigots, pools and other outdoor plumbing
Repair cracks in your sidewalks and driveway
Power wash your home's exterior
Repair or replace failing home appliances before the holidays
Replace the batteries in smoke and carbon monoxide detectors
Clean your dryer vent again
Wash your window and door screens
Check for water heater leaks
Insulate outdoor pipes and faucets
Inspect and repair loose or faulty door hardware
Clean your carpets
Seasonal Home Maintenance Chores for Winter
Your home maintenance checklist isn't as long for the winter season — you'll already have taken care of most of your repairs for 2021 by the time winter sets in. But freezing temperatures and winter storms can really do a number on your home. Help avoid problems by:
Covering your A/C condenser unit
Inspecting your roof, downspouts and gutters after storms and repairing any damage
Monitoring your gutters for ice dam formation
Checking the basement for leaks during thaws
Snaking tub, sink and shower drains to unclog them
Vacuuming dust and debris from your bathroom exhaust fans
Cleaning your refrigerator drip trays and vacuuming the condenser coils
Keeping your driveway, sidewalks and stairs clear of snow and ice
Maintaining a house is a lot of work, but with this ultimate home maintenance checklist, you can keep track of everything and keep your house just the way you like it year after year. Read our Home Matters blog for regular home repair and maintenance tips.
AHS assumes no responsibility, and specifically disclaims all liability, for your use of any and all information contained herein.