Learn how to handle home repairs and upgrades during the pandemic. Which ones to do on your own and how to get help if you need it. Use these tips to remain safe.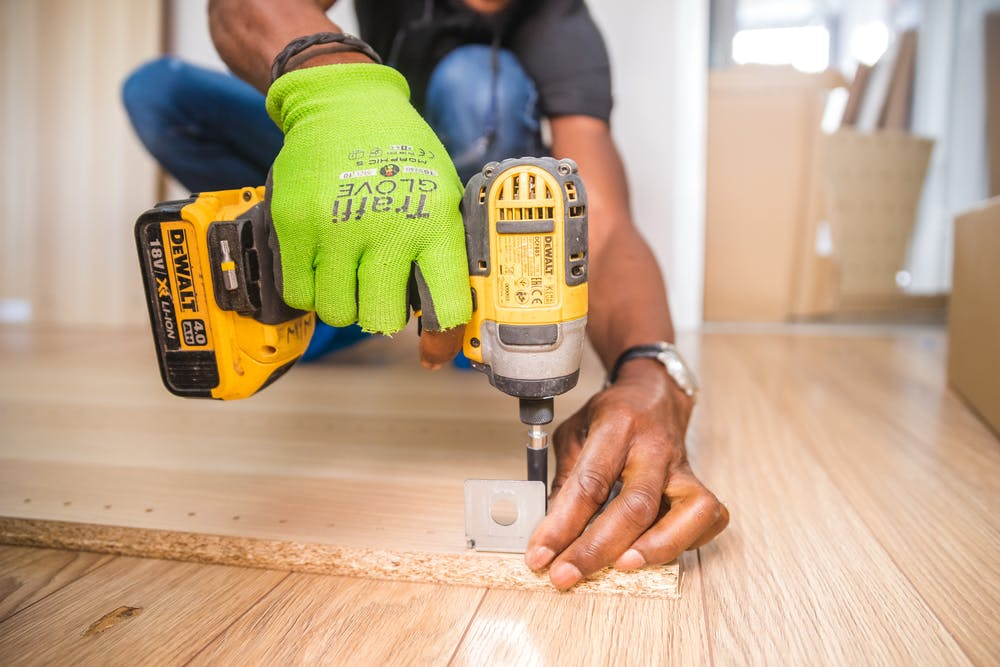 It stands to reason that, if you're staying at home more because of the COVID-19 pandemic, you're going to see more things break around the house. More use tends to mean more damage from wear and tear.
You might be reluctant to let a service technician into your home at a time like this, and it's true that fixing things yourself can be exciting when it all comes together. But before you take on house maintenance or repairs on your own, you should know your limitations. Sometimes, it's safer to have a technician come in, taking proper precautions to prevent the spread of disease, than it is to attempt house repairs on your own. Here's how to decide whether to tackle repairs yourself during the pandemic or consult the professionals.
When to Tackle a Job Yourself
There are plenty of repair and maintenance jobs around the house that are simple enough to tackle on your own, even if you're a complete novice at home repair. For example, even if you don't have a plunger or plumber's snake, you can probably fix a badly clogged toilet with hot water and liquid soap.
To decide whether you can handle a job, search for instructions online. If you can teach yourself the steps fairly easily, and they don't require specialized tools or technical expertise, you can probably handle the job, even if you're a novice. For example, it doesn't take a lot of technical expertise to change the cartridge in a sink faucet, change a showerhead, replace an outlet or fix a running toilet. Read a few how-tos, watch a few videos, and really decide if you feel comfortable and have the required skills and safety equipment before you attempt a home repair.
That said, you might be pleasantly surprised at the kinds of jobs you'll feel empowered to tackle after some research. For example, replacing a light fixture is pretty straightforward, and it's safe as long as you shut off power at the breaker box. If you've already got wiring running to the spot, it's even fairly easy to replace a light fixture with a ceiling fan, although it's slightly more involved.
Many routine house maintenance chores can be done yourself, too, if you're up for it. You can change your own HVAC filters, service your own A/C, clean your own gutters, and check your own weatherstripping. When it comes to appliance breakdowns, it's worth trying to troubleshoot the unit on your own before you call a repair professional — sometimes, you can easily fix a broken appliance yourself.
When to Call a Service Technician
You may not want to call in a service technician during the pandemic, but for many house repairs, you might have to. While it's certainly worth asking yourself whether you can live with an issue until a stay-at-home or lockdown order is lifted, you should also know that home repair professionals are typically considered essential and are likely to be working, even while these orders are in place. If something breaks down in your home that's beyond your abilities to fix, you should call a service technician to come fix it, especially if it's something that puts a massive cramp in your lifestyle or could cause further damage to your home.
For example, most appliance breakdowns will make it hard to live comfortably. If you can't fix your broken refrigerator or clothes washer with a little internet-assisted troubleshooting, take advantage of your American Home Shield® home warranty coverage and schedule a service visit.
Know your limits when it comes to doing house repairs. While fixing a leaky faucet or changing an outlet or fixture might be simple enough to tackle on your own, most plumbing and electrical jobs are best left to the pros. With plumbing, there's the possibility of water damage if you make a mistake, and with electrical, you could give yourself a nasty shock if you don't know what you're doing.
Other jobs that should be left to the pros include anything that involves repairing or replacing gas lines or garage door springs, as both could be dangerous. Avoid doing anything on the roof, or cutting down trees — both are safest when left to the professionals. Any job that you have to climb on a ladder to do can be dangerous. If you're going to tackle jobs like gutter cleaning yourself, use ladder stabilizing equipment and have someone there to hold the base of the ladder for you.
Put Safety First
If you are going to have a service technician come to your home during the pandemic, make sure to follow appropriate precautions. Both of you should wear masks, and you should try to maintain six feet of distance between yourself and the repair person. When you book a service appointment, you can ask whether the technicians will be wearing masks and what other precautions they'll take to prevent the spread of disease.
To avoid being in a closed space with the technician, you may want to go into another room or step outside entirely while they're in your home. If you can't do that, at least open your windows for ventilation. Clean and disinfect the area where the technician worked after they leave, making sure to sterilize commonly touched surfaces.
When there's a pandemic going on, you have to carefully weigh whether it's worth it to you to have a repair professional come into your home. It's relatively safe to have necessary repairs done, if you follow precautions, but if you can make the repair yourself, you'll save money and time, as well as staying as safe as possible.