Want to give your loft or spare room a modern feel? Consider installing a skylight. Learn about the costs and considerations here.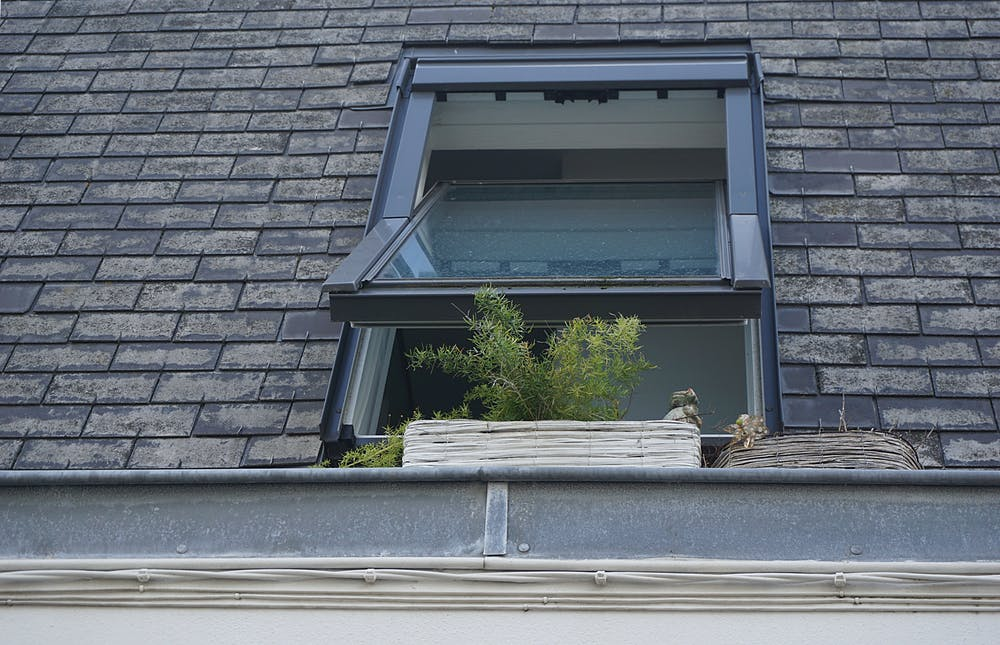 Do you want to add natural light to a room with a cathedral ceiling? Need more light in a bedroom or loft? Want to add some ventilation to a bathroom? All of these are reasons why many homeowners install skylights.
Skylights are special windows installed in a roof, primarily to increase natural light in a space. Ventilating skylights can both increase natural light and add ventilation, using either a hand crank to open the window or an electric motor and remote control. The average cost to install a skylight in 2020 is $1,610, with typical prices ranging from $959 to $2,343 around the country.
If you're thinking about installing your own skylight, here are some things you need to know.
Skylight Installation Costs Broken Down
The most popular style of skylight is the fixed skylight, and a simple, but good-quality, fixed skylight costs about $150 to $500 for a two-by-four-foot window and flashing. Larger models can range up to $1,500 in cost — and skylights as large as four feet wide by six feet long are available. Generally, the smallest skylights will cost about $150 to $600, depending on brand and features, while the largest skylights cost about $1,100 to $3,500.
Those costs are just for the materials. Installation costs for a fixed skylight can range from $500 to $3,000, depending on the complexity of the project. A simple skylight installation in a cathedral ceiling, with no ventilation and no need for a chase, will be cheaper. If you need a chase, or framed tunnel, to channel light through your attic into a room below, the cost will be higher. The chase itself can add about $1,500 to a skylight installation because they're fairly complicated to build — chases are normally finished with drywall and painted.
A two-foot-wide skylight should fit in between the trusses of your roof, which is the cheapest option for installation. If you want a wider skylight, you'll need to cut into the trusses, and that will require the help of a structural engineer to properly frame out the skylight so your roof stays put. Structural engineers cost about $300 to $500.
Basic installation costs for a two-by-four-foot, fixed skylight will also include:
Cutting a hole in the roof and adjusting the rafter framing: $200

Installing the skylight and flashing: $200 to $300 for a roof with asphalt shingles, or about 20 to 30 percent more for a tile or metal roof

Electrical work, as needed: $75 to $300

Building a chase to direct light through the attic: $1,000 to $1,500

Repainting the ceiling beneath the skylight: $250
Before you start thinking that you can save some money on your skylight installation, it's best to get a professional who knows how to install a skylight so that it won't leak. A poorly installed skylight is just begging for a leak and water damage in your attic, ceiling and walls. Skylight installation technology has improved to the point where these features are available for all kinds of roofs, regardless of slope, but installing one that won't leak requires a professional touch.
Additional Cost Considerations for Your Skylight Installation
A ventilated skylight can be a good solution for a bathroom that needs both more ventilation and more light, but they're more expensive because they need to combine the leak-proof durability of a fixed skylight with the functionality of a window. To save money, you can buy one that opens with a hand crank starting around $300 to $600. More expensive models, such as those that open with an electric motor and a remote control, run from about $600 to $1,000. You can buy a model with a rain sensor that automatically closes the skylight if it starts raining for $800 to $1,300.
Most people put in skylights because they want more natural light in a room, but what do you do when it turns out to be too much? You can't hang a curtain over a skylight like you can an ordinary window. You can add built-in mini blinds to your skylight for an additional $200 to $400. Blinds allow you to adjust the amount of light your skylight lets in, and you can choose from the more affordable manual crank option or the pricier, and more convenient, motorized blinds with a remote control — considering the skylight is on the ceiling, remote-controlled features aren't just a needless extravagance.
Best Skylight Brands
When it comes to buying a skylight, buy the best one you can afford, from the most reputable manufacturer. High-quality skylights come with warranties that protect against leaks, as well as protecting the glass. Velux, the world's largest skylight manufacturer, guarantees their skylights against leaks and glass damage for 20 years. Fakro offers a 10-year leak warranty and a 25-year warranty on the glass.
Some jobs just shouldn't be done yourself unless you happen to be a seasoned professional. At American Home Shield®, we're here to help you figure out which jobs require a professional, and which ones don't. Follow our Home Matters blog for practical home repair tips and advice.
AHS assumes no responsibility, and specifically disclaims all liability, for your use of any and all information contained herein.