If properly cared for and refinished, hardwood floors last for years. This guide can help ensure your hardwood floors look good for decades.
Hardwood floors are desirable not only because they are classic and beautiful, but also because they are easy to maintain, durable, and more resistant to dust mites than carpet. If you have solid hardwood floors in your home, caring for them properly will make the need to refinish less frequent.
Let's review proper hardwood floor care. We'll also cover how to refinish them when the time comes so their appearance improves with age.
Hardwood Floor Care
Follow these hardwood floor maintenance tips to help keep your floors glowing and vibrant.
Install rugs and floor mats.
Caring for your hardwood floors starts outside your home. Placing mats at doorways encourages people to wipe their feet before tracking in dirt. Consider placing a bench or chair near the door to give guests a place to sit and remove wet boots and shoes.
Place area rugs or carpet strips in high-traffic areas to minimize floor wear, such as in entryways, hallways, and frequently used rooms. Make sure that rugs and rug pads are made from a breathable material that won't hold moisture and harm the flooring surface. Put pads or floor protectors under furniture that sits on hardwood floors.
Vacuum and dust regularly.
The most important step for basic hardwood floor care is to regularly vacuum, sweep, or dry mop the floors to remove dirt and objects that can scratch the wood. If there's a risk that your vacuum might scratch the floor's surface, use the brush or hardwood floor attachment connected to your appliance. Always wipe up any spills or mud right away, even if your floor is protected with a polyurethane finish.
Keep an eye on your humidity levels.
Humidity levels can affect hardwood flooring, especially if they vary drastically. It's best to use a humidifier or dehumidifier as needed to keep the relative humidity between 35 and 55 percent. If you notice shrinkage, cracks, cupping, or buckling in your floors, you may need to regulate the humidity in your home.
Use the right cleaning liquids and tools.
You must know the type of finish to clean your hardwood floor properly. Is it a wax/oil finish or a polyurethane/other-surface finish?
Wax-finished floors. Every month or so, you can mop using a cleaning solution that is intended for waxed or oiled floors. Follow the product's instructions, which typically involve diluting some of the solution in water. Mop the floors lightly and let them dry. It is best to use a moist pad or cloth, but if you only have a mop, take extra care to ensure little water is used. You may need to re-oil the surface a couple of times per year using an oil refresher. Wax- or oil-finished floors must be periodically buffed to keep the shine. When buffing no longer brings back the shine, it's time to wax.
Polyurethane floors. Polyurethane floors can be lightly cleaned with a damp mop and should never be waxes. Use warm water and a small amount of dishwashing liquid or other homemade hardwood floor cleaner. Avoid using products with ammonia, vinegar, or abrasive cleaners. When in doubt, ask the manufacturer or installer of your floors what products and methods to use for cleaning. Wring out the mop well before applying it to the floor, and try to mop with the grain as much as possible. Wipe up any excess water with a soft cloth, polishing the hardwood floor as you go.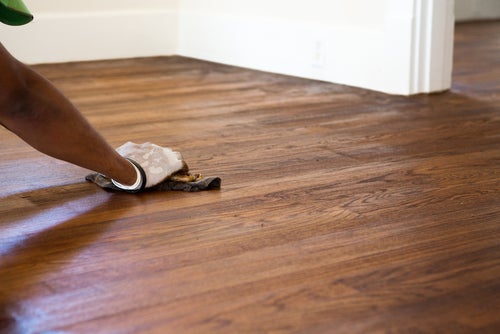 Steps for Hardwood Floor Refinishing
Skill level: Intermediate to advanced, depending on the condition of the floor and your experience
Even if you use the proper steps for hardwood floor care, they will most likely need to be refinished at some point.
The cost to refinish your hardwood floors can vary depending on how damaged they are, the square footage of the area, and whether you do the job yourself or hire a contractor. If a professional does the job, it could cost up to $4,000; doing it yourself may only cost up to $1,000. When refinishing hardwood floors, a DIY project may help save money, but some experience with this task is necessary to ensure your floors don't get damaged.
Tools for hardwood floor refinishing:
A drum sander (check your local hardware store for rentals)
A handheld sander
Sandpaper in various grits
Buffing machine (check your local hardware store for rentals)
Plastic sheeting
A wet/dry vacuum
Stain
Oil, wax, or polyurethane finish
Painter's tape
Gloves, eye protection, and a mask
Synthetic brushes to apply the stain and finish (natural bristles tend to shed)
Wood filler
Step #1: Prep the space.
Move furniture out of the room and remove the shoe molding from the baseboards. Then, tape walls and edges with painter's tape and cover doorways and vents with plastic sheeting to prevent sawdust from getting into the ductwork.
Have masks, eye protection, and gloves ready.
Step #2: Clean.
Before sanding and refinishing hardwood floors, make sure the floors are thoroughly cleaned.
Step #3: Sand.
With a drum sander, start with low-grade sandpaper to pass over the entire floor. Continue the process and increase the grade of sandpaper each time until the floor finish is removed. Use a handheld or orbiter sander for the edges of the room.
Step #4: Screen.
A buffer helps polish the sanded floor to ensure no scratches are left behind and blends the edges and main floor that both used different sanders. Use up to 120-grit sandpaper for this step.
Step #5: Remove dust.
Sanding will create a lot of dust. Remove it by vacuuming and wiping down the floors completely, taking time to fill in any cracks or holes with wood filler.
Step #6: Stain/seal.
Depending on the type of hardwood floors and your desired result, you'll apply a stain, seal, or both. If there appears to be a roughness in the floors after staining, take fine-grit sandpaper to the affected area.
Step #7: Apply the finish.
The last step when you refinish hardwood floors is to apply the polyurethane or wax/oil finish.
How often hardwood floors need to be refinished depends in large part on how much wear and maintenance the floors receive. You can typically refinish every 10 years or so. If the floors are in good shape, you may be able to get away with refinishing a hardwood floor without sanding. However, if floors have deep scratches or gouges, the planks will probably need to be replaced rather than refinished. Look at these hardwood flooring costs.
Hardwood floor care and refinishing are important maintenance steps to help them last for years. While a home warranty doesn't cover hardwood floor refinishing, an American Home Shield® home warranty can help care for the rest of your home. Check out our pricing and plans to see what is right for your budget and household.