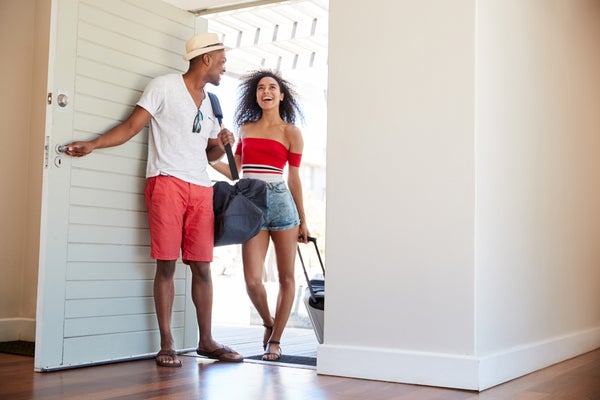 Buying a house to rent out can be a great investment, especially if you can land a rental property in a high-traffic vacation area. You can cater to travelers who are looking for a cozy home-away-from-home or who prefer vacation rentals over a hotel experience. However, it's important not to make the mistake of thinking it will be passive income. There is a lot of time, maintenance, and paperwork that comes with managing a rental for short stays.
If you're thinking about investing in real estate, American Home Shield® can help. Here are some things to know before buying a house to rent out.
Consider the location.
Being a landlord can be an excellent source of income—unless you don't have a tenant. Make sure you choose a piece of property that will be in demand by short-term tenants.
Is it located conveniently near tourist areas, or is it near a business district to cater to business travelers? If not, is there something on the property itself to boost its appeal, like a pool or a stunning view?
It may also be a good financial idea to choose a location in which you can make a profit on your investment more quickly. Homebuyers and sellers consider the current real estate market a seller's market, so it's imperative to consider a spot where you might have more leverage in the negotiation process. Learn more about the difference between a buyer's and seller's market.
Here are some ideas for where to buy a rental property.
Make sure you know exactly what you can and cannot do by law.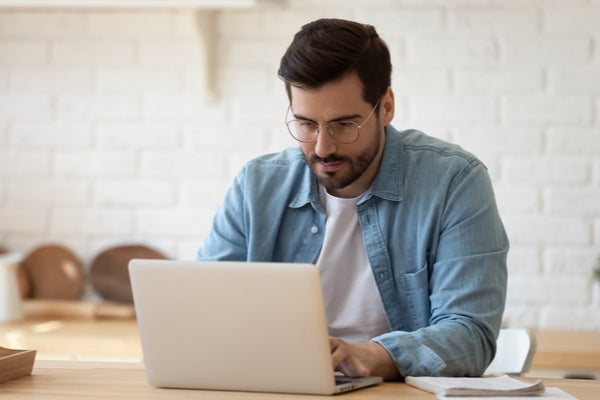 One mistake that many people make who are renting out a house for the first time is posting photos and plugging your address into a rental website, and waiting for your first guests to arrive. If only it were that easy.
When renting out your home, it's important to understand your local laws and ordinances. Is the house up to code? Do you need to apply for a short-term residential occupancy license? Do you have to pay a business tax for your rental unit? What about eviction rights? Are you allowed on the property without permission when it is occupied?
Laws and zoning ordinances can vary from city to city. If you're interested in investing in multiple rentals in different areas, you may have to learn a new set of regulations before doing so. Read more about the landlord–tenant laws for each state; you may want to think about consulting a real estate lawyer for your city or county laws or regulations. Knowing the rules for renting out a house can save hassle down the road.
Protect yourself and your assets.
Purchase homeowners insurance, you can learn about the differences in our Home Warranty vs. Homeowners Insurance blog post. Before renting out your house, make sure you have homeowners insurance. Some insurance companies may require you to purchase a business policy if you plan on renting out your home regularly. Your home insurance policy will protect the structure, the home's contents that you purchase (like furnishings), and any sheds or garages on the property from damage due to a fire, a natural disaster, theft, and more.
Purchase a home warranty. One of the most important steps to renting out a house is purchasing a home warranty on rental properties. American Home Shield offers comprehensive home warranty plans that can help cover the cost to repair or replace covered home systems and appliances. Rental responsibilities are enough without worrying about a household item breaking down. If your renters notice issues with one of your covered systems or appliances, let us help get them back up and running for you without breaking your budget.
Learn about when to purchase a home warranty.
Understand your taxes. It's important to understand your tax situation with renting out your home. Keep detailed records of your guests and the time they spent in your home to know how much income to report on your taxes. Knowing your obligations regarding taxes can help you avoid penalties and fees. Consult your tax or financial advisor for help with navigating your taxes.
Protect your valuables.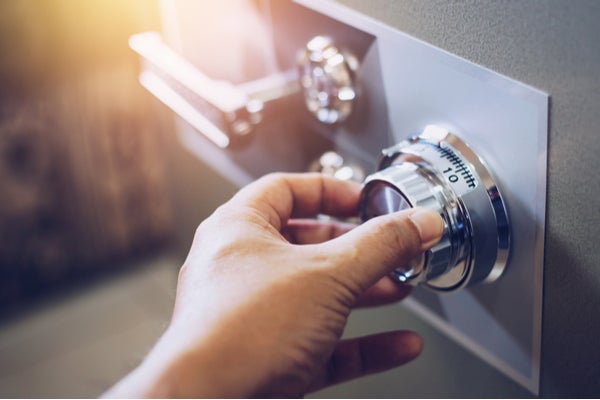 If you plan on having tenants in your primary residence, it's important to feel safe. Although we want to believe that the guests we invite into our homes will follow the golden rule and respect our space, sometimes that's not the case. You'll probably have the occasional hiccup with an unruly guest.
Here are some ways to protect yourself and your other guests:
Keep all valuables and documents off-site. Lock personal items like money, jewelry, passports, and other important documents away in a safety deposit box at your bank. You could even consider purchasing a safe for the tenants to use while they are renting your property. That way, everyone will have a secure place to keep their valuables.

Require a copy of tenants' IDs and credit cards on file for check-in. This discourages damage to your home, and hopefully, would-be thieves will be detoured if they know there are records of their stay. You probably won't need to perform this step if you use a home rental app. Additionally, some rental apps include damage coverage; for example, AirBnB has a damage policy as part of Aircover, in which hosts can file for reimbursement if guests damage part of their home.
Consider your advertising options carefully.
If you have a vacation rental, it's a good idea to post your home on sites like Airbnb, HomeAway, or Vrbo. Companies like Vacasa can also help you with all of your management needs like advertising, nightly rates, cleaning services, and more. This is a huge benefit, especially if you're buying a house and renting it out from a different state.
Clean the house until it's pristine.
The mere act of opening your home to traveling strangers is a wonderful show of hospitality in and of itself. However, the friendly hospitality shouldn't stop at the front door. Your guests are just that: guests. They expect to be treated as such, even though they aren't staying at a traditional hotel.
Every time a guest or a tenant leaves, it's important to clean it until it's sparkling and fix any broken items. When the next set of guests checks in, they'll feel comfortable knowing that all the sheets are washed, and the counters wiped down. Keeping a clean rental house is crucial for raking in five-star reviews.
If you don't have time to clean or don't live in the area, you can always hire a housekeeping or cleaning service. If you want to tackle it yourself, refer to this cleaning checklist before guests arrive. We even have a list of the best eco-friendly cleaning products.
Need some more tips? Learn effective bathroom cleaning hacks and ways to clean each room quickly and efficiently.
Homey touches can make all the difference.
When renting out your home, small gestures can go a long way. Consider providing a few of these items to improve your guests' stay:
A selection of movies and a working TV (one with streaming services is even better)

A coffee pot or instant coffee

A welcome basket with local guidebooks, bottled water, snacks, or baked goods for their first morning

A list of your favorite cafés, restaurants, and things to do
It's touches like these that your guests will remember and make them book again and again.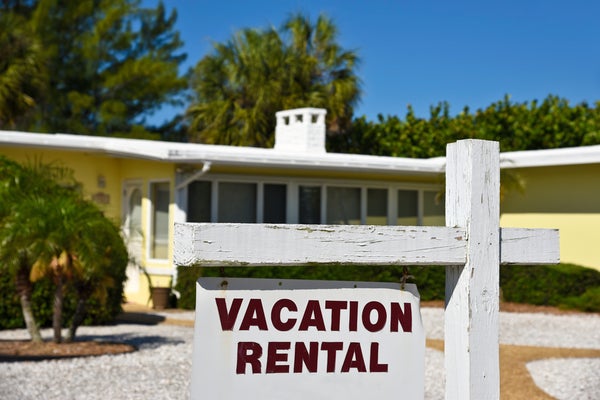 Research and planning are key when learning how to rent out a house. Make sure you follow all local and state ordinances, protect yourself and your valuables, clean the house well, and add memorable touches to make your house feel like a home for your guests. Being a rental manager for your additional house can help you earn extra income and even make lasting connections with your tenants. Reference these rental resources from AirBnB.
Remember: Even your rental property can benefit from an American Home Shield® home warranty. It can help you have peace of mind and budget protection while guests use your home.