We've traveled near and far to find you the top places to live in America. See what we've discovered.
If you're in the market to move, America truly is the great land of opportunity, but which corners of the country offer up the most to look forward to in 2016? Sit back, relax, and explore the best cities to live in the good ol' US of A.

What makes a city a great place to call home? Is it the location? The people? The quality of life? According to our friends over at Livability.com, it's that and much, much more. With these factors in mind, these ten cities round out the Top Places to live in 2016.


10. Sioux Falls, South Dakota
Population:
157,675
Median Household Income:
$51,672
Median Home Price:
$152,200
via The Atlantic
As the largest city in South Dakota,
Sioux Falls
walks the line between small town and urban oasis. Surrounded by the Cascades and sliced through by waterfalls, the city boasts over 70 parks and green-ways along with some of the Midwest's most vibrant examples of arts and culture. Summer festivals line the streets with live music, parades and sculpture walks, while hundreds of popular restaurants keep the local foodies well fed and ready for more. The city has also made substantial investments in higher education, healthcare and sporting events, all making it a solid, yet unexpected, choice for nearly any top 10 place to live.
9. Iowa City, Iowa
Population:
69,314
Median Household Income:
$41,410
Median Home Price:
$180,900
via Green Building & Design
While the University of Iowa helps set the cultural tone,
Iowa City
is far from just a college town. Renowned as one of only seven international "
Cities of Literature
," it's a haven for readers, writers, and intellectuals of all sorts. In fact, its booming healthcare industry sports the highest concentration of doctors in the country. Football fan? Tailgate to your heart's content as every game day, the whole town turns black and gold. And as if that weren't enough, there are countless opportunities for interesting classes, out-of-the-box entertainment and top-notch shops and restaurants nearly everywhere you look.
8. Ann Arbor, Michigan
Population:
115,331
Median Household Income:
$55,003
Median Home Price:
$230,700
via National Research Center Inc.
Home to the University of Michigan,
Ann Arbor
is known as one of the most liberal locales in the country and the town couldn't be more proud of it. With endless restaurants, bookstores, art galleries, live music venues, performance halls and over 150 local parks, the entire concept of boredom has all but been forgotten. But that's not to say it's all about leisure and lifestyle. Ann Arbor is also known for its exemplary schools, strong job market and affordable housing costs for home buying.
7. Bismarck, North Dakota
Population:
63,353
Median Household Income:
$54,969
Median Home Price:
$163,900
via Downtown Bismark
Bismarck
is an absolute delight. Located on the east bank of the Missouri River, it offers over 80 miles of hiking/biking trails, spectacular golf courses and an old-timey, yet lively downtown area. If you're looking for jobs in Bismarck, other than the town's largest employer, Sanford Health, the vast majority of businesses are small and locally owned. That's meant that for years, while the local economy has steadily been growing, home prices have remained quite reasonable. On top of all that, residents enjoy the city's 19 story, art-deco state capitol building, sometimes referred to as the "
skyscraper on the prairie
."
6. Palo Alto, California
Population:
65,234
Median Household Income:
$121,465
Median Home Price:
$1,000,000
via Glassdoor
The most expensive town on the list,
Palo Alto
has become a hub for many prominent technology companies. Its residents are highly active in the local community, and put a great deal of effort into maintaining the highest quality schools, parks, restaurants, and even Internet. The city boasts a 31-mile "dark fiber" ring around the city that makes getting ultra-high-speed Internet a breeze. Like the rest of California though, Palo Alto has been under a severe drought for the last few years, and the city has cut its water consumption by a full
25 percent
. Even so, the town is still going strong, and residents are doing all they can to keep their quality of life well above standard.
5. Boulder, Colorado
Population:
100,363
Median Household Income:
$56,312
Median Home Price:
$489,400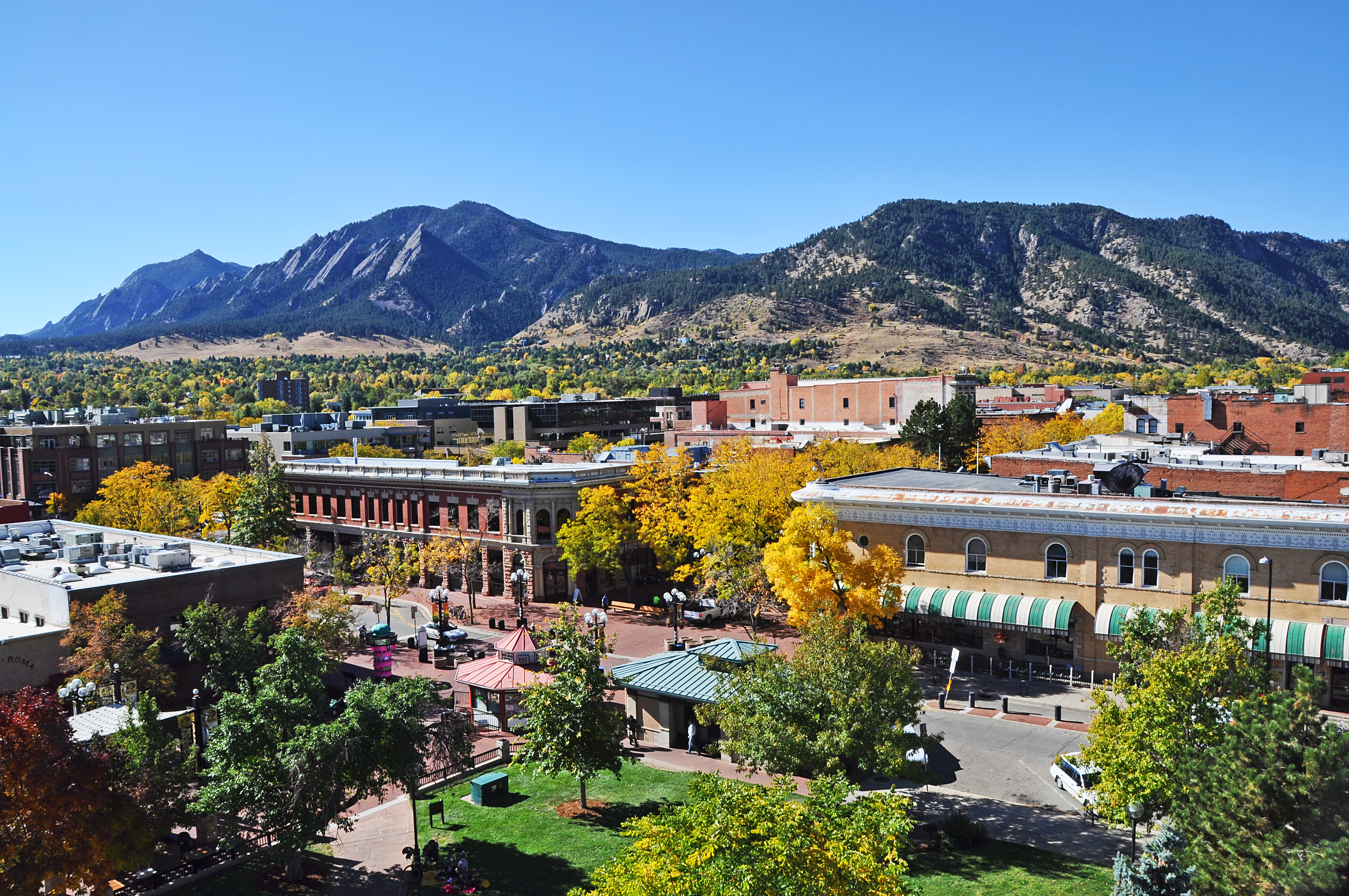 via Catch Carri
Its third year in a row on the list of Best Places to Live,
Boulder
is another one of the top cities for liberals. With breathtaking views of the Rockies, the town is perhaps best known for its love of everything outdoors. Residents enjoy hiking, biking, mountain climbing and fishing during summer, and a short drive to ski and snowboard resorts in winter. Year-round however, it offers a substantial farm-to-table restaurant scene, vibrant arts and cultural events, and even the well-respected CU-Boulder campus.
4. Santa Barbara, California
Population:
89,062
Median Household Income:
$65,034
Median Home Price:
$832,100
via Visit Santa Barbara
With perfect weather, bountiful beaches, scenic mountains and an excellent local economy, it's no wonder
Santa Barbara
is another one of the more expensive cities to make the list. Loved by tourists and townspeople alike, it offers a unique, laid-back culture and commitment to excellence in schools, healthcare and recreation. Many of the scenes around town look as if they belong in a travel magazine, and that's precisely because in many cases, they are. While it has not been spared by California's long drought conditions, it's easily still a top contender for Best Places to Live in 2016.
3. Madison, Wisconsin
Population:
237,395
Median Household Income:
$53,464
Median Home Price:
$214,100
via Affiliated Engineers
Wisconsin's capitol city,
Madison
, is known as one of the top college towns in the country. Not only is it home to the University of Wisconsin, but also a long list of smaller, well-respected schools that give it a substantial student population. These students, along with a 33 percent minority population, give the city a very well-rounded cultural scene with a nearly endless supply of entertainment options. Madison also sports one of the top-rated healthcare systems in the US, a booming economy and a stable, affordable housing market if you were interested in buying a home.
2. Bellevue, Washington
Population:
129,209
Median Household Income:
$90,333
Median Home Price:
$525,000
via Fox Plumbing and Heating
You may not have heard of it yet, but make no mistake, this is one superb suburb. Located just outside of Seattle,
Bellevue
is surrounded by lakes, mountains and a lush tapestry of parks, campgrounds, and hiking and biking paths. And for many, that biking is not restricted to the mountains. City streets are dotted with bike paths between the city's popular museums, shops, restaurants and venues, making it one of the most health-conscious cities to make the list. In addition to that, nearly 40 percent of the city's population is made of minorities, leading to a rich and diverse culture for all residents to enjoy. Even its schools have been recognized as some of the top public schools in the country. If you can handle the rain, you'd be hard pressed to find a better place to live.
1. Rochester, Minnesota
Population:
108,179
Median Household Income:
$62,575
Median Home Price:
$163,700

via Sky Scraper City
Last and anything but least, lies
Rochester, Minnesota
. Home to the famous Mayo Clinic, the city has been expanding rapidly in recent years with heavy investments in schools, infrastructure, and entertainment options. Even so, its housing market has remained very affordable by national standards. Abundant job opportunities and an economic boom have lead to the forecast of the city doubling in size in the coming years. Among many other things, newcomers will be treated to the city's weekly summer gatherings with live bands, food booths, crafts and vendors. These events are known to draw an astonishing 20,000 people into downtown. With this much to look forward to, it's clear why Rochester takes the top prize on Livability's list of Best Places to Live in 2016.
Now that you're in the know, it's time make your move. Pack your bags, pick your city, or simply enjoy bragging about your town to everyone you know. Then again, even if your town isn't on the list, chances are it's still pretty great. And who knows, maybe it just happens to be YOUR best place to live in 2016. Either way, there's plenty to look forward to in the year ahead, and isn't that what truly makes any place the best?
Next
>
Tips for Preparing Your Home for Sale from a Real Estate Pro